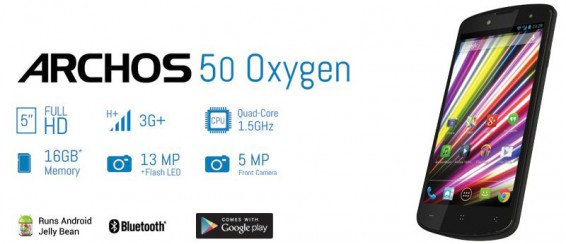 Archos? I know what you're thinking: the ones who make the weird Gamepads, right? No thanks… But wait, what if I told you Archos make a quad core Android phone with a 5″ Full HD display, a 13MP camera, and costs less than £300? Still dubious? Me too.
When the kind people over at Clove sent me an Archos 50 Oxygen for review I wondered what I was letting myself in for. Archos don't have the greatest reputation in the world, and pretty much no reputation at all when it comes to smartphones, but I've tried to keep an open mind.
Here's how the first couple of days have gone.
Good
Screen
Very comfortable to hold
Almost stock Android
Bad
Screen is a fingerprint magnet
Body is a fingerprint magnet
Android 4.2.2
No 4G LTE
First impressions
The first thing I actually thought when I opened the box was that they'd sent me a Galaxy Nexus! To be honest, it really doesn't resemble the GNex in any way apart from face on, at a glance, but this is an initial impressions article after all!
The design of the phone is actually very smart. The back is a one piece, soft touch polycarbonate affair, which feels lovely in the hand, whereas the front is virtually all glass aside from one odd recess at the top. It sort of looks like they either cut the glass too short, or have built an extension on the top of the phone. It's quite strange, but I've already gotten use to it.
One thing that is apparent within minutes of holding it (even before turning it on) is that the screen and body are both fingerprint magnets. When I say magnets, I mean big red horseshoe shaped metaphorical super magnets. This thing needs cleaning after every use!
Powered up
Once through the usual Android setup routine, I was faced with a bright, high contrast and very detailed 1080p screen, which was immediately impressive. I'm a bit of a screen connoisseur, and I could tell immediately that it's not up to the likes of the LG G2's, but it's certainly not the worst full HD display, and kicks dust in the face of any 720p screen of a similar size.
Software
The first actual disappointment with the phone is that it's running Android 4.2.2 Jelly Bean, which is rather long in the tooth these days, but it's tempered by the fact that it's almost stock and runs very smoothly.
There are a few Archos media apps on it, which I intend to test, but it's not riddled with the useless bloat that certain companies like to force on you…
Specs
Android 4.2.2
Processor: MediaTek MT 6589T Quad-Core 1.5 GHz
RAM: 1 GB
Storage: 16 GB
Screen: 5″ IPS 1920 x 1080 pixel (Full HD) 440 DPI
Main Camera: 13.4 MP with LED flash
Front camera: 5.3 MP with LED Flash
Weight: 130 g
Dimensions: 143 x 70.5 x 9.9 mm
Battery: 2300 mAh
Price: £299
So, what do you think of it so far?
I haven't been so pleasantly surprised by a phone since… well… ever! I'm really enjoying using the Archos 50 Oxygen; I've picked it up and use it for long periods on several occasions already, just because my G2 has been out of reach. Don't get me wrong, it's not in the same league as the G2, but it's a lot closer than I was expecting. I'm looking forward to playing with the cameras (it's got a selfie flash!), and checking out the battery life. All of which, and more, will follow in my full review soon.