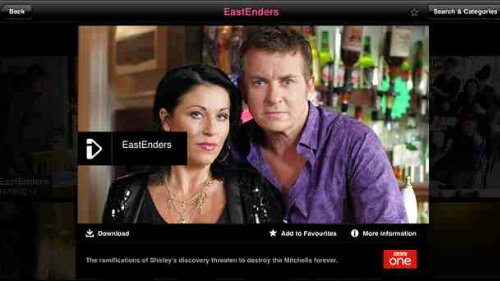 The BBC have announced that starting with the iOS version they will be updating their iPlayer apps to support mobile downloads.
The download is meant to be valid for thirty days, which makes me think we might see a few issues with jailbroke and rooted devices.
The Android update is meant to be coming soon and as expected there is no mention of the Windows Phone version :'(
Here is the press release:
BBC iPlayer today launched mobile downloads, enabling you to download your favourite BBC TV programmes directly to your smartphone or tablet for free, and keep them to enjoy for up to 30 days.

For the first time, the quality programmes on BBC iPlayer's award-winning app are available wherever you want to watch them, whether or not you have a Wi-Fi or 3G signal. Watch on the underground, on planes, or any location where internet access is beyond your reach. Programmes downloaded from the UK can also be viewed abroad for up to 30 days, so you can take the BBC on holiday with you. Once you've pressed play, you can keep watching for seven more days.

The new mobile downloads feature is initially available on iPhone, iPad and iPod Touch devices and will come to Android devices soon.

There are three simple steps to transforming your journey:

tap the Download option on the programme you want to save
the programme will be added to your download queue
when you next connect to Wi-Fi, open the app and the programme will automatically start downloading to your device
With the option to add multiple programmes to download at the same time, your device could be full of enough of your favourite BBC TV shows to be entertained on a 10-hour flight, there and back.

This launch builds on BBC iPlayer's strategy to move beyond the PC and make more quality BBC content available across mobile, tablet and internet connected TVs, delivering increased value to audiences. In July alone, there were 30m requests for BBC iPlayer TV programmes via a mobile or tablet, an increase of 142% year on year.

Daniel Danker, General Manager, Programmes and On-Demand for the BBC says, "With mobile downloads for BBC iPlayer, you can now load up your mobile phone or tablet with hours and hours of BBC television programmes, then watch them on the road, on the tube, on a plane, without worrying about having an internet connection or running up a mobile data bill. Viewers have up to 30 days to begin watching a downloaded programme, so you can even fill up your device and take the BBC with you on holiday."

The BBC iPlayer app can be downloaded from the iTunes App Store. Audiences who already have the BBC iPlayer app installed will be prompted to update their app via the iTunes App Store.
Source – BBC