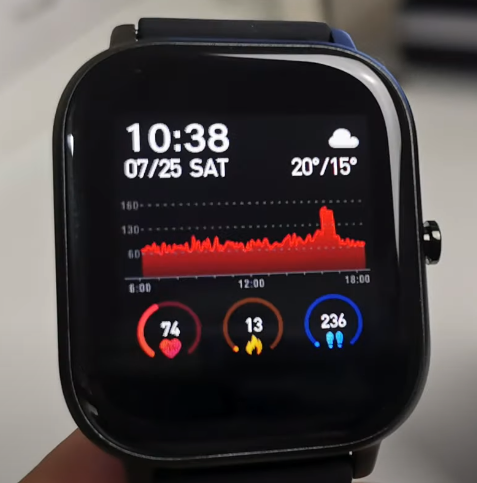 I'll be honest, the lovely people at BingoFit Smartwatches sent me through a review unit of this BingoFit smartwatch some months ago but the entire cancer diagnosis has meant that the review has been delayed somewhat. It's selling, right now, for just £22.31.
Yes, a smartwatch, with app notifications, tracking, custom faces, heart rate and sleep monitoring plus more….. for £22.31.

I know what you're thinking…
Only £22.31? Dude…

Yeah, that's what I was thinking too. However, it's not all bad.

The charging system is, I'll admit, a little strange. No magnet here, instead it's a peg-like grip that you have to fairly accurately place onto the watch. This can be a little hit-and-miss but I managed to get the thing charging out of the box well enough.


Charging takes just over an hour and I've had this watch last me up to 5 days, but that'll obviously alter depending on how much you're using it and how much tracking you're doing etc. You can get 7 days on full stand-by, or 3 days if you're hammering it.
To be honest I was pretty impressed at the design. I'm using my experience of cheap smartwatches here, because some of you may remember the comedy thickness of the Diggio DI10 smartwatch we reviewed a couple of short years ago. I struggled to get my coat sleeve over the thing.

The watch has a 1.4″ full-touch screen. The one we have on test here is the BingoFit SW207 US model, but there's a BingoFit SW206 US version with a round screen if you prefer. I downloaded the recommended companion app from the manual, which was called "Da Fit".

It's available for the iPhone too. For reasons unknown, another app is also recommended on the official BingoFit website, which is FitCloudPro. I stuck with "Da Fit" and it connected the watch as the .. err.. SW303A…

I wasn't sure what the SW303A was, so I did a bit of Googling and found that this watch is probably also sold as the YoYoFit SW303A. This led me to the YoYoFit website, which looks the same. Then I stumbled onto the YoYoFit Amazon store,, which looks similar to the BingoFit Amazon store and my head started hurting. Basically it looks like there's another model floating around, but we've got this one.

Anyways! Back to it, and we've got that 1.4″ screen showing time, date, weather and notifications from your favourite apps. You can personalise the watch face with your own photos or choose one from the companion app.

As for tracking and fitness monitoring, there's a 24/7 realtime monitor to keep an eye on your heart rate and your sleeping.



You can get information on your blood pressure (how accurate this is I'm not sure as yet), your pulse, step-count and your sleep quality.

The step-counter keeps an eye on distance travelled, calories burnt and how long you've been actively moving around for. In addition, there's 7 sports modes – including walking, running, cycling ,basketball, football, badminton and skipping.

It appears to use the GPS from your phone and had a sensor inside for tracking step counting.

Along with notifications from your favourite apps, you can also get the watch to wake you up with an alarm, operate your camera shutter and more. There's an upgrade function (this watch upgraded after I unboxed it), and there's a range of settings so that you can alter the unit measurement (imperial or metric), time formats, sedentary reminders and switch the continuous heart rate detection on or off.

Also in settings you'll find options for the weather and you can switch the language too.
In the coming days I'll be adding a video overview of this watch, but suffice to say that navigating the screen is pretty straightforward. Tap to select, swipe to move up or down the menus, and right or left to run through the features.
I'll be honest, for a little over £22 I was pretty shocked with how good this was. It's not chunky, it's not badly made and the accompanying app (as much as I joked earlier) was a very rounded and fully-featured experience with a great GUI and easy access into the relevant fitness stats.
Sure, it won't upload your stuff to Strava or services like that, but for the money this is a big step up from a tracker with a lot less functionality. Head to Amazon UK to get yourself one. We'll be doing further testing of this watch soon enough, so keep it peeled for the final part of this review.