If you've bought an unlocked phone and popped in a SIM from an MVNO then you may have experienced that moment when it struggles to find the internet and messaging settings. Some manufacturers have started adding some intelligence into their phones to help with this, and they'll use a database to retrieve the settings for you, making for a smooth setup.
However, some phones don't do this, or they'll get the wrong settings. It can end up in the phone getting returned. The people at Tweakker, who have offered their own instant setup solution for some time, tell us..
When smartphones are shipped to distributors such as the Carphone Warehouse or Brightstar with the wrong network settings … APN (Access Point Names) … they get returned. And that means additional engineering and distribution costs to smartphone manufacturers in sorting the problem. These persistent failure costs are then built into the cost of devices that eventually do pass distributor and mobile network operator tests. Hence the current high cost of a smartphone.
Tweakker have their very own patented connectivity technology to solve this and they reckon that by simply adding their solution into the build, it would reduce the amount of returns and thereby shrink the overall cost of a phone. They have 1500 operators in their database and over 4,000 unique APN settings.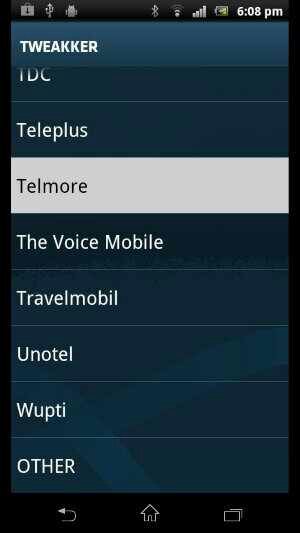 If more manufacturers use this, it'll also mean less pain when setting up a smartphone. The app is also available to download from your smartphone store, or you can have a look at our hands-on here.
Show Press Release (510 More Words)