Ian is our go-to guy for the Bluetooth speakers, but recently I've had a few to play with and one of them is the ECOXGEAR ECOROX Rugged Bluetooth Speaker. The ruggedness of the speaker appealed to me, and I like to have things protected.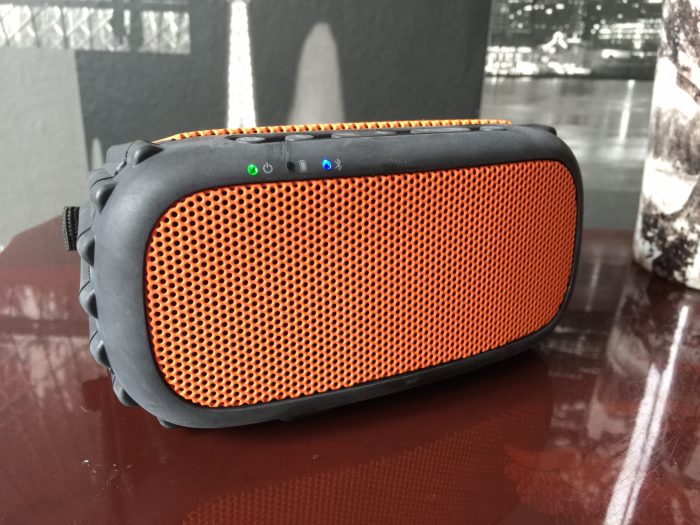 The first thing you notice about this review unit is.. it's bright! The orange and black looks nice, I like a bit of orange. A variety of colours are available though if bold and beautiful isn't your thing, including blue with black, red with black and an all-black one.
Looking at the ECOROX you can clearly see that it's a rugged speaker but the true sense comes when you physically hold it. Its rubberised housing allows very good grip, even in wet conditions. It's fantastically built, feels steady, no shake rattle or roll when you're moving it around. I had a previous Bluetooth speaker which sounded like there were loose components inside. The build quality is surprisingly good, especially on a budget unit like this.
Along with the ruggedness, this is also waterproof. I tested that by having it in the bath. Don't worry, there's no pictures of that. It then come for a trip and ended up in the Irish Sea when we went to Anglesey the other weekend. We had a picnic and a boogie on the beach. It performs well in water as well as on land, volume is loud enough. Dependant on the song the sound can become a little distorted at full volume. The sound does become a little muffled when the speakers are facing down in water, but that's what happens when you put something over a speaker. It still sounds clear enough and your easily able to listen to it.
The sound quality is good too which is a bonus. At around 75% volume level I got roughly 8 hrs playback. Plenty of time for a rainy BBQ or a fishing trip by the sea or on a boat.
The ports and buttons are easily accessible on the speaker too. As you can see from the images all the buttons run along the top, the buttons are rubberised and part of the waterproofing. The charging port and the 3.5mm jack for the AUX In are in the back. When you don't need them there is a rubber cover for keeping them water and dust free.











As a conclusion, the ECOROX is a fantastic all rounder. Good quality sound and an excellent build quality. Easy to connect over Bluetooth and a good one to take anywhere even in wet environments.
Buy one from Amazon – ECOROX Bluetooth Speaker