The Introduction
I must admit, I wasn't planning to get hands-on with a Pixelbook. That was mainly due to the price of the thing. However, when I dropped the Pixel Buds back to Google UK, I was excited to find that they would loan me a Pixelbook. This especially, as I was attending a phone event in London and didn't have any computer with me at the time.
The Pixelbook is not the first Chromebook made by Google, it is not the second either. Google has actually made a few different versions in the past, all with mixed reviews from the public and the media.
The big question in 2018 is… can a top-of-the-range laptop, with a browser-based OS be worth getting over a well-known alternative running Windows or Mac OS?
I went hands-on with the latest Pixelbook device for a few weeks to see if it could be the device for me. Is it worth the extra cash?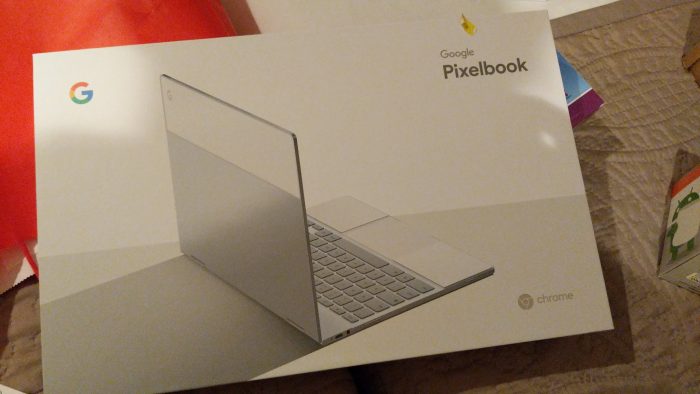 ---
Design and Display
I will say this right away, the Pixelbook is a stunning piece of hardware. There's a beautiful silver and white finish, and it has a real premium feel that makes you appreciate the extra money you've paid. It is easily the best looking Chromebook ever made, and one of the best-looking laptop designs too.
The silver aluminium body has white glass at the top third, with the Google 'G' logo embedded; very minimal but also very effective.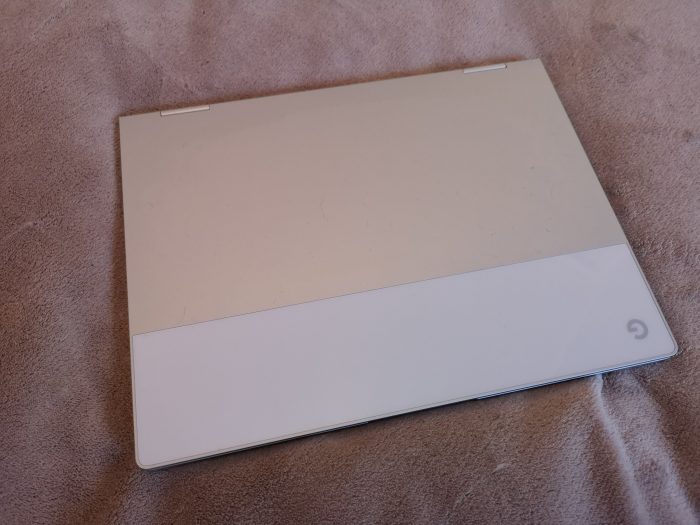 The display is an impressive 12.3-inch touchscreen panel with a resolution of 2400 by 1600 pixels, with great sensitivity and colours. Plus, with the additional Pixelbook Pen, you can draw on the screen too. This is great for anyone needing to sign documents on the go, or if you love drawing. More on the Pen later on.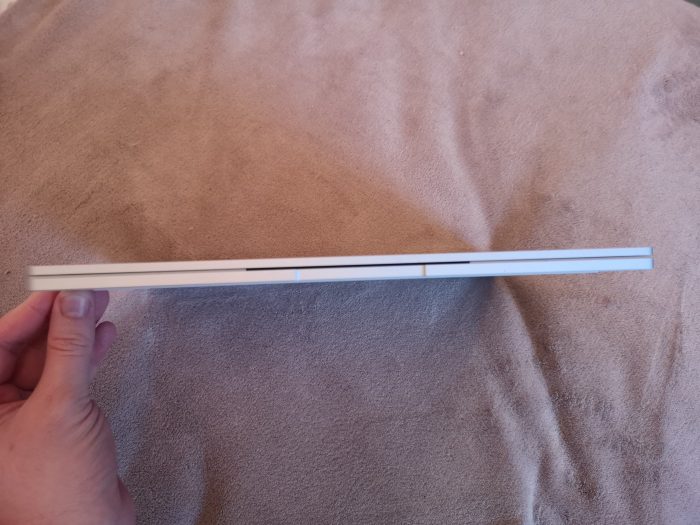 From the front, you really appreciate just how thin this device really is. There are no fancy colours or gimmicks, just a beautiful computer experience for anyone who appreciates design.


On the right side is the power button – and speaking of which, you'll really be impressed by just how fast the Chrome OS boots up. We are talking seconds here, and if you've used Windows for a while you'll be blown away by the quick performance.
On the left-hand side, you have volume up and down buttons and a 3.5 mm headset port. This means you can use either wired or Bluetooth headphones depending which you prefer. I used both and was impressed with the performance.
Last, you have the charging port which is a USB-C port. This means you can charge your laptop with your phone charger if you have the same connection. It does also mean that you cannot plug normal USB-A devices in, such as a mouse or phone charger.
There is also a small LED light which you almost miss until you charge. When the battery is running low you'll see a bright red light. Green means it's fully charged, and whilst it's charging you'll see a nice white light instead.
Over on the right, there is a lot less to see, just a single USB-C port again, which can also be used to charge. Therefore you have either a left or right side plug depending on where your charger cable is plugged in.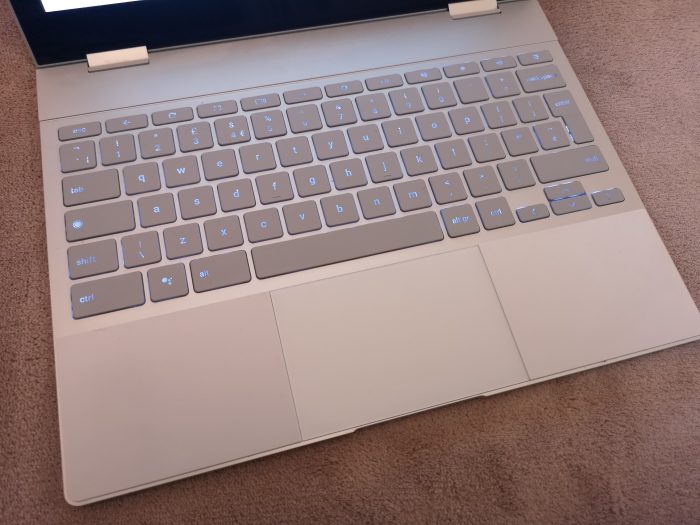 When it comes to using the keyboard, this is one keyboard I can honestly say I LOVED using on a daily basis. The texture and design of the keys are great. Typing on it just felt like what a decent keyboard should be like. OK, while you may wonder why I am so excited by such a small thing, it's really appreciated when you're dealing with long typing sessions.
The trackpad is also a joy to use. It's a large piece of glass and, even when it came to photo editing and having to slide your finger around a lot, it just felt great.
On either side of the trackpad are wrist rests. These have a nice texture and feel.
You really need to try it out for yourself to appreciate how these small areas improve the overall premium quality feel. It's really up there.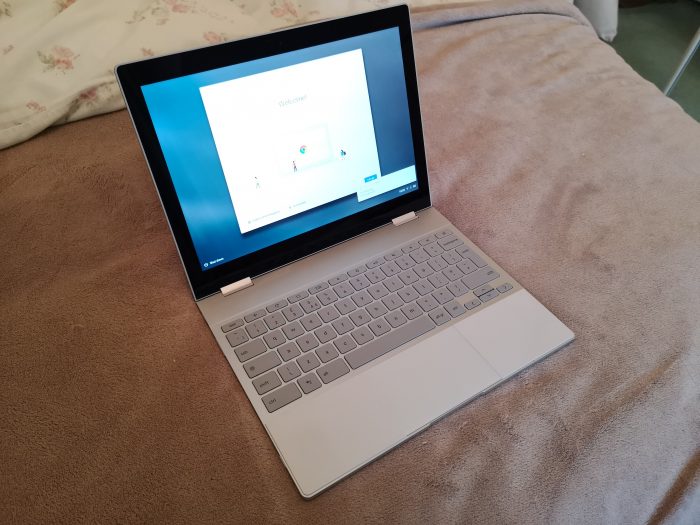 With the Pixelbook open, you really notice just how thin and light it is. I used to think my MacBook Pro was quite light, but this is in a league of its own. It's so portable, and easy to put in a bag.
The one thing that was a shame with the design was the large bezels around the display. They are quite noticeable, and it means that in "tablet mode" you have a lot of potentially wasted space.
There is a 720p resolution camera built in which also captures at 60 frames a second. This is decent for video calls and video meetings.



As you can see in the photos above, the PixelBook has a rather special hinge to it that allows the device to be used in either normal mode, as a tablet, or standing up. This gives you the perfect angle for watching videos, or if you are using services like Skype.
During my time with the Pixelbook I didn't really use the tablet mode all that much, but I really enjoyed standing it up to watch Netflix and YouTube videos.
Having a touchscreen helps here too. You can browse around the video content with a flick of the finger and a tap to select it.
Pixelbook Pen
The Pixelbook comes with a touchscreen, which allows you to scroll through your content with a touch instead of needing the trackpad. It also allows some other handy modes such as a tablet mode where you rotate the screen around fully and use the device as a tablet.




But what if you needed something more accurate than your finger? For a sketch, or adding a quick note? Signing a document?
Google has thought about this, and has designed a Pixelbook Pen. This costs £99 extra. Whilst this is not cheap, it does add a whole new way to work with your Pixelbook.
Not only can you use it to draw, but you can highlight part of the screen for a quick screenshot. You can also use the Google Assistant that is built in.
Performance and battery
Performance will never be an issue when you come to a Chromebook, and this has never been more so with the PixelBook as the specs are as maxed out as you can imagine.
The model I was sent was the mid-range version with an RRP of £1199 and has the following specs:
Intel Core i5 Processor
8GB RAM
256GB Flash Storage
12.3″ LCD Touchscreen
The battery is one area where a Chrome-powered laptop will offer a great experience. The built-in 41 Whr battery is listed to last 10 hours. In testing I found this to be quite accurate. Of course, battery performance will depend on what you are doing, as video playback eats through a battery quicker.
With the Pixelbook being such a high spec machine, even the most graphics-heavy game running from the Play Store will be as smooth as anything.
Audio performance was average though, with a loud sound which lacked a wow factor. I instead used a pair of headphones to listen to music or watching videos as it sounded better.
Software
Software is one area that Google will have an uphill battle with when it comes to Chrome OS. However, it has come on leaps and bounds since it launched, and does have some good things going for it. You can run Android apps now, but as an actual fully running OS there are some shortfalls and key areas missing at this price.
Chrome OS is just basically the Chrome browser with Android apps used to increase support and functionality for people, so it is far from a Windows or OSX experience. For most home users it will be fine – you can use all the web services, edit photos and store data in the cloud using the auto-synced file system. You can also get all of those previously-mentioned Android apps, which means that anything you can do on your phone can also be done here. However, if you have a custom app which needs installing on your laptop for professional use, like a high-end video editor or graphics suite, you could find the Pixelbook challenging.
I personally use a MacBook Pro, so iMovie will let me edit video content for CoolSmartPhone as well as my own blog. Here it was a struggle to edit in the same quality or performance-level on an Android app via Chrome OS.





















When it comes to computing though, people have their own criteria. This is why some people can even get away with using a tablet as their only computer. If you do not need professional apps for high-resolution video editing or photo editing, then Chrome OS will be an interesting one to look at, especially if you start installing those Android apps from the Play Store.
As you might expect on a laptop running a Google made OS, cloud computing is at the heart of the experience and customers get 100GB free Google Drive storage to store files. This is online, but you can also upload or download content to or from your smartphone and this Chromebook.
Other apps built-in include Docs for word processing, which is great to note things down and then continue on your phone or tablet later. Documents can then be shared or printed in various ways which is great if you are in a team editing something together. You get the entire Google Office suite here.
Best of all is the inclusion of the Google Assistant, which many of us use on a daily basis to do things from setting an alarm to finding out when your next appointment is.
There is a dedicated button on the keyboard to bring up the Assistant, and having it on the laptop was a great experience. Something I used a lot in my testing.
Conclusion
My time with the Pixelbook was one of mixed results as I will go into more detail about. On the one hand, the £1200 price tag for the version I was loaned was too high. I would have been crazy to pick one over my cheaper, yet more expandable MacBook Pro that I have had for a few years now.
However, ignoring the price, I found the Pixelbook more enjoyable to use than my Apple device. I really appreciated just how thin and portable it was in my bag.
When I look at the work I do, actually Chrome can handle most of what I need. Plus, the addition of the Android apps means that it can handle the bits that a browser-based OS could not.
Apart form video editing, where I use iMovie on my Mac, the Pixelbook was a great addition to my bag. The instant-on experience, the great battery life and the built-in Google Assistant created a very impressive overall product.
However…
There is that part of me that just keeps coming back to the fact this is a £1,200 machine. If you sat me down and gave me £1,200 to pick a new portable computer, what would I do? Whilst the hardware and design of the Pixelbook would be my first choice, it is the Chrome OS that lets it down for heavy and high-end users. No matter how powerful the hardware is, you don't get those powerful high-end video/audio editing suites and custom tools.
It is a real shame as I love the hardware. Chromebooks do fantastically well at lower price-points because they do so much for the average home user. However, this is nudging above the pain threshold price-wise.
The strange thing I found was even though the Pixelbook has its flaws against my MacBook Pro, I always wanted to pick up the Pixelbook instead due to how light it was and the handy flip screen, which let me stand it up to watch YouTube or Netflix.
Credit to Google for trying to do things differently and allowing Android apps to be installed on their Chrome OS devices though. This is something Apple has been rumoured to be looking into with iOS, and Google has got a head start here.
If the price tag was a little lower, this would have been a different conclusion.
If you do most of your daily work with web-tools, love Google and the Pixel brand, or just want that something different – take a look at the Pixelbook. It's a great device with a lot of future potential. However, if you are looking for a powerful multimedia workhorse then there are other alternatives out there that give you a bit more for your money.
The PixelBook is by far the best Chromebook ever made and with stunning hardware under the hood.
A big thank you to Google for sending us the Pixelbook to review.
Google PixelBook
Design
Battery
Performance
Software
A top spec device with improving OS but with a hefty price tag.
89