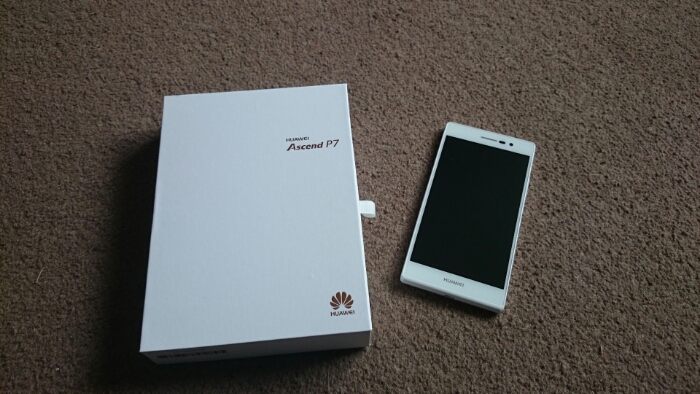 Whoway? Who are they?
The answer of this question is really a simple one. Huawei are the people who have been, and continue to, make the equipment that powers our mobile networks. It's the kit that keeps us all talking to each other, but it's mostly hidden in cabinets.
They've been around for years and chances are if you are on the EE network then you will have seen some of their stuff, albeit rebranded. EE's Kestrel is a rebranded and slightly modified Huawei G6. This practice is by no means new and is actually how HTC began to gain a foothold into the crowded marketplace. You may remember their network specific rebrands -, SPV, XDA, MDA and others. In fact it was these devices that kicked off this very site 10 years ago when the word smartphone meant a very different thing entirely.
History lesson over onto the Huawei Ascend P7
Design
Upon unboxing the sleek packaging we are greeted by some genuinely good looking hardware. The phone is a svelte slab of marvellous looking tech. Huawei have done a great job to cram all the stuff into this phone that they have. It is by no means the slimmest 4G handset on the market (the Xperia Z Ultra is slimmer), but there's some impressive engineering.
So lets break it down what have we got, starting on the front we have a glorious 5" iPS LCD display at 1080p. It has great vibrancy and good contrast levels.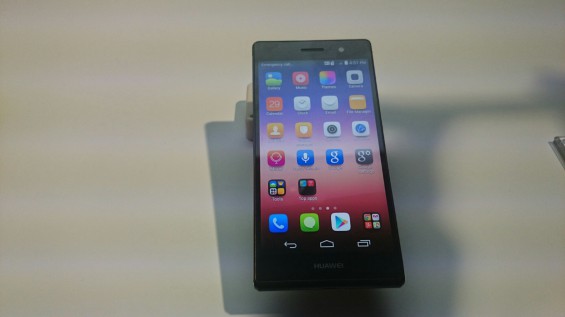 Up the top we have an earpiece with a sensor array next to it, this includes proximity and light. Next to that we have a five element lens with an 8 megapixel sensor. More on that later.
Down the bottom all we have is a the Huawei branding. Along the right hand side is the volume up and down toggle, a power key very similar in design to that of the Xperia family.
Next up is the micro SD slot and the micro SIM slot.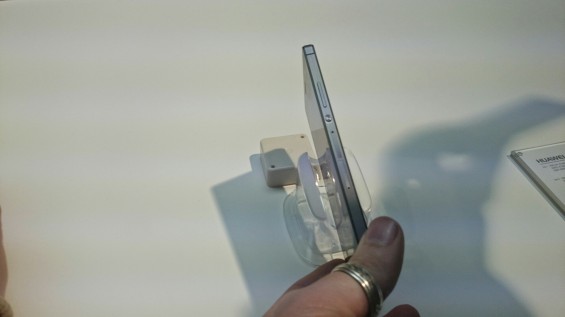 I mentioned in my unboxing video that the micro SD card slot has a neat trick up its sleeve. Now, although this is true of the Chinese variant it is not the case on our EU version as it cannot physically support a nano SIM. Whilst this is a shame it is a good move.
Let me explain.
UK networks are not fans of dual SIM devices for one reason – it gives you more choice for your provider. To understand this statement let's think about it for a moment. When you go and buy a car with a service package from the Ford garage, do they also state that you can get your car serviced in a BMW garage? Of course the don't.
This is the same case for the UK networks. Increasingly in this tech-savvy, customer-led market, the customer will go for the cheapest deal that will give coverage for their needs, be that data or voice. I could easily see a customer getting phone on the minimum contract where the phone is free and then going to giffgaff and getting a data-only SIM for their web usage. A dual-SIM option isn't going to make the big networks happy.
Back to our device tour though, and on the left hand side there is well nothing at all. On top we have a 3.5mm headphone jack and the secondary noise cancelling mic.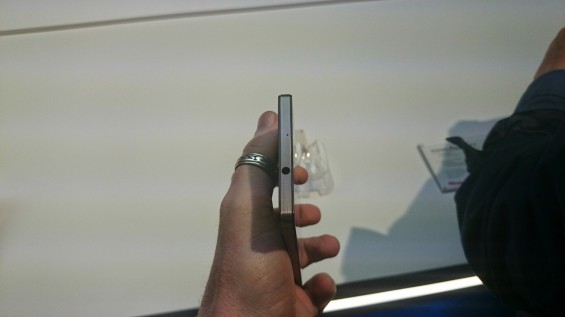 At the base is the obligatory micro USB for charging and syncing. There is also the primary mic for calls.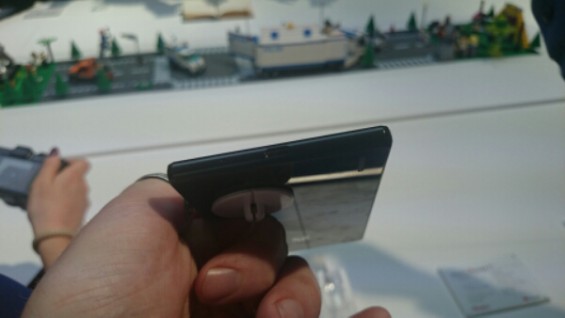 On the rear you have the beautifully constructed back plate. It's made from a seven-layer composite with glass on the outer-most layer. This gives the phone a really nice look whilst maintaining lightness and signal strength as it is not metal.
We have a 16 megapixel BSI Sony Exmor RS sensor on the phone accompanied by an LED flash. Finally there is a loudspeaker at the bottom, which is slightly off to the side. It is pretty loud but quite tinny but that is to be expected from most mobiles.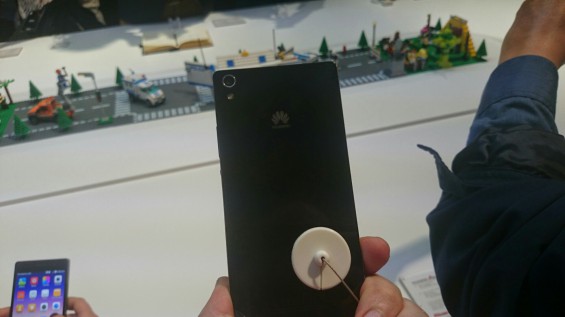 The whole phone is tied together with an aluminium frame onto which is mounted all the clever electronics.
The front is covered with Gorilla Glass 3, giving it a high degree of resistance to scratching. This is nice to know, as chances are that the official cases won't land in the UK for a while yet.
Hardware
The crux of this phone is the camera hardware but we will come to that in a moment.
What I want to talk about here is what makes the phone tick. The common complaint about stylish smartphones these days – you usually cannot have a slim style without sacrificing power. This something that the Huawei P7 is keen to change. To do this they have kept everything in house using their very own ARM based chipset – the HiSilicon Kirin 910T. It's a quad-core 1.8GHz with a Mali T450 covering the graphics portion of the package. So how does this perform in the real world?
Benchmarks don't bode well, with mediocre Antutu results. A lowly 24578 with the Quadrant being 7072.


Compared to the current flagships this is nothing to write home about, however benchmarks are only part of the story. In actual usage I found the phone to be quick and responsive and there was no real issue to be had when switching through pages and hopping in and out of menus. This is in no doubt helped buy the phone having 2GB of RAM on board.
For connectivity we have all the usual suspects on board. LTE bands 800/900/1800/2100/2600 MHz (max download speed 150 Mb/s) plus the standard 2G and 3G spectrums that you would expect on any other European release these days. It's quad band also, so it should be a world phone.


We also have WiFi in the form of 802.11 b/g/n and hotspot support, it will also allow WiFi Direct, which means quick data transfers and it'll play nice with any DLNA kit that you own. Finally we also have NFC and Bluetooth 4.0 with Bluetooth Low Energy support.
You can also expect GPS, A-GPS, GLONASS for your location based apps such as Google Maps etc. There's also all the usual sensors – a G-sensor, Accelerometer, Proximity & Light Sensors, Compass.
What really impressed me is the way that the LTE hardware has been integrated into the phone. The designers have done a really good job at squeezing the components into the small form factor of the svelte 6.5 mm body. Huawei have really shown what can be achieved with knowledge of the components. This is probably also due to the fact that they're one of the biggest manufacturers of LTE kit out there. If you don't believe me on this statement then have a look at any 4G modem sold by a network these days – it's either Huawei or Alcatel.
So what about power? Well here we have not been let down either as the phone is packing a 2500 mah battery which, along with the available power saving tweaks in the software, can be good to get you through a day of reasonable usage or 2 days of light usage. Of course if you push it then you will run it out quicker than that but this is true of all smartphones these days.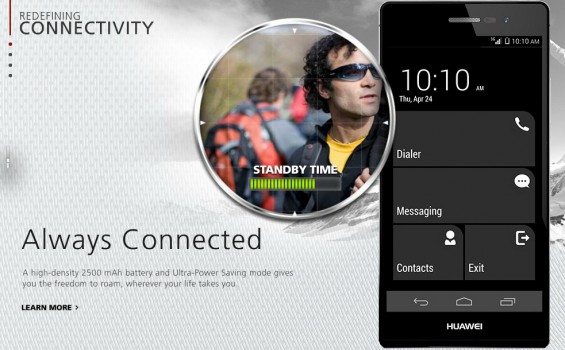 For your storage needs you are slightly limited to only 16GB internal and 32GB external. This is annoying especially given Googles' insistence to have apps save local app data to the internal storage. It leaves just photos, video, and music on your SD card. Heavy users of apps such as Tubemate and Cartoon Hd/Showbox be aware that you will need to manually transfer content from one me to the other frequently so a file manager app is essential, fortunately Huawei include one that is not too bad to use.
That really sums up the hardware apart from the…..
Camera
So Huawei were very keen to talk about the camera on the P7, and rightly so as it is an impressive bit of kit both on the forward facing and the rear.
The front is versiy advanced – an 8 megapixel 5-piece aspherical lens with a Blue Glass infrared sensor. This lens arrangement also has a BSi sensor as well allowing you capture images even in lowlight.
Front cam interface..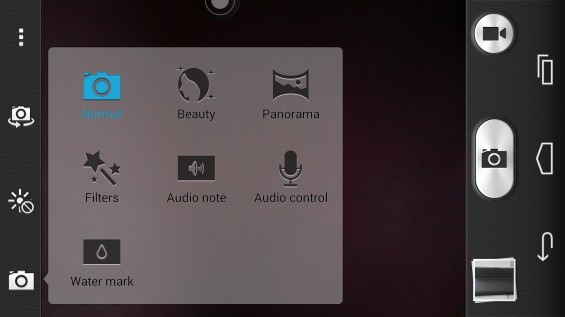 So why is there so much focus on the front facing camera? I think that part of this is down to the focus of the intended user and the habits of these users. I am of course talking about "Selfie" fans. This phone has been made with you in mind and to take that selfie concept to the next step – the "Groufie" or panoramic selfie.
Whilst it is an interesting concept I am not convinced it is going to be enough to distinguish it from other phones on the market.
So how do you take a "Groufie"? Well in practice it is remarkably easy. You hold the phone up as you would for a normal selfie and then follow the on-screen instructions to pan to the right and left by twisting you wrist.
Then this happens..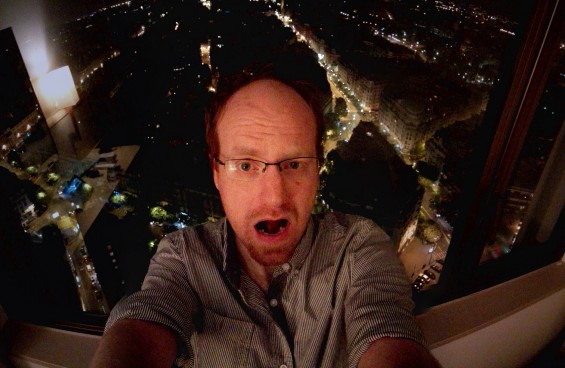 The rear cam uses the excellent Sony Exmor RS Camera that we have already seen on the Xperia S and it has been put to very good use. What makes it a bit different here is the fact that it is supported by a dedicated chip to give it a boost in the post-processing department. There is a large aspect of this going on in general and it is not a bad thing as it does genuinely improve the photos. All the modes that you could want for are built in, including a brilliant "Quick Shot" feature that takes advantage of the physical volume buttons.
Rear Cam interface..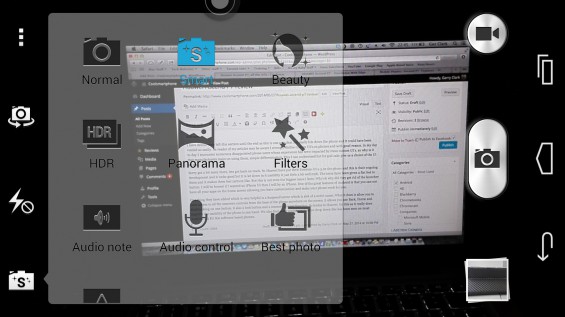 This allows you to capture pictures from pocket to shot in mere seconds and the results are impressive. What really blew me away about the camera was the Panorama mode – it was so easy to use and stitch the images together into a near-360 degree image. This outperformed the daddy of camera phones – the Lumia 1020. I have done a separate article on the camera which can be found here if you want to know more. It compares shots with other handsets, but rest assured I can tell you, it is a good 'un.
Software
I have deliberately left this section until the end as this is one area that I feel lets down the phone. It could have been avoided so easily. As a reader of my articles may be aware, I strongly dislike custom UI's on phones and with good reason. In my day job I encounter numerous disappointed phone users whose experience has been impacted by these custom UI's. Why is it that manufacturers insist on using them? Simple. Differentiation.
This I can understand but for God sake, give us a choice of the UI we want to use.
Sorry, I got a bit ranty there. Let's get back on track. Huawei have put their Emotion Ui 2.3 on the phone and this is their ongoing development. It looks good but it is let down in terms of usability. It just feels a bit… well, "meh". The icons have been given a flat feel to them and it makes them feel cartoon like.



But this is not even the biggest issue I have. Why oh why did they get rid of the launcher button? I will be honest. If I wanted an iPhone UI then I will buy an iPhone. One of the great features of Android is that you don't have to have all your apps on the home screen. This allows for an element of customisation and to let you make your phone work for you. The Huawei UI just dumps everything on one set of screens, end of.
One thing they have added, which is very helpful, is a suspend button which is abit of a weird name. What it does is allow you to have access to all the on-screen controls anywhere on the screen. It allows you use Back, Home and Multitasking on one button. It also has a lock button and a memory cleaner function.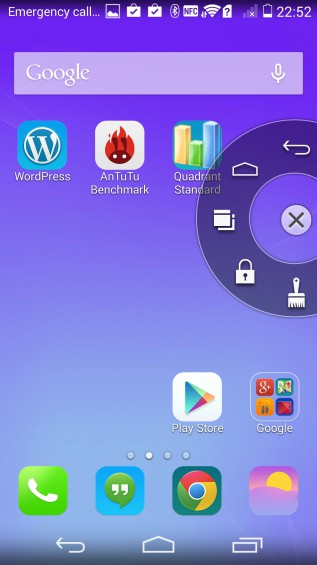 So kudos to Huawei for this bit, as it really does improve the usability of the phone in one hand. I also found a very useful notification drop-down which you'll see on Android 4.4 Kit Kat phones.
Music is dealt with in either the standard Google Play Music app or a custom player. This isn't bad but it isn't up to Sony Walkman standard.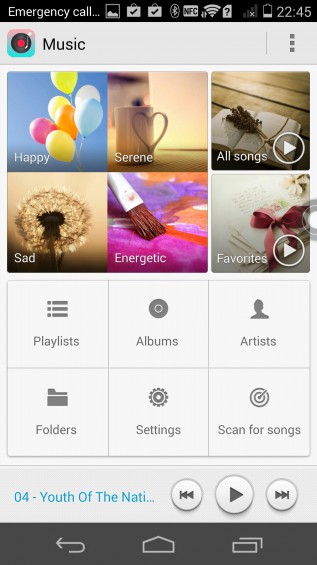 The Gallery is a fairly basic but functional affair. One other app of notice is the phone manager app. In here you can easily manage the phone. Let me elaborate. It gives you a whole load of options to essentially optimise the performance of the phone to get the very best out of it.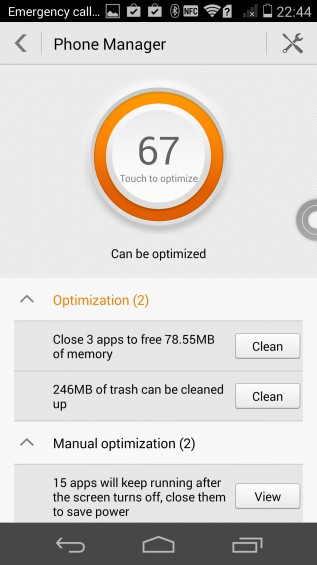 By doing a scan of the phone it will give you some suggestions to improve performance. It reminds me very much of disk cleanup / disk defragmenter on Windows computers. Does it help? Yes. Is it needed for the Droid aficionado? No.
Summary
So I think I may have hit the nail on the head in that last sentence. This is a phone for the every man/woman on the street and not for the geek. Is that a good thing? Well yes from Huawei's point of view. It is very good as they're trying to be number 3 in the world smartphone markets.
However, if they truly want to succeed with this goal then they need to get some of the geekier fraternity onboard as these are the people who write the blogs, make the recommendations and help educate the general user. So how do they do this?
I can honestly say from a design standpoint I am on board and for what the tech in the phone provides count me in. It is just the UI that holds me back. If this phone were to land as a Google Play Edition I would be first in the queue as it would fill my needs nicely, but currently I'm out
However if you are looking for an easy phone to use and not have to worry about the day-to-day foibles inherent to Android then this may be one worth considering. Especially as it is going to be available for around £25 to £30 on contract.
Well done Huwaei you have certainly redefined the high mid tier and in that aspect this phone is a resounding success. Bring on the true geeks flagship next!
Huawei Ascend P7
A good high end mistier phone for those who prefer the simple things in life, that and want to take high quality Selfies
65