So I have finished testing the standard TicWatch S2 and I was wondering how the TicWatch Pro would compare against this, fortunately, the kind people at TicWatch were able to send me over a TicWatch Pro to test out which was very good of them.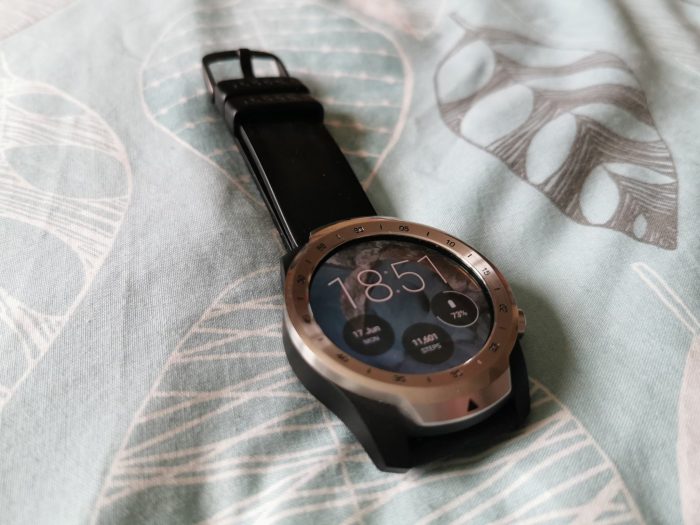 For this review, I am going to concentrate on what makes it different from the S1 and how those differences affect me the user in the real world. I have used the watch as my main device for about 2 weeks now and I have been very pleased with how it has performed over this time.
So what are the differences and why should you go with the Pro version over the S2. The biggest and most important difference for most people will be the inclusion of Essential Mode. What this does will be covered in more detail a little bit further in but for now, let's take some time to go around the device and look at the design.
Hardware and Design
I have already posted an Unboxing video of the Pro and I would encourage you to have a look at it here.
The design of the Pro is a lot more subtle than the S2 it also has a more classic look to the watch. The watch is made of both metal and plastic (I assume it is Polycarbonate but cannot be sure).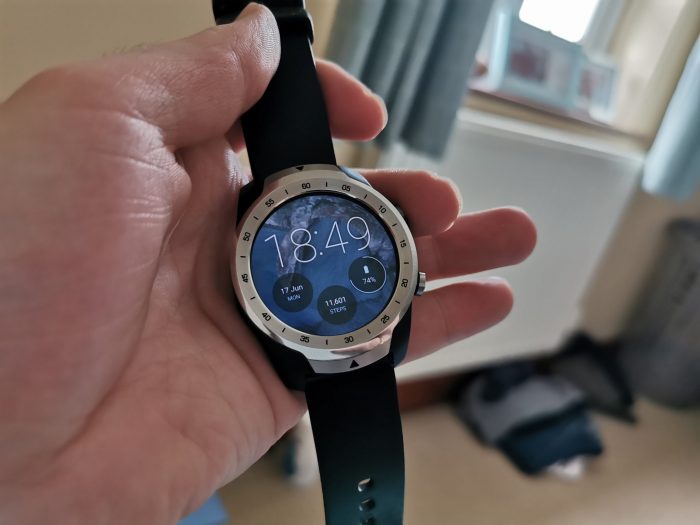 I do like the metal bezel although again this is a not moving part like it was on the S2. That is easily forgiven though when you see the screen as it is glorious in terms of resolution but not so great for brightness again an issue I found with the S2.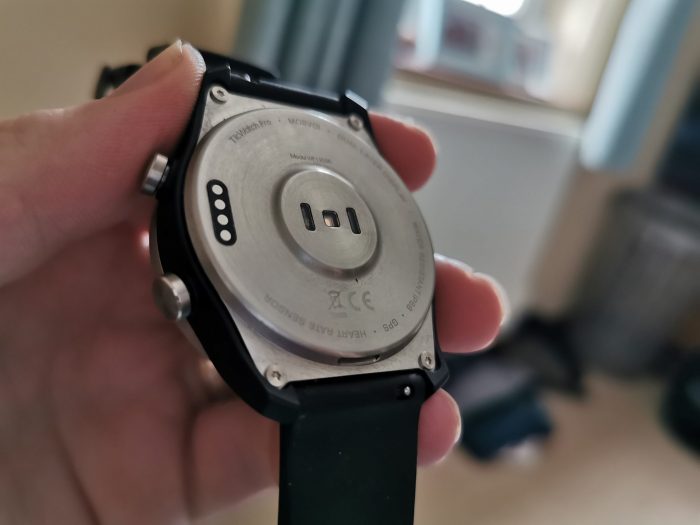 The rear of the device is now a metal panel which helps to give a feeling of premium quality although I am not sure how this will affect the actual durability of the watch over the long term.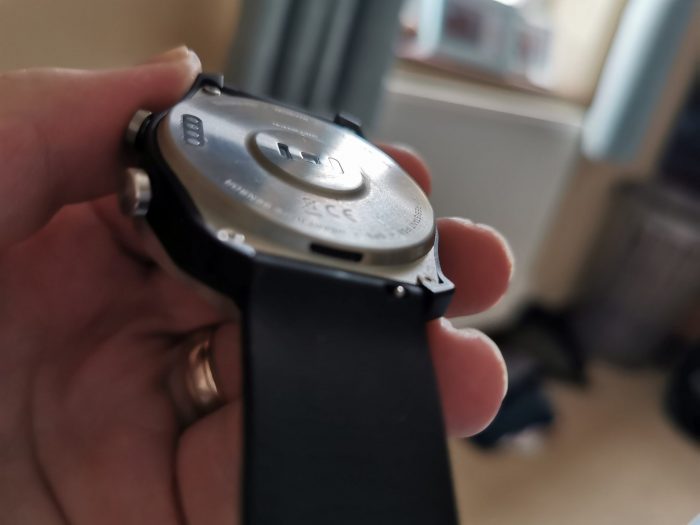 One difference that can easily be seen on the base of the watch is the hole that is now present for the speaker which was sadly omitted from the S2. This does have a downside though as due to its inclusion the watch is no longer as water resistant as it was on the other watch. We now only have an IP 68 rating. This means that the watch is no longer swim safe which is a shame.
The watch is a touch thinner than the S2 was and this actually makes a big difference when you are wearing it as it doesn't feel quite as cumbersome. Don't get me wrong it is still large and those with smaller wrist may find this troublesome.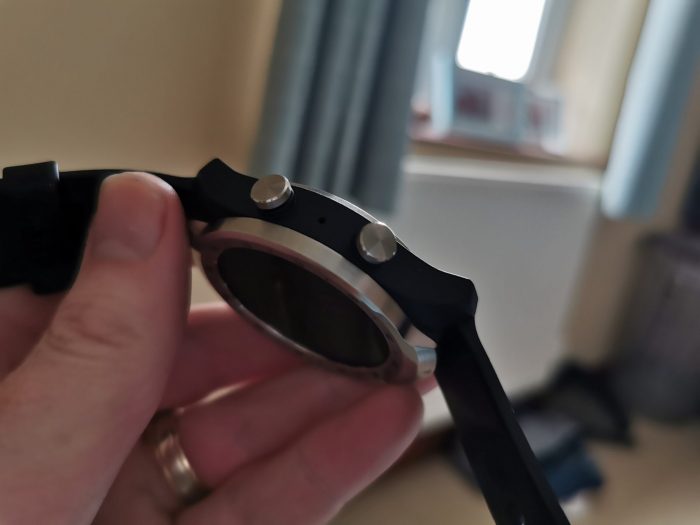 A nice improvement is the addition of the secondary button on the crown of the watch as this now becomes a programmable button via software, which we will delve into later on. Both the buttons have a positive click and feel solid. I would be hesitant about pressing them whilst under water as this is how I broke a previous water resistant watch! in between the buttons is a microphone for picking up voice commands and also for when you are using this for making calls.
As on the S2 the lugs for the strap mounting position are very solid and will take straps of varying styles as long as they are 22mm in width. I have used the strap from my old Pebble Time and I have also tried the white strap from the S2 which looked a bit weird but this is an aspect that is very much down to individual tastes.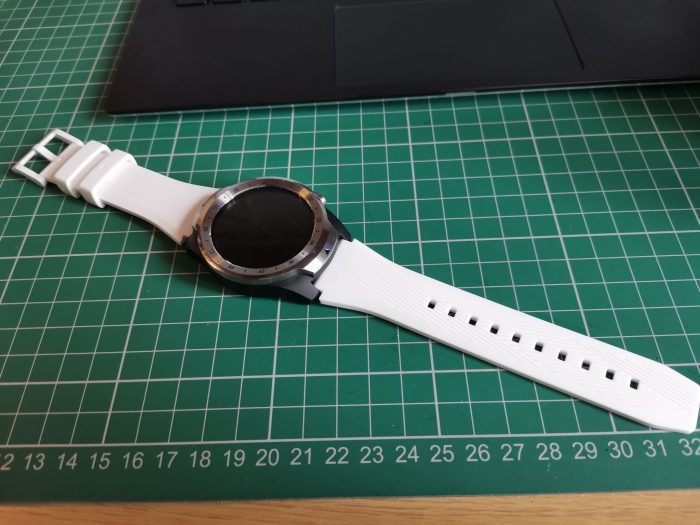 The good news here is that the included strap is very comfortable and is quite robust looking. It is a hybrid of leather on the outward facing side of the strap and rubber on the inside. This is a nice touch especially when you are wearing the watch whilst working out as it will stop the strap from beginning to smell which I have found can happen on leather straps when sweat is involved! It is yet another thing that separates this from the S2 as a more premium feeling watch.
The other big thing that has been included on this over the S2 is the facility to use Google PAy on the watch via the inbuilt NFC, again this is good to see and although it is not something I personally use (the curse of being a phone reviewer) I can see it being a big factor for those that use it. The ability to pay for items without having to get either your phone or wallet out is very handy especially if you live somewhere that has adopted the standard for things like public transport etc. This is another place where having that second button becomes useful as it can be set up to trigger Google Pay with one press.
The last thing that I need to cover is the Pro's USP. This is the fact that the watch has two screens. the first screen is the same as that found on the S2 which is a 1.39" AMOLED 400 x 400 display. This is where you will be doing all of your actual interaction with the watch as it would be on any other Wear OS device. However, when other Wear OS devices will go blank after a predetermined period of time or it will switch to "Always On Display" mode the Pro does something entirely different. It will actually turn off the OLED screen entirely and the turn on an FSTN LCD screen which displays the Time, Date Heartrate and your steps.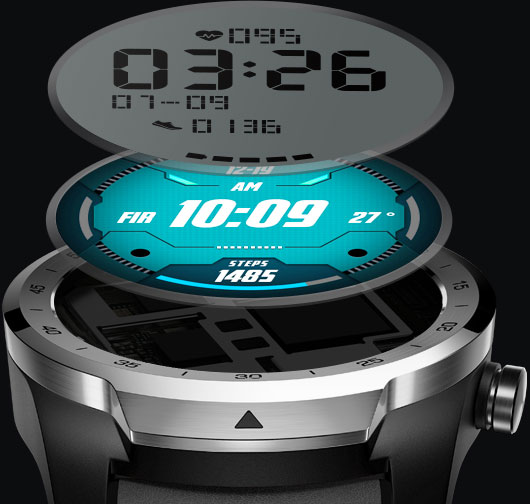 You will not get any notifications coming through and it looks like an old school Casio! The reason for doing this is it gives you a functional watch with excellent battery life when you don't need the smart features. So much so that it can actually be set as the one and only function of the watch. This is called "Essential Mode" and in this state, one can expect up to 30days of battery life. Now I have not tested the watch in Essential Mode as I wanted to use the smart features that are afforded by Wear OS. I did utilise the hybrid-esque function of having the watch go into the essential mode when not in use and found it be very useful.
That about sums up the differences between the S2 and the Pro. As you can see there are a few positive's to the Pro but also a few negatives as well. From a hardware perspective, I do have to say that I prefer the Pro.
Software
So now that the hardware and design section is finished up with how does the Pro differs on software.
Well, in a nutshell, it doesn't, it runs on Wear OS after all and it has the same additions to the software that are to be found on the S2. The only three key differences are
-Voice control and feedback via Google Assitant
-Google Pay
-Essential Mode
Let's spend a bit of time looking at these then but before you do if you want to know anything about the other features of the watch you can do so by checking the review of the S2 as I have covered the software extensively there.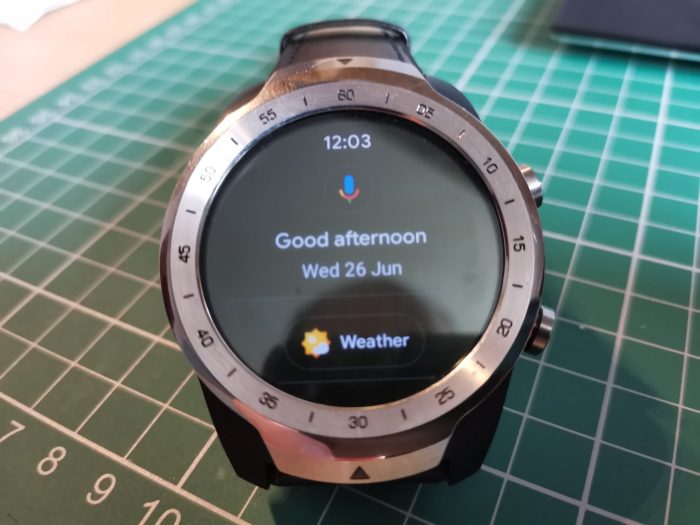 First up Voice control via Google assistant. This is fairly self-explanatory really and it is not something that I found myself really using very much mainly due to it being very slow. You see the problem that I have with this service is that it relies upon your data connection via your phone. Now if you are in a good signal are then you are all good. Find yourself in an area that does not deliver 4G and then you are a bit stuffed. The next problem is that you have to then transfer the data that your phone has received back to the watch via Bluetooth, which we all know can be a bit slow.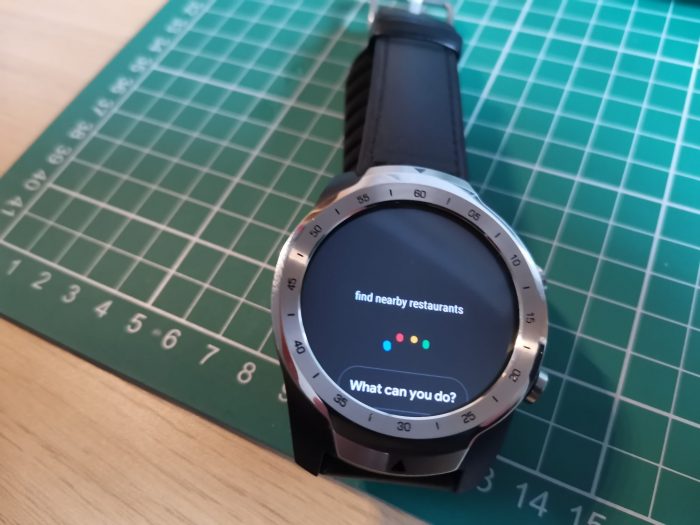 So if you are trying to get Google to find a restaurant for example then you have to ask the assistant which then sends the command from the watch tot he phone. The phone then carries out the command and does the search. it then has to send that info back to the watch to let you know the result which in this case would be to look on your phone! (to be fair you can do somethings from the watch but not much). It was useful for playing music and showing off but I didn't really use it for much more than this.
Another area where I thought this would be useful was for dictating text but it was again patchy at best and you would be quicker doing it on your phone.
Using Google Pay via your watch. This something I did not use at all as I don't use this on my phone so I can not really comment on its ease of use. So in the setup of the service you need to set up a screen lock which is the first thing that would be annoying in daily use. It will then pull your cards through from your phone and allow you to use them to pay for things by a simple tap of the watch to the payment terminal. Sounds easy right.
Without going to in depth to why I don't use this it is simply down to the hassle of setting up on my phones as I switch these out so much and so frequently the banks cannot keep up and as result, I have to phone them every time I set up a new device. So I stopped doing this ages ago as I simply couldn't be bothered. I can see the appeal of the system but I don't use contactless payment enough to warrant it at the moment.
All this being said I am glad to see that it has been built into the watch and that you have the option for quickly accessing it via the secondary button, assuming you don't use it for the next thing on the list which is….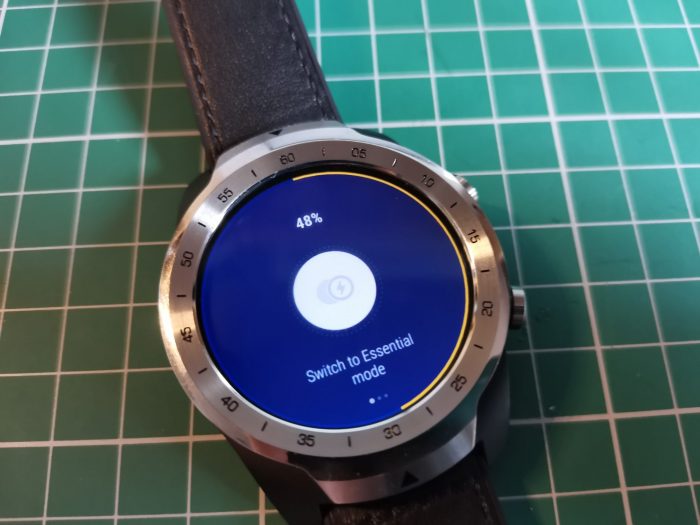 Essential Mode. I thought I was really going to like this aspect of the watch however I was in for a rude awakening. In essence, it sounds brilliant when you read the way it is meant to work from the Mobvoi website
How long is battery life?

Battery life varies for different usage scenarios. Below are two sample usage scenarios for your reference
Using Smart Mode for 2 days (battery level from 100% to 5%), followed by Essential Mode for 3 days (battery level from 5% to 0%). In this case, the battery life is approximately 5 days.
Using Essential Mode only, the battery life can last for approximately 30 days.
So yeah from that you would expect that the Essential Mode only comes on when the battery gets low. Well, this is not the case, Essential mode activates whenever the AMOLED screen turns off which I suppose is a good thing. It does, however, mean that when you want to use Smart mode it takes a bit of time to start up again. Now I learned to live with that bit but it was the other bit that really bugged me.
Both me and my wife use smartwatches, hers is a Nokia/Withings HR Steel and me well whichever one I have on at the time. We both like to keep an eye on our step counts throughout the day and compare them. While the Pro does keep count of steps when in essential mode I noticed that there was a difference between the steps counted in this mode and the steps counted by Wear OS in smart mode. This was then further complicated by the figure in Google Fit being out of sync as well. It makes it very difficult to gloat at beating the wife's step count when you have 3 differing figures to look at. Now I appreciate I may have set up something incorrectly but it was really annoying.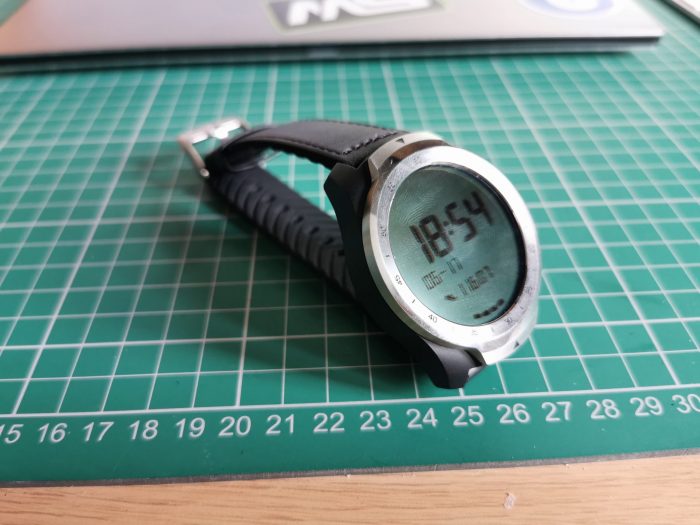 I would have liked to see a bit more functionality in the Essential mode screen as well as this would have made it more useful but I can understand the reasoning behind its relative sparseness. I would also have liked a bit more control of when the mode started as I was not really that pleased with it automatically kicking in every time the screen went off.
Now I know that I have been a bit negative on these last 3 points but I want to turn that around now as there is a big positive to the last one. By utilising the Essential Mode facility of the watch I was able to get up 3 1/2 days of battery life which is the best I have ever seen from any Wear OS powered device. This could have been the saving grace but it was just a bit too glitchy for my liking.
Summary
So is this watch a better alternative to the other Wear OS devices out there and would I choose it over its stablemate the Ticwatch S2?
Well, it is a bit of a mixed response, from a pure battery life standpoint yes it is one of the better Wear OS watches I have used but it is by no means perfect. I like the fact that I can get by without having to charge it after a day and a half. That is a big tick for the pro column. I just don't find the rest of the package on the software side of things to be that much of a step up from the normal offering of the Ticwatch S2. Given that the Ticwatch pro is also more expensive than its cousin I would be more inclined to go with the cheaper option and just charge it more regularly or go with another brand entirely. I find that I don't really use a lot of the advanced features of the watch and it is for that reason that I would recommend going for the cheaper and more rugged option.
That is just me though if you wish to sue the Google Pay option and want to be able to make and receive calls from your watch then this is definitely one to consider and it is reasonably close in price to its competitors such as the Huawei Watch 2. I just found that the software was a bit glitchy and that Essential mode was a disappointment from what it was meant to be. maybe I just had expectations that were too high.
All this being said it is a really nice design and it brings a lot to the table number one being the stellar battery life, so if that is important to you then you will be hard pushed to find a better long lasting quality smartwatch within the Wear OS family.
The Ticwatch Pro is available now from Mobvoi for £214.99 if you want to get one.
Maybe I just need to wait for the long-awaited Pixel watch….
Hardware and Design – 91%
A really good watch which lasts longer than any other Wear OS device on a single charge but it has its issues with the software.
81