I was having a think last night, which is pretty unusual for me. It was a good think. It occured to me that here on Coolsmartphone we're always mentioning the major networks when mentioning which new phones are arriving and when, but we don't mention the MVNO's – those network operators that share a network but offer competitive deals on the same handsets.
Why don't we mention them more? Even the traditional networks are now sharing masts and infrastructure, so it's about time that the "virtual" network operators had a more equal footing in my opinion.
Over the next few weeks we'll be covering each one, starting today with Virgin Mobile. They use the EE backbone with the combined Orange / T-Mobile infrastructure giving your handset a pretty excellent signal when you move around. They actually have a claim to fame too – being the first ever virtual network operator in the world.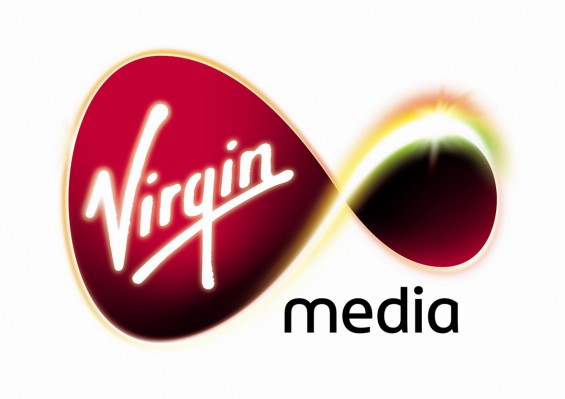 If you're looking out for the Samsung Galaxy S4 then they already have a pre-order page.
Pay Monthly
The tariffs split into two tiers, with extras offered to existing Virgin Media customers (cable TV etc), however as an idea of what you can get they offer 2500 minutes, unlimited texts and unlimited data from £23 per month. We found the Sony Xperia Z for just £33 per month, and that includes 200 minutes, 500 texts and 500MB of data per month. Sure, you have to pay £69 up-front but you can probably easily get that money back by selling your old phone on eBay.


Remember though, this is the price to those who don't already have Virgin Media TV, broadband or phone. If you do then this very same package drops to just £28 per month, or you can hop up to the "Essential" package for £33 per month and get 600 minutes, unlimited texts and 1 GB of data. You also get unlimited calls and texts to other Virgin Media customers thrown in.


Pay As You Go
A range of handsets are available in bundled deals. They might not be the very latest handsets but, for the cost-concious, you can grab the HTC One V for £159.99 and get £10 worth of airtime included, plus there's 12 months of completely free data.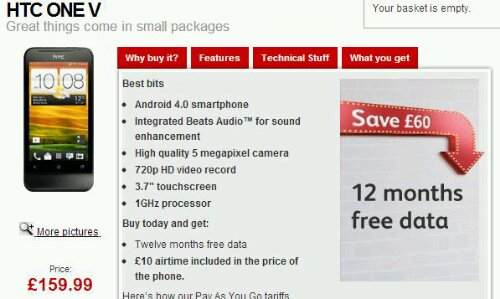 Of course, you can always get your own handset and then just put a Pay As You Go SIM in. Virgin Media currently have two types of tariff – Big Talk and Big Data & Texts.
– Big Data & Texts
If you're after data and texts then you can top up £10 and get unlimited data and 300 texts. You then get £10 of airtime too and calls are charged out at 26p per minute to any UK mobile or landline (customers with Virgin Media get unlimited calls to other Virgin Mobiles though). Top up £15 and you get unlimited data, unlimited texts plus your £15 airtime.
– Big Talk
For those that like to chat a lot you get unlimited UK calls and 120 mobile minutes if you top up £10, with a £15 top-up getting you the same plus unlimited texts.
Pay Monthly
These deals are split again, with offers available to Virgin Media customers. If you're not a customer then you can grab a SIM only rolling monthly plan for as little as £7. That'll give you 150 minutes, unlimited texts and 500MB data. If you're already a Virgin Media customer then the plans dip down to £5.
For £10 per month you can get 1GB of data, unlimited texts and 250 minutes, which isn't half bad if you're happy enough with your current phone or have purchased a phone direct.
Overall, Virgin Mobile have a very decent selection of plans and offers which, especially if you've already got Virgin Media TV, broadband or phone at home, are definitely worth checking out. You also get free access on the Tube too, which is great if you use it on a daily basis.