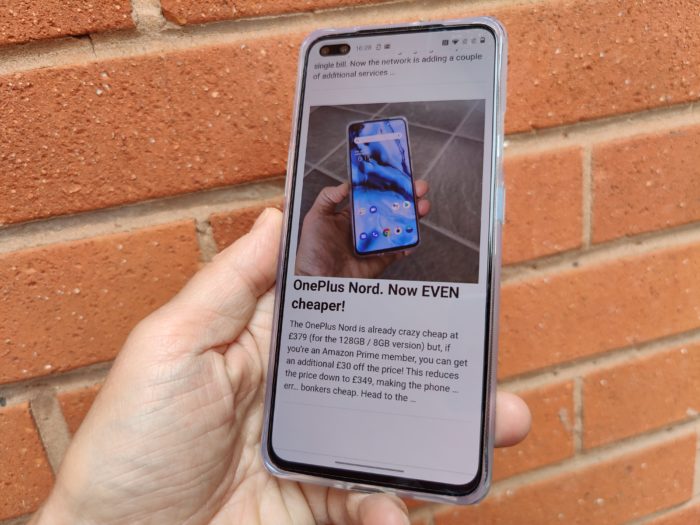 So, let's take a look at a phone that is definitely not the Oppo Find X2 Lite with a slightly different selfie camera setup (that is £399 by the way). No, this is the OnePlus Nord – a phone which costs £379 if you want the 8GB / 128GB version and £469 for the 12GB / 256GB one.

Now, in all honesty I've already brought you a big chunk of this phone, so let's just catch up. First of all, the unboxing, hands-on and up-close photos…
You can see even more here. The specs, availability and everything else is below and I show off the covers that are available (you get a free one in the box)…

The OnePlus Nord. Hands on and unboxing! – Coolsmartphone
This is the one we've all been waiting for, and the handset that could potentially start turning the smartphone world on it's head. This is a phone which


Coolsmartphone
The price thing
This is important. I'm finding that there's a couple of growing groups of people in the smartphone world…

First, there's those who've got a flagship phone and really don't want to go "backwards" (or what they perceive as "backwards"). So, when renewal time rolls around, they upgrade to the latest version of the phone they already have. It might be the newer version of the Samsung Galaxy perhaps.

Secondly, there's those who are searching for a better deal and better value for money. They might be buying a phone out-right and then going SIM-only to get better value-for-money or they're searching for a phone which suits their needs rather than one which has a bunch of extra bits you might not need or appreciate.

This phone (and the Oppo Find X2 Lite, which I promise not to mention again) is sub-£400 for the 8GB version. However, the people in that first category are upgrading to phones which are £900 or more. If we sit down and think about what we're actually getting for the extra £500, it usually boils down to…
– Wireless charging
– A funky curved, bigger screen (higher resolution / PPI, faster refresh)
– Stereo speakers
– Quicker CPU
– Better camera setup
But… wait….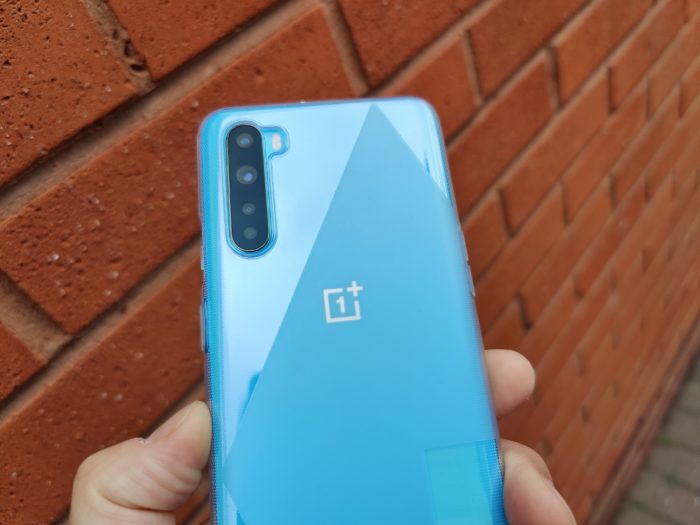 OnePlus are going to tell me off…
I was told by the PR people initially not to do this, but I've had two coffees already and it seems like a good idea.
Right here you can buy the OnePlus 8 Pro. It's £799 for the 12GB / 256GB model whilst the OnePlus Nord is £469 for the same 12GB / 256GB version.

The OnePlus 8 Pro does better on cameras (but wait – let me get back to that in a minute), on CPU (a Snapdragon 865), screen (higher resolution, bigger, faster refresh and curved) and it comes with stereo speakers. It also has wireless charging.

However, it gets the same OS, the same memory, storage, HDR10+, Corning Gorilla Glass, Bluetooth 5.1 (aptX HD etc), dual-band WiFi, in-screen fingerprint system, GPS, NFC and similar fast charging via the infamous WarpCharge 30T. The Nord lacks wireless charging, reverse wireless charging, stereo speakers, the curved screen and… well, I need to get back to something…
What was that about the camera?
OK, in the OnePlus 8 Pro there's a brilliant camera setup. On the back is a 48 megapixel main shooter, a 48 megapixel wide-angle lens, an 8 megapixel telephoto shooter and a 5 megapixel colour filter lens.
Up front, it gets a 16 megapixel selfie lens.

On the Nord things are a bit different. The selfie arrangement is arguably better – a 32 megapixel main lens sits next to an 8 megapixel wide-angle lens so that you don't need a selfie stick. They're both in the screen but you'll hardly notice them.

On the back, the main lens is still 48 megapixel, however the wide-angle lens is 8 megapixels so if you're taking any scenic shots of the horizon, they'll be slightly less clear. You don't get a telephoto lens, and I experimented with both phones to test this one. Basically the OnePlus 8 Pro will get you a 3x zoom but the Nord gets a 2x zoom. I don't know about you, but I don't really use zoom in anger.
For me, and I think probably for you too, you'll be mostly just using the main lens. So, I did a comparison between the two phones, taking the same picture at the same time …
OnePlus 8 Pro
OnePlus Nord
OnePlus 8 Pro
OnePlus Nord
OnePlus 8 Pro
OnePlus Nord
OnePlus 8 Pro
OnePlus Nord
OnePlus 8 Pro
OnePlus Nord
OnePlus 8 Pro
OnePlus Nord
OnePlus 8 Pro
OnePlus Nord
OnePlus 8 Pro
OnePlus Nord
These were taken in near-darkness as I watered the plants (I'm so rock 'n roll) at about 10PM..
OnePlus 8 Pro
OnePlus Nord
OnePlus 8 Pro
OnePlus Nord
Have a look for yourself. I mean sure, I know that the OnePlus 8 Pro camera setup is better, but your main 48 megapixel lens (at least in my eyes, judge for yourself) produces the same results on the OnePlus Nord.
Let's not forget, the OnePlus Nord is £330 cheaper than the comparative OnePlus 8 Pro. Just think what you can spend that money on. Heck, you can save even more cash if you get the 8GB / 128GB version but… I digress…

The Nord camera app will fire up and you get a load of options – Google Lens, a timer, HDR, super macro (courtesy of the 2 megapixel lens) and loads of filters to give your shots that additional "edge".

You can switch from "Photo" to Portrait, Pro (if you're going to fiddle with all those settings I can't pretend to understand), Portrait (for those cool Bokeh / blurry background shots), video, slow-mo, panorama and time-lapse.
It also gets Nightscape mode, which bursts loads of colour into the darkness so that you get weirdly lovely shots like this (taken at 11PM)..

Inside
We've got all the Google goodness (Maps, Gmail, YouTube, Drive, Google Pay and Google Play). You also get Google Assistant, a funky gallery system that splits and auto-categorises photos (like if it's a download, a screenshot, a selfie and so on), Facebook, Chrome, File Manager and so on.

I decided it's perhaps best to show you around the GUI via YouTube, so let's dive in…
The browsing experience, the switching between apps and the consumption of video on several streaming apps – the experience is smooth, jutter-free and really very pleasing indeed.
This isn't a "budget" phone or a "make do" phone or even a "I can't afford the mad-expensive flagship phone". This is a standalone, solid smartphone which will keep 90% of people happy.

90% ? Well yes. I know there's a 10% out there going..
Hey man, I NEED wireless charging! I NEED the fastest CPU for my super-fast gaming! I NEED two speakers, reverse charging, super-zoom, and a curvy screen!
If you do, go for it. Go spend another £400. For everyone else though, the OnePlus Nord is a knock-out smartphone. It'll take fantastic photographs, it'll do all your social media, email and browsing with ease. It's got a great screen (90Hz Fluid AMOLED really does the business), great battery life, it's got bags of memory, bags of storage, all the Google bits, 5G and it's speedy too. That Snapdragon 765G really is more than enough.

Don't feel that you need to spend a fortune for your next phone. Don't feel that you need to go with the most heavily-advertised brand either. The OnePlus Nord is a top quality smartphone. Ignore the price. Ignore those people who've spent hundreds more and aren't really using the few additional features. Ignore anyone who says "mid-range" to you. Get one of these.
Get more details right here on OnePlus.com.
OnePlus Nord Review
Less than £400. Oodles of RAM, oodles of storage, great camera, brilliant experience. All the Google goodness. I can't put it down. Top drawer.
96