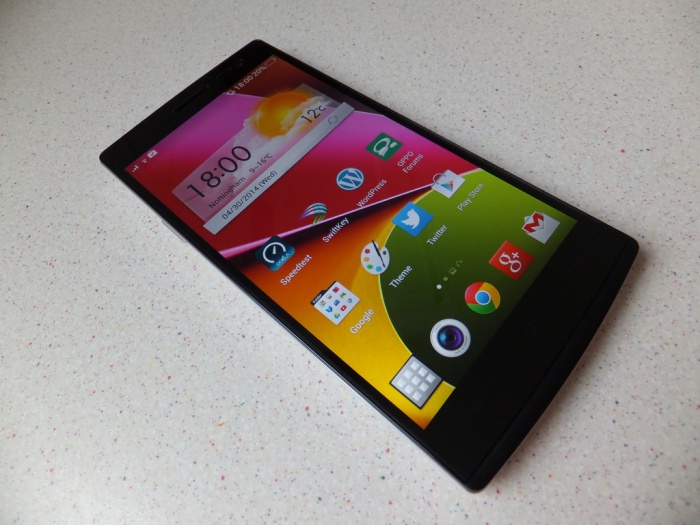 Oppo are slowly getting a name for themselves in the Western world, here at Coolsmartphone we've bought and reviewed several of their recent flagships. This time round with the Find 7a it was down to me to dig into my pockets and order one.
As I've only had the Oppo Find 7a for a few hours now this is really only my initial thoughts on the device. Also if you've got any questions leave them in the comments section below and I'll do my best to answer them. So onto my thoughts starting with the good and bad points.
Good Points
Great big bright crisp screen with great viewing angles.
Memory card slot and removable battery.
Great camera.
Great spec (apart from the internal memory).
Ridiculously fast charging.
Crazy loud stereo speaker.
Really impressive sound quality using headphones.
Bad Points
Partitioned internal memory makes the already lacking internal memory even harder to manage.
It runs Jellybean not KitKat.
Color OS is a rather heavy skin, barely anything has been left untouched.
Fast charger is a two pin thing.
Screen sensitivity seems a bit hit and miss.
Design
The OPPO Find 7a is a great big device, bigger than the Galaxy S5 or the LG G2 and it's more like the size of the Note 3, I ordered the white version and I was pleased to find that the backplate had a nice texture to it. The whole device is plastic with what feels like a metal frame underneath, the edges are plastic with what looks like two metal strips all the way round. Power on the left, volume on the right, headphone socket on the top and backplate removal button on the bottom right hand edge.


















Hardware
Spec wise the OPPO Find 7a is a cracking device, it's up there with all of the other flagship devices that cost way more than it.
Processor: Qualcomm Snapdragon 801 MSM8974AB Quad-core 2.3GHz.
Screen: 5.5 inch LTPS with Corning Gorilla Glass 3, 1080×1920 FULL HD, 403 PPI.
Memory ROM: 16GB.
RAM: 2GB LPDDR3 1866MHz.
Card reader: Up to 128GB.
FDD-LTE Bands B1/3/7/20.
TD-LTE Band B40.
UMTS/HSDPA/HSUPA/HSPA+/HSPA+42 (850, 900, 1900, 2100MHz).
GSM/EDGE (850, 900, 1800, 1900MHz).
802.11a/b/g/n Wi-Fi (802.11n 2.4GHz and 5GHz).
Wi-Fi Direct.
Bluetooth.
NFC.
Android 4.3 (Jelly Bean).
Fast Charge Technology.
GPS.
Wi-Fi Display.
DLNA.
Gyroscope.
Digital compass.
Microphone.
Light Sensor.
IR Proximity Sensor.
Magnetic Sensor.
Gravity Sensor.
Battery: 2800 mAh removable lithium-ion battery, fast Charge Technology.
Camera Main: 13-megapixel Sony Exmor RS stacked CMOS sensor with dual LED flash, 6P Blue glass/AR+AF cover glass, f/2.0 aperture.
Front Facing: 5-megapixel, 80° visual angle, 5P lens, f/2.0, Blue glass.
Dimensions: 152.6×75×9.2 mm.
Weight: 170g.
The only slight issue here is the internal memory, OPPO are famed for screwing up doing this with their devices, they did it with the Find 5 and the N1 and the closer a device gets to KitKat the harder it is to move apps to the SD card. So out of the box you get about 3GB for apps about 3.8GB for the OS itself and the rest is for storing media and documents, which as the Find 7a has a Micro SD slot seems absurd to do it this way. There is a rumour that OPPO are going to fix this in future firmware updates. Fingers crossed.
Software
The OPPO Find 7a runs Color OS version 1.2 which is based upon Android 4.3 which is slightly disappointing, the newer version of Color OS is in beta testing at the moment and anyone can download it and have a play. There is a lot of apps to have a play with and there is a lot of settings to play about with also. Things such as gestures to wake the phone to trigger a variety of apps, a huge online library of themes and lockscreens. To be truthful it's all a bit much at the moment, I will need to sit down and look through for a good few hours.



The Camera
The camera has a huge amount of options and modes for me to try out. From my few shots I took on the way home last night it looks like a capable camera. The super zoom thing creates and enormous image that doesn't seem to be that much higher detail and in low light taking a picture of my mouse it took a really noisy shot.










Initial Conclusion
My initial conclusion after only a few hours is that the OPPO Find 7a is a great device that has a few little niggles here and there that really could be sorted out with a few well thought out firmware updates, the option to sort this or not is really down to OPPO, if they fix things quickly they could have a really successful device on their hands, if they don't well it be another device that could have been amazing.
The fast charging thing is really impressive, I charged the phone fully in just over an hour. I was also impressed by the volume of the rear speaker, music was really loud and podcasts are easily listenable with the rear speaker.
Anyhow, that was my initial impressions, it's over to you guys now. If you have any questions, thoughts, things you want testing out or just questions about the device please leave a comment below. The full review will be online in a couple of weeks once I've had a really play around with it.