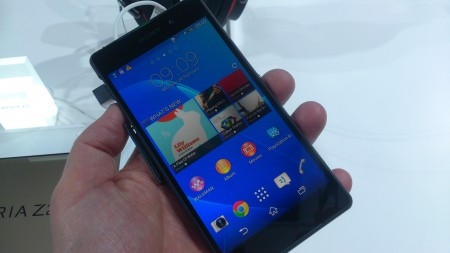 The new Xperia Z2 will start shipping next week from Phones 4u – a full two weeks earlier than anywhere else.
The store is also offering up a Sony SRS-BTX300 wireless speaker worth £119 in white and you can bag yourself over £80 worth of Sony content including music, games and six movies to enjoy too. If you pre-order the Xperia Z2 then you can also save 50% on the new Sony Smartband, plus they'll chuck in an "Active Pack" too.
If all that isn't enough for you, then you'll also get a £50 Google Play voucher if you choose a 4G plan.
Not enough?
Well, apparently Michael Jackson is still making music, and his new album, "Xscape" will be available completely free from the Sony Xperia Lounge app from May 13th.
We did mention earlier that the Z2 would be delayed, and if Phones 4u are getting it on the 14th "two weeks earlier than the official UK launch" it proves that the handset won't arrive until May for everyone else.
Check our hands-on with the Xperia Z2 in Barcelona.
Update – Apparently Vodafone are sending out the Z2 next week too, so someone is telling porkies here..