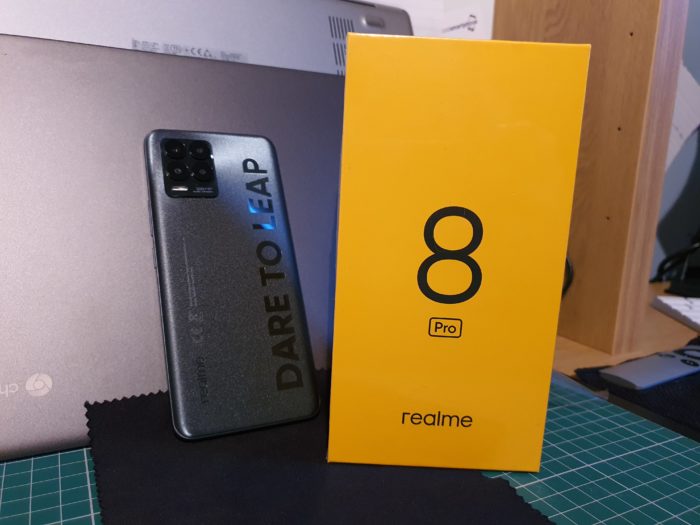 A mid-ranger phone with a flagship camera sensor does it work as an alternative to a high-end alternative?
This is the question I am going to attempt to answer during the review of the Realme 8 Pro.
So for those of you who have not heard of Realme before then not to worry they are quite new to the market here in the UK. They started out life as a sub-brand of OPPO and were originally called OPPO Real. They then became Realme as a spinoff from OPPO in 2018. Like OPPO and also Oneplus the Brand is still owned by BBK and this is important as we will see some of this heritage in the review as we go through it. So without further ado onto the review.
Before I get started on the review I just want to add this quick disclaimer. I am basing this review on a sample unit that I have been supplied with by Realme. I have not had any form of payment for this review and Realme have not had any preview of this review either. The thoughts and opinions in this article are my own and this will always be the case with any reviews for Coolsmartphone.com
If you don't want to read the review then you can also check out my video review here.
Design
The phone is like all phones these days a rectangular slab of glass, plastic and some metal. However, it is nice to look at and I have found some nice little detailed bits around the phone that I do quite like. Normally I would give you a full 360 of the phone and cover what all the edges look like, in this instance, I am not going to do it here as I have already covered this in my Unboxing post that went out the other day. What I do want to focus on are the little quirks that Realme have built into the phone that for me make it stand out above the crowded marketplace.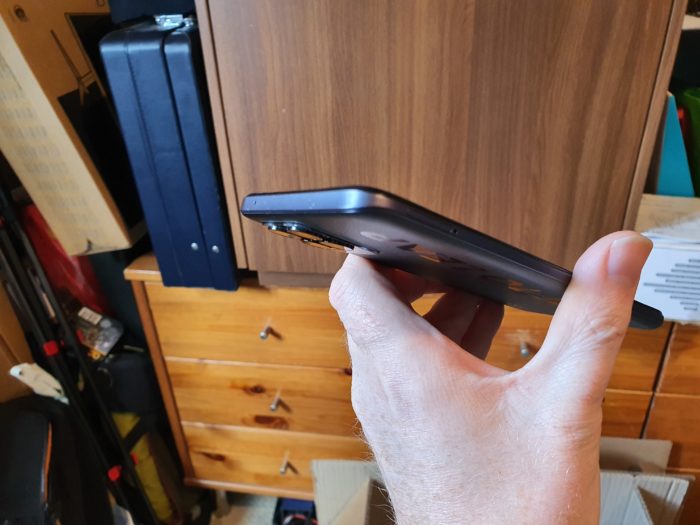 First up is the panels on either end of the phone as these have got a very slight inset curve to them which I really do like as it makes the phone much more comfortable to hold. They are very hard to see in a picture but they are there and you do notice when you hold the phone in your hand. I have been trying to remember where I have seen this design detail before but I have had it on a previous phone and it made me want to use it over much more expensive and higher-spec devices at the time.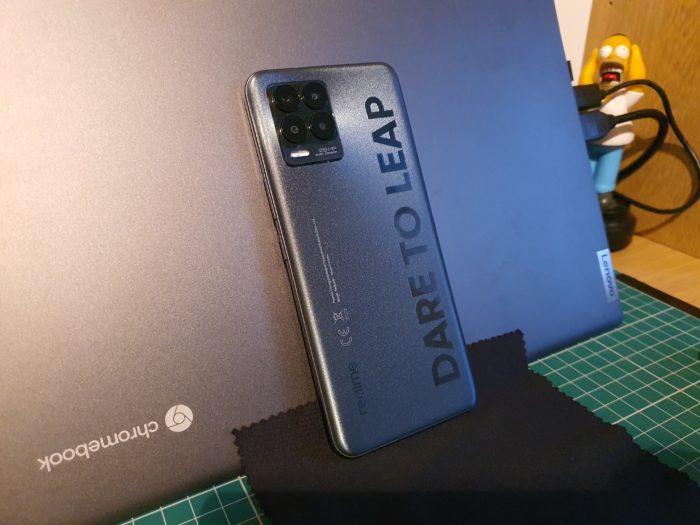 Secondly and this may be one for a bit of contention amongst readers. I love that phones are now coming with all-glass back panels as makes the phone look all sleek and sexy especially when you have multicoloured back panels that shift with the light. That being said I also hate glass back panels as they are fragile and require nursing to make sure they don't break or get scratched up when you put your phone into your pocket and god forbid there is some hard material in there as well. it is bad enough that our screens get all scratched up but we now have the back to contend with as well!! This is the reason why I am such a big fan of skins from places like Dbrand and Xtremeskins. So I was very pleased and happy to see that the Realme 8 Pro comes with a plastic back panel that is not glossy and also has texture to it. The feeling reminds me of the wrist rests on my work laptop and these have stood up to a lot of typing over time so it should be a similar case here. I am also not averse to the new branding approach that Realme has decided to use on the phones back as this is something a bit different. As you can see in the image below it isn't exactly subtle but again it makes the phone stand out from the normal slab that we are all so familiar with now.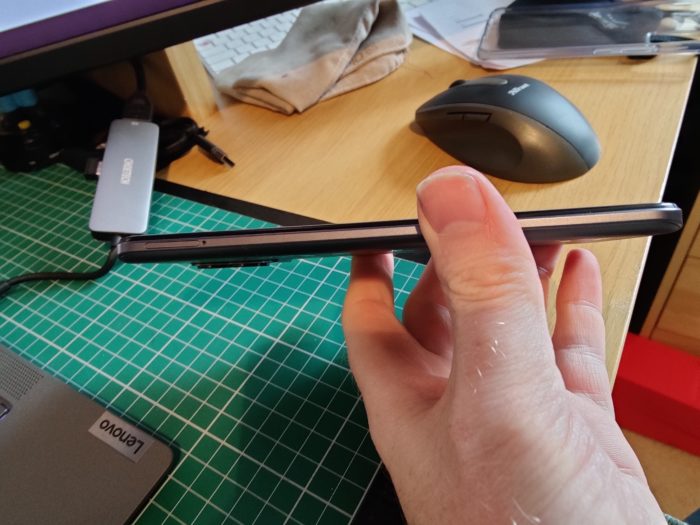 The last thing I want to specifically mention here is the depth or thickness of the device. This phone is svelte and I like it! It fits very nicely into my hand and the edges don't dig into my palm at all. It is barely noticeable in my pocket at all (to the point where I have to do a double-take sometimes). The feel of the phone is just well, nice I enjoy holding it, I enjoy playing games on it and the proportions work well. Dont get me wrong I have got a like for big phones and the screen on it is a little small for my taste but even with all that being said if this were to be my only phone, based upon the way it feels I would be happy to use it long term.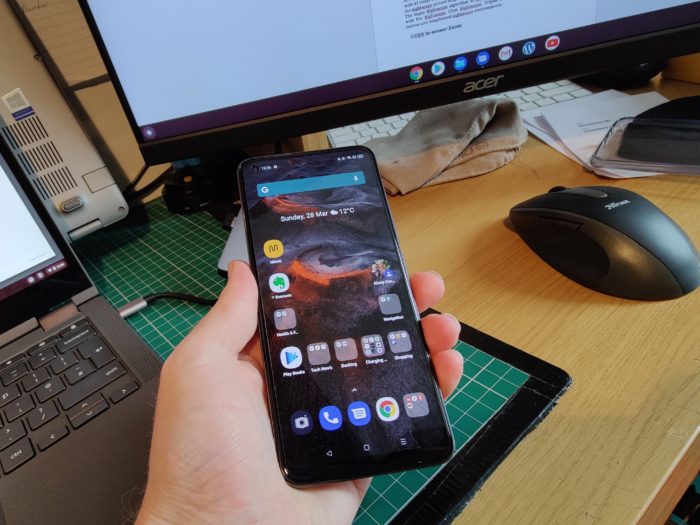 So the above for me three areas where the phone stands out a bit more from the crowd and the Realme 8 Pro differentiates itself from the crowd. There is a lot more to a good quality smartphone that just designs though, which leads me very nicely onto the hardware used on the phone. So it is time for a Specs sheet!
Specifications
Processor

Qualcomm® Snapdragon™ 720G




CPU:8nm, Octa-core, Up to 2.3GHz




GPU:Adreno 618




AIE:5th Generation Qualcomm AI Engine

Storage & RAM

RAM:6GB/8GB LPDDR4x




ROM:128GB UFS 2.1

Display

16.3cm (6.4") Super AMOLED Fullscreen




Resolution:2400×1080 FHD+




Screen-to-body ratio:90.8%




Peak brightness: 1000 nits




Touch Sampling Rate: 180Hz

Charging




&




Battery

50W SuperDart Charge




4500mAh(typ)




Includes a 65W charger & cable




USB Type-C port

Camera

108MP Primary Camera




1/1.52″ sensor size




f/1.88 aperture




6P lens




PDAF

8MP Ultra Wide-angle Lens
f/2.25 aperture
FOV 119°
5P lens
2MP Macro Lens
f/2.4 aperture
4cm shooting distance
2MP B&W Lens
f/2.4 aperture
Photography Function:
Starry Mode, Tilt-shift, Dynamic Bokeh, Neon Portrait, AI Color Portrait, Ultra 108MP Mode,
Super Nightscape, Panoramic view, Expert, Portrait Mode, HDR, Ultra-wide, Ultra macro,
AI Scene Recognition, AI Beauty, Filter, Chroma Boost, Bokeh Effect Control, Text Scanner
Video Recording:
Starry Time-lapse Video, Tilt-shift Time-lapse Video, Dual-view Video, Nightscape Video, UIS Video Stabilization, UIS Max Video Stabilization
4K/30fps video recording, 1080P/60fps video recording, 1080P/30fps video recording, 720P/60fps video recording, 720P/30fps video recording,
1080p/120fps slow motion, 1080p/480fps slow motion, 720p/960fps slow motion ,720p/240fps slow motion
*The Starry Mode, Starry Time-lapse Video, 1080p/480fps,
720p/960fps and 720p/240fps slow motion features require a subsequent OTA update to be available.
16MP In-display Selfie
f/2.45 aperture
Sony IMX471 Sensor
5P lens
Photography Function:
Portrait Mode, Panoramic view, AI Beauty Mode, HDR, Face-Recognition, Filters, Super Nightscape, Bokeh Effect Control
Video Recording:
1080P/30fps video recording, 720P/30fps video recording
1080p/120fps slow motion, 720p/120fps slow motion

Cellular & Wireless

3-Card Slot




2 SIM Slot + 1 MicroSD Slot




Frequency Bands:




GSM: 850/900/1800/1900




WCDMA: B1/B5/B8




FDD-LTE: B1//B3/B5/B8




TDD-LTE: B38/B40/B41(2535-2655MHz)




Wireless:




2.4/5GHz




802.11 a/b/g/n/ac




Bluetooth 5.0

Navigation

GPS/APGS/GLONASS/ BEIDOU

Audio

Double mic noise suppression




Hi-Res Audio

Size & Weight

Length: 160.6mm




Width: 73.9mm




Depth: 8.1mm




Weight: 176g

Sensors

Ultra-fast in-display fingerprint sensor




Light sensor




Proximity sensor




Magnetic induction sensor




Acceleration sensor




Gyro-meter sensor

Operating System

realme UI 2.0




Based on Android 11

Packing List

realme 8 Pro




USB Type-C Cable




65W Charge Adapter




SIM Card Needle




Screen Protect Film




Protect Case




Quick Guide




Important Product Information (including the Warranty Card)
Not a bad spec sheet to be fair although it does have to be said that there are a lot of similarities to that of the Realme 7 Pro with the biggest changes happening where the cameras are concerned. This is hardly surprising given that all the build-up to the launch of this phone has been based entirely around what the camera is capable of. We will get into the camera, later on, I just want to spend a bit of time focusing on the hardware aspects for a moment.
Hardware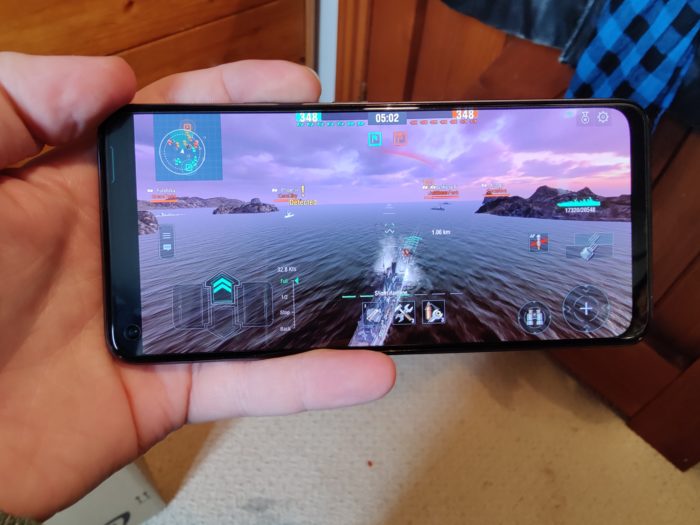 So this is a phone that packs a mighty camera module into a slim and compact body and is powered by a Snapdragon 720G CPU, To some that might cause some concern but I can honestly say that I have been impressed by what this phone can do. I have been using this for a few days now as my daily driver and I have come from a Samsung Note 10+ which is a flagship-grade phone but I can't say that barring one thing I have not found it to be lacking the power department. This is hardly surprising to anyone who has used a recent phone featuring the Snapdragon 700 series CPU as they are very capable chipsets. Yes, it can be said that they dont have the raw power given out by the latest and greatest Snapdragon 888 series but it is not trying to pitch itself at that level. I have not seen any significant slowness in the chip and it handles all the processes of the phone well. I have been able to have multiple email accounts including a work based Outlook account all work seamlessly. When switching between apps it has been for the most part smooth. I have also used it for a bit of light gaming with no problem, It handles one of my go-to games World of Warships well and i was able to play the game for far too long without any excessive heat build-up or noticeable slowdown.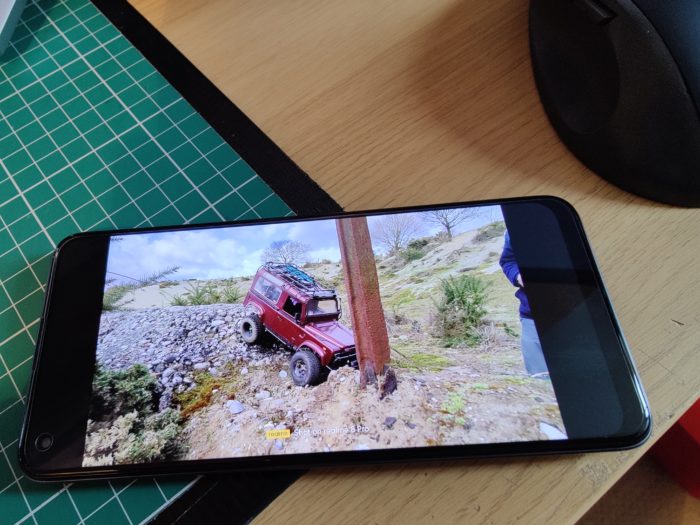 The screen is a joy to behold and it is plenty bright enough for me to use outdoors without having to ramp the brightness up too high. Viewing video on it is pleasing to the eye and colours are well represented once you have chosen your favoured setting through the settings menu. It is a Samsung Super AMOLED panel which is very nice to see and while the refresh rate is not amazing it has not been an issue for me at all at 60hz. The touch is responsive as you would expect from an 18ohz sample rate and I never felt that I was having to press hard to get a response. The Phone just feels smooth to use which is a nice way for a phone to feel.
Connectivity is also good and reliable I have been able to pair it with my car with very few problems from the phone end. The only thing I did experience was with Android Auto being a bit hit and miss. It would sometimes struggle to get started correctly and the route displayed on Google Maps would stutter whenever I made a turn which was a bit weird. I am not sure if this is isolated to my review unit or if it is a more widespread issue. I have informed Realme about the issue and they have stated that it is a bug and they are working on the fix for it. As for phone calls, they were fine as I could hear the other party clearly and crisply. This was the case over both normal calls and when rerouted over VOIP as well.
Wifi Analyzer
Speed Test
Dialer
The Wifi seemed to receive a good signal wherever I was in my house so no real concerns there either. The Phone will work for data on GPRS, EDGE 3G and 4G but it is not a 5G phone which has not been an issue for me as where I live there is no 5G service anyway!! The lack of 5G must have been a decision that has been made to get the price down to a palatable one for the brand as they could have used the SD735G which would have given 5G support. However, this is likely to have tipped the phone over the £300 price point. it does of course have the added benefit of causing less battery drain as a plus side though so for me it is a compromise I am happy with.
That leads us to the battery. This is an area where the phone has really impressed me is how long I could use it without having to hunt out a power supply. Not that it would have been a cause for concern as the phone ships with a 65 Superdart charger in the box which will boost the battery back to full in next to no time. Now dont get me wrong I would have loved to have had QI charging on board but this would have added bulk and weight to the phone not to mention an increase in the cost of it as well. The phone has a 4500mAh battery onboard which is able to be recharged at 50W using high-voltage charge pump technology.


This means that in as little a 47 mins you can charge the battery back up ready for your next trip out. I was able to get through a day of use without any major issues at all. If I ever needed to push the battery that little bit further then I know the phone has me covered as there are various battery saving protocols that I can enact until I get back ti a power supply.
That about covers everything on the hardware side of the phone barring the camera which i will cover off separately. next up is Software.
Software
The Software on the phone is Android 11 with the brand new Realme UI 2.0. I think the best way to go over it is to do a quick video of it so I will not bore you with reams of text and jump into video.
As you can see from the video above it is a largely standard sort of UI with some very subtle tweaks here and here. I mostly liked it barring the issue of not being able to add multiple widgets for my many email accounts. This however is not a deal-breaker as the phone is not really intended for a user like me. it is more aligned to someone who wants a good all-rounder which just so happens to have a high MP camera. I can see this as something that a more normal user like my wife would be absolutely fine with. In fact, after I have finished testing the phone this will be going to my wife for more long-term testing. It will be a distinct upgrade from her Motorola macro as i have already done some side by side testing of the phones and the Realme 8 Pro is much much faster than the Motorola macro when it comes to loading websites, performing Google searches and clicking through links via Facebook etc. I will no longer have to hear the sound of frustration as she cannot load a website or read an article linked from Facebook!! I am also pretty sure she will appreciate the discernable increase in quality from the camera.
Having said that let's have a look at that camera
Camera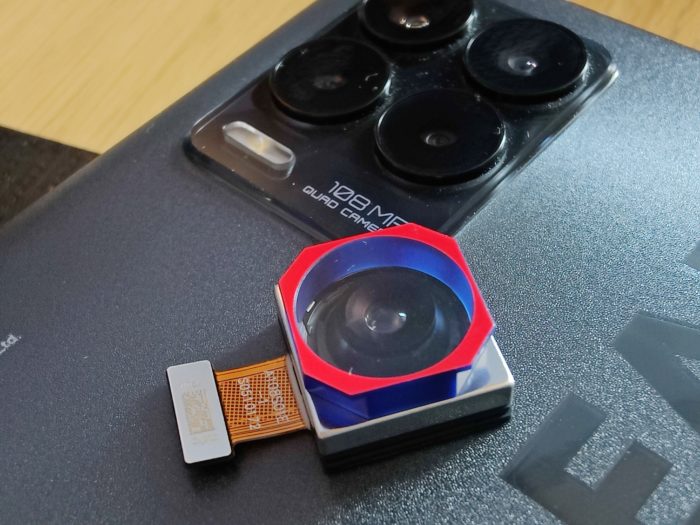 This phone has had so much hype about particularly with regard to a high-performance camera. Given that the main sensor has effectively been lifted straight out the Samsung lineup it is reasonable to expect big things here and for the most part for standard no zoom pictures, you will not be disappointed. More on that later let's just recap on all the various different options that you have from the Quad camera setup.
So we have got 4 parts and these are as follows;
108MP Primary Camera, 1/1.52″ sensor size, f/1.88 aperture, 6P lens, PDAF
8MP Ultra Wide-angle Lens, f/2.25 aperture, FOV 119°, 5P lens
2MP Macro Lens, f/2.4 aperture, 4cm shooting distance
2MP B&W Lens, f/2.4 aperture
First off I am going to start with the smallest cameras and get them out of the way. The Black and White 2MP unit is largely redundant for most uses cases as the sensor is so small it doesn't really add much, it may help with some of the low light shots as it can detect a larger array of light but it is not a big enough sensor to make that much of a difference really.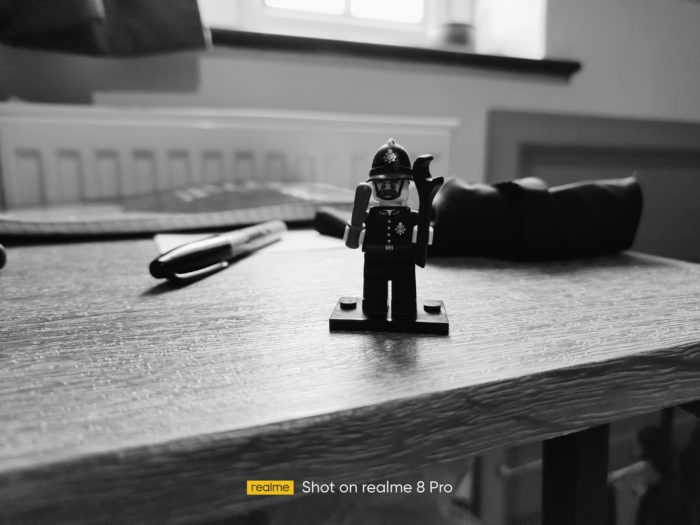 Next up is the 2MP macro unit. if you like shooting things really close up then this will be of use to you but it would have been better to build this into the Ultawide lens than to add a completely different camera for this purpose. Dont get me wrong the result of shots from it are not that bad but it isn't a make or break feature for me here.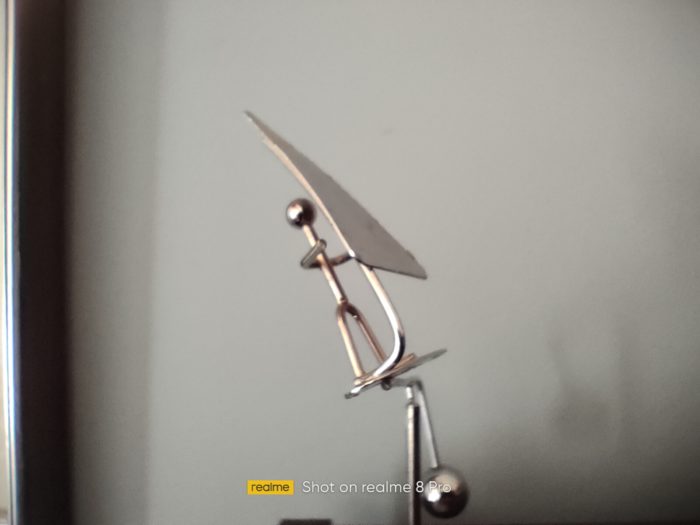 Next, we move to the Ultrawide 8MP unit. This is getting a bit more interesting and the photos we can get from the Ultrawide are good and I was more than happy to have the option of the Ultrawide here on the phone. it is once to have the option of switching to this mode if I need it. The shots are not as crisp as you would expect from the main camera but they are serviceable given that you are more likely to be using this for pictures that are taking in a larger area and not isolating on things that are closer to the lens.
Ultrawide
Main
If you are to look at the colour difference then we can see that the Ultrawide leans to a brighter image than that of the Main camera this can be easily seen in the images above with the blue car. These photos were taken with full auto and Ai controls in place as a point and shoot picture would normally be taken. Neither is a bad shot to be fair but the Ultrawide does seem to be a bit truer to life.
Now onto the main event the 108MP Main camera!!
There are various different ways of using this camera but I am only going to cover the main ones that I would use here.
Ultra 108 MP shot. This is one that I personally won't use that much unless I was wanting to get a photo that I could then zoom into digitally. However that being aid the quality of the picture is pretty pleasing as you can see from the picture of this RC truck below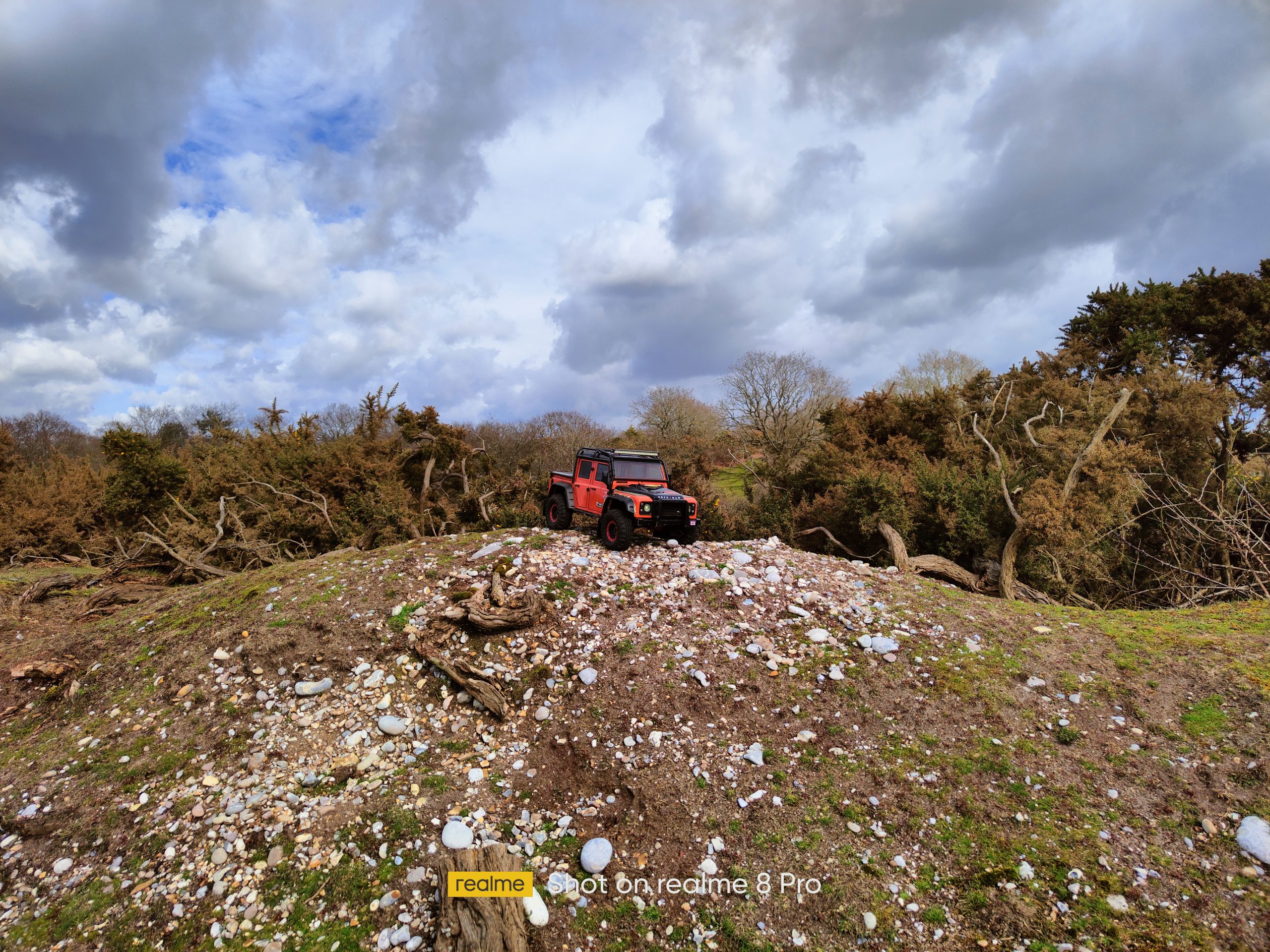 Realme 8 Pro full 108MP Image
If you click on the link above you will be able to see the full-size image. Thanks to the 3 x In sensor Zoom, you can really get close into the image even from a far off shot like the one above and you don't lose too much detail. It can also work for closer up shots as seen below again click on the link below the image for the full-size shot.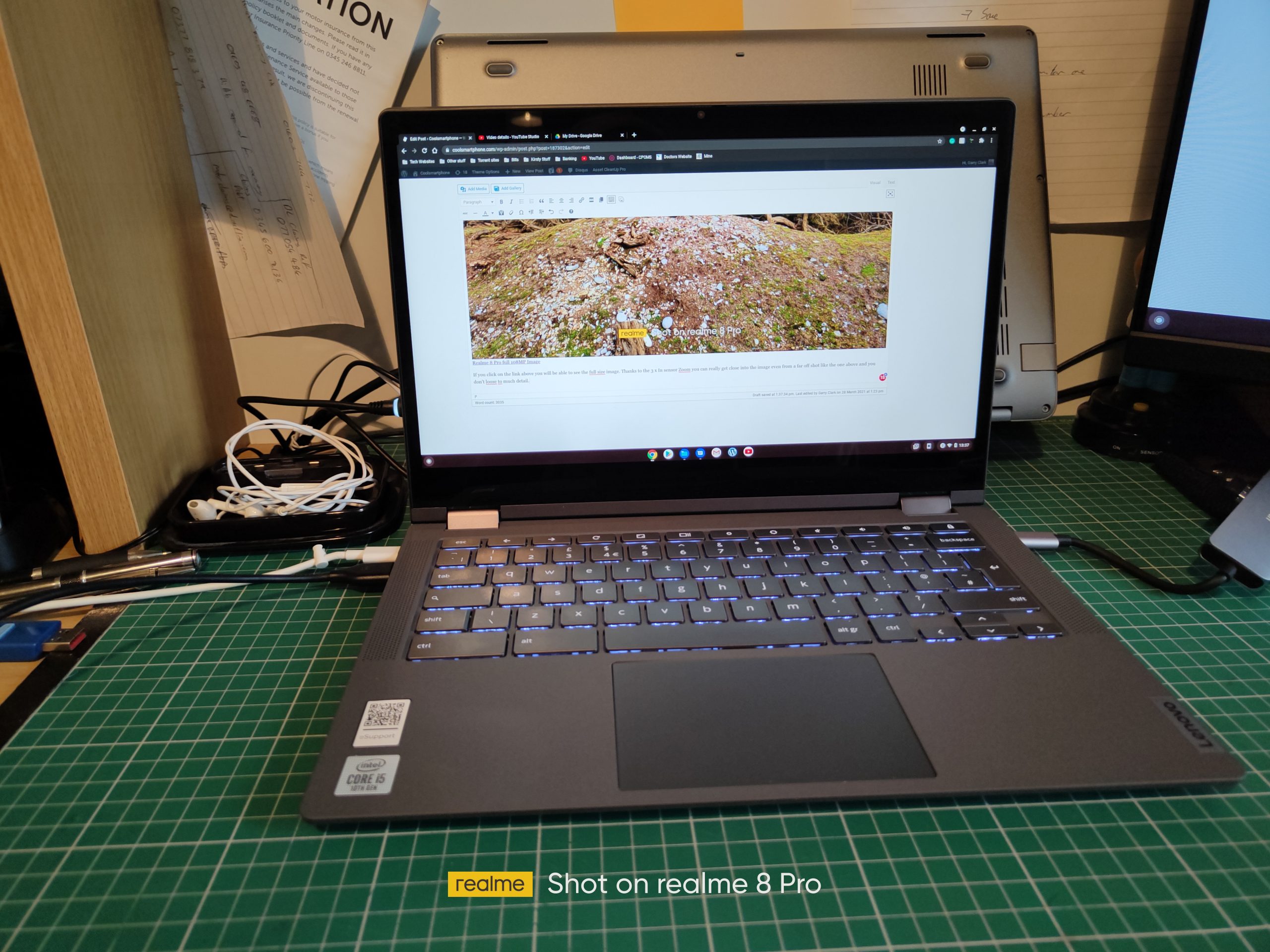 Realme 8 Pro Full 108MP Image 2
The next mode I want to mention is Starry Mode which I was really quite pleased with as this produced some quite cool photos. Here is one of my first attempts below. it essentially uses the Images Sensing processor from the SD 720G to optimise the imaging process and it now deals with adding the brightness layer separately giving the shot seen below. This is taken as a multitude of shots and then all mixed together to produce one image with the best lighting levels and optical clarity etc. it takes a few minutes and does require the phone to be stable during that tie for the best result tripod is required.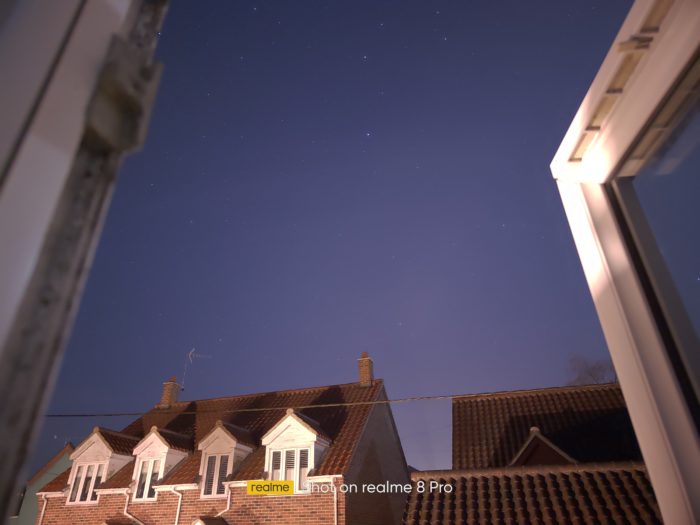 Not too bad in my opinion and certainly good enough to please most users. Just as an aside here is the same shot from my Samsung Note 10+ which does not have Starry Mode.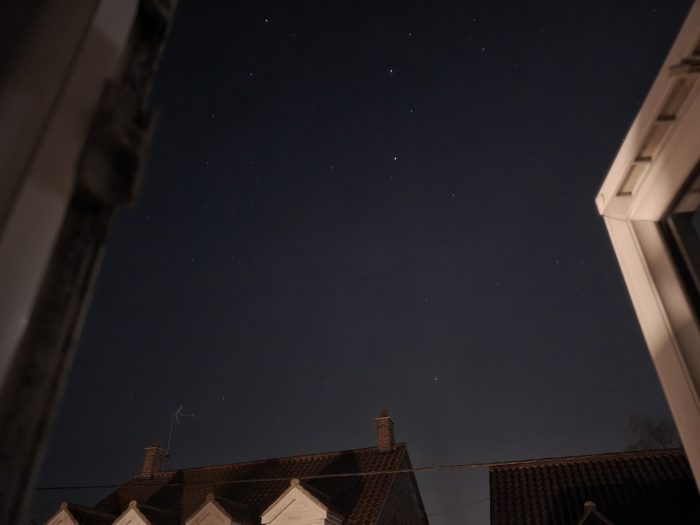 Next up is Super Nightscape
No for this one the camera uses all three of its technologies, ISOCELL Plus, Smart-ISO and 9 in 1 Pixel Binning. When all these are added together you do get a very reasonable quality picture. Below are two photos's taken within minutes of each other from the same vantage point.
Realme 8 Pro
Galaxy Note 10+
I don't know how I feel about these two images. On the one hand, the image on the Samsung is much clearer in terms of what you can see but in the Realme it is a better representation of nighttime. I will let you make up your mind as to which one you prefer on this one.
The last up is Tilt-shift mode. This one is new to me and I have been trying to get a good shot with it but I am struggling to get one. Essentially it will use blurring to trick the eye into thinking that the subject in the photo is a miniature as opposed to real size. It can prove to please when it is done right but I can quite get it to work for me correctly. Here are some of my best attempts below.


Of course last but not least is all-important to some (not me), the Selfie camera which is a 16Mp camera and is actually the same camera as in the recently announced OnePlus 9 Pro and OnePlus 9, (reviews of those phone's coming soon). It does the job and like all Chinese origin phones it tries to beautify me even with all the setting turned off but I don't use it enough to worry about it.
In the woods
Modelling the Buds Air 2
Those are the main features as far as the stills camera is concerned. However, there are a lot of things that can be done with the video features of this phone as well. So it can record in Normal 1080 resolution and also 4K resolution. In addition, you have slow motion which can be a slow as 960fps at 720p.
Another new addition is Dualview video this is a very useful one for if you are wishing to live stream something and will be quite useful for video bloggers etc.
I think the most interesting one that I have played around with is the Starry Mode timelapse feature which allows you to get a not time based timelapse of the view into the stars. This builds upon the standard Timelapse feature which is pretty good and works well. here are examples of each below.
Daytime Timelpase
StarryNight Timelapse
That wraps up the camera section at least the main features of it anyway.
Here are a few more shots from the cutting room floor.












The only area that was a bit of a let down in the camera in terms of features was the zoom capabilities as once you go past the 3x In Senor Zoom capability it starts to become a bit of a pixelated blurry mess which was a bit disappointing. So if you keep it under the 3X for zoom it will serve you well but if you want more Zoom functionality then you need to get something with a dedicated telephoto lens to help take care of that. Here are soon gradually zoomed-in images to compare.
Ultra wide
1x
3x
5x
10x
20x
Conclusion
This is a good phone but is it enhanced by having the 108MP Camera sensor on it? Could Realme have just used the 48MP that is more abundant and gotten away with it? Two interesting related questions there and I believe by answering both I will also answer my question from the head of this review. The camera is really quite a bit of kit and it does add some genuinely interesting features into the mix for this phone by having such a massive sensor but I don't think that its full potential has been realised and I do think that this phone would be just as good with a 48MP camera instead.
I get what Realme has tried to do here and they have done so with some degree of success but they have also made things a bit to complex especially for the intended market. This phone will sit well with those for who a phone is just something that they feel they need to have not something that they really care about. It is not a phone for geeks or for the power user. To coin a term from our good friend Steve of Phone Show chat this is a phone for "normobs" and as such it didn't need all the bells and whistles added in the terms of the mahusive camera.
With all that being said if you know someone who is needing a phone but wants to have a fancy camera then point them in the way of the Realme 8 Pro as I am sure they won't be that disappointed with it as it ticks all the boxes fro a modern mid-tier phone with some added glitz of a big MP count.
You can buy th phone from the Realme Website and also from Amazon for £279 on the 31st of March.
Realme 8 Pro – Review
This is a solid mid-ranger that gets a bit of extra added glitz due to the addition of the awesome 108MP sensor, however, it doesn't utilize it full potential so don't fall for the hype. Good solid phone otherwise
78