Is there a new "flagship killer" on the block?
That is the question that is being posed in the review of the latest phone from Realme the Realme GT 5G. I have been able to use one for the past few days, and I will try to answer it during this review.
Now before I delve fully into the review I feel I should give you a bit of a tour of the device. I have done a full unboxing of the phone and the video for that can be viewed below.
Before I get started on the review I just want to add this quick disclaimer. I am basing this review on a sample unit that I have been supplied with by Realme. I have not had any form of payment for this review and Realme have not had any preview of this review either. The thoughts and opinions in this article are my own and this will always be the case with any reviews for Coolsmartphone.com
If you prefer your tour in text and photo's, medium then you read my unboxing post by going to it here.
I was pretty impressed with the phone after my initial first impressions out of the box. now that I have been using it for a bit longer and the initial excitement of it being new has worn off how is it?
First here are the specs
Processor

Qualcomm Snapdragon 888 5G Mobile Platform

Storage & RAM

RAM: 8GB, 12GB LPDDR5




ROM: 128GB, 256GB UFS3.1

Display

6.43″

(16.3cm)


Super AMOLED Fullscreen




Resolution: 2400×1080 FHD+




Refresh rate: 120Hz




Touch sampling rate: 360Hz




Screen-to-body ratio: 91.7%




Maximum Brightness: 1,000 nits




Colour Gamut: 100% DCI-P3

Charging




&




Battery

65W SuperDart Charge

4500mAh (Typical)
Includes a 10V/6.5A Charging Adaptor
USB Type-C Port
*4400mAh(Min) Battery Capacity

Camera

Sony 64MP Triple Camera




119° Ultra Wide-angle Lens

Rear Camera

64MP Primary Camera
Focal Length: 26mm
FOV: 78.6°
Aperture: F1.8
6P Lens
Sensor: Sony IMX682

8MP Ultra Wide-angle
Focal Length: 15.7mm
FOV: 119°
Aperture: F2.3
5P Lens

2MP Macro Lens
Focal Length: 21.88mm
FOV: 88.8°
Aperture: F2.4
3P Lens

Photography Function:
64MP Mode, Super Night Mode, Panoramic view, Expert, Timelapse, Portrait Mode, HDR
,
Ultra wide, Ultra macro, AI Scene Recognition, AI Beauty, Filter, PF mode, Super text, Face Distortion Correction, Passport photo

Video Recording:
Super night Mode
Ultra Steady Video
Portrait Mode
Support EIS Video Stabilization
Support UIS Video Stabilization
Support UIS Max Video Stabilization
Support 4K/30fps, 60fps video recording
Support 1080P/30fps, 60fps video recording
Support 720P/30fps, 60fps video recording
Support 1080P/480fps slow motion
Support 720P/960fps slow motion

16MP In-display Selfie

16MP Front camera
FOV: 78°
Aperture: F2.5

Photography Function:
Portrait Mode, Timelapse, Panoramic view, Beauty Mode, HDR, Face-Recognition, Filter, Night Mode, Bokeh Effect Control, Face Distortion Correction, Passport photo

Video Recording:
Support 1080P/30fps video recording
Support 720P/30fps video recording

Cellular & Wireless

Frequency Bands:




GSM

: 850 / 900 / 1800 / 1900 – SIM 1 & SIM 2


3G bands

: HSDPA 800 / 850 / 900 / 1700(AWS) / 1800 / 1900 / 2100


4G bands

: 1, 2, 3, 4, 5, 7, 8, 12, 13, 17, 18, 19, 20, 25, 26, 28, 32, 38, 39, 40, 41, 66


5G bands

: 1, 3, 5, 7, 8, 20, 28, 38, 40, 41, 66, 78 SA/NSA


Speed

: HSPA 42.2/5.76 Mbps, LTE-A (CA) Cat20 2000/200 Mbps, 5G

Wireless: Wi-Fi 802.11 a/b/g/n/ac/6, dual-band, Wi-Fi Direct, DLNA, hotspot
Bluetooth: 5.2, A2DP, LE, aptX HD

Navigation

Dual Frequency GPS




GPS, GLONSS, BEIDOU, GALILEO, QZSS

Audio

Double mic noise suppression




Hi-Res Audio

Body

Glass




Length: 158.5mm




Width: 73.3mm




Depth ≈ 8.4mm*




Weight ≈ 186g*

Vegan Leather
Length: 158.5mm
Width: 73.3mm
Depth ≈ 9.1mm*
Weight ≈ 186.5g*

Sensors

Magnetic induction sensor / Light sensor / Proximity Sensor / Gyro-meter / Acceleration sensor

Operating System

realme UI 2.0




Based on Android 11

Packing List

realme GT 5G




65W SuperDart Charger




USB Type-C Cable




Protect Case




SIM Card Tool




Screen Protect Film




Quick Start Guide




Important Product Information (including the Warranty Card)
Well, it is a bit a mixed bag if I am honest as I do like the hardware but there are some minor niggles that stop it from being great. But before I go into them I quickly want to say that for the price this phone comes in at a lot can be forgiven. Currently, you can pick up the phone as I have it in my review unit (8GB RAM, 128GB Storage), for £346.09 (price on 16/07/2021). This is an awesome price and there are not many other phones which pack the punch this one does at this low price. That being said onto the niggles.
Hardware
The first thing I found a bit annoying was the fact that the volume and the power buttons were located on the opposite sides of the phone from each other. This made it a bit trickier to learn the muscle memory to know how the phone was sitting in my pocket. I found that a lot of the time I was pulling it out of my pocket to find that I had been pressing on the volume down button to try and wake the screen. This then required me to do a double-take what way around I was holding the phone causing me to have missed some threat impromptu shots. Not a big issue but it can mean losing the perfect opportunity which can be frustrating.
Next up are the factory-supplied freebies. So first is the Screen protector which is really only suitable for protecting the screen for transit. I have managed to get multiple scratches on it without me being particularly hard on the phone at all. Next up is the included case which is just a bit nasty if I am honest. I am grateful that it comes in the box but can we start to see the quality of these step-up please, as this one doesn't do the phone justice.
Dust magnet case
Scratches on the Screen protector from a days use!
This next one is a minor complaint but I found that the NFC sensing area on the back of the phone awkward to use as it is next to the camera bump and I was always worried I would scratch up the glass on the camera when using it. Admittedly NFC is not something that is used a lot anymore but I have now found that I need to use it almost daily at work so this did flag up on my radar. In retrospect, I am glad it even has NFC as a lot of earlier phones designed for the Asian market didn't even have this feature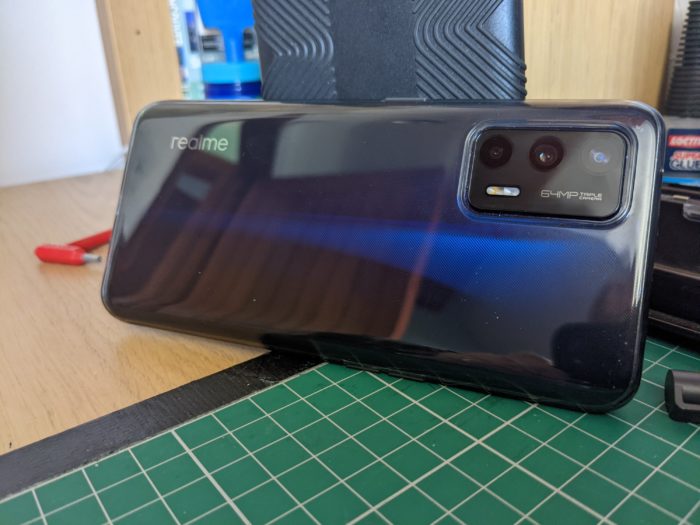 Apart from these really quite minor issues I have found the phone pleasant in terms of hardware. Nothing really leaps out at me to make this phone a "special" phone unless you get the Yellow "leather effect" version, which stands out a bit more due to the rear panel being clad in the aforementioned material. The phone I got was a glass backplate which is nice but as is the case with most glass-backed phones it is a fingerprint magnet so most of its life was spent in the free case that is provided.
I would have liked to have some sort of an official IP rating on the phone but at this price point, it is not worth the manufacturer going through the testing process. A lot of devices from OnePlus have until very recently been similar in terms of not being tested to an IP rating but in reality being perfectly splash resistant to all but a full submersion. I have happily used the phone in the rain with negative effects so far.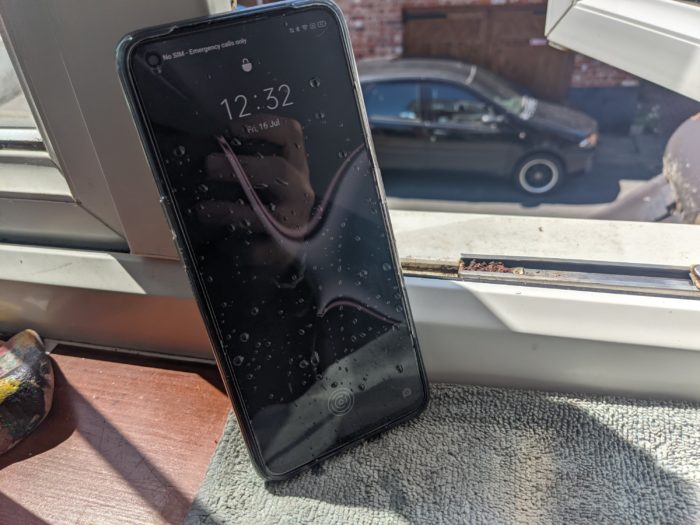 Another feature that would make this flagship worthy is Qi charging but also we don't find this either a real shame as I now look for this in a flagship device. However, this too can be forgiven at this price point and at least the charger that is provided will give you a full recharge in 35 minutes which is awesome and QI charging would slow this considerably.
In terms of battery longevity, I have found that I can easily get through a full working day with the phone not needing to be plugged in until I got to bed and even then it still has at least 20% on it. This is with the phone being used for email phone calls, Teams and other social networking apps about an hour of web browsing along with at least 3o mins of Youtube surfing during the course of the day. To give you an example of how it compares i get similar results from my Note 10 + which has a slightly bigger battery but doesn't have 5G support. My Pixel 4a 5G will also get me through a day but it will be closer to single digits by bedtime. I can stretch that battery life out further if I need to use it by lowering the refresh rate of the screen down to 90hz if I feel I need to but so far I haven't felt the need. That leads me to the last bit I want to cover on the external hardware which is the screen.
This is a good screen and it performs really well. It may not be up there with the likes of Samsung and their Super AMOLED panels but I have used a Samsung for the past year and I cannot really fault the Realme AMOLED panel to be fair as it compares very nicely.
That is about all I can say about the external hardware. The phone is well built and stands quite high in the category it is in price-wise.
Moving onto the internals now.
The big key selling point of this phone is the Snapdragon 888 SOC (System on chip) that is at the heart of this device.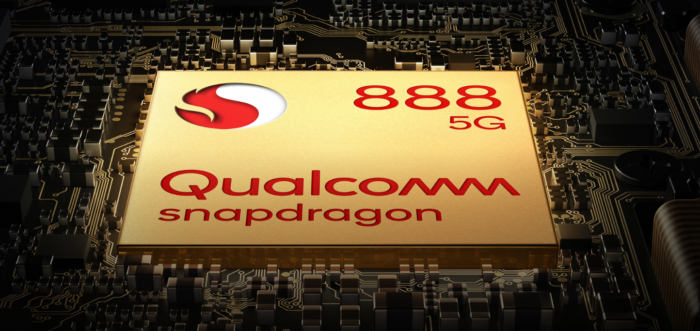 This is perhaps (at least to my knowledge) one of the cheapest ways to get this chipset in a phone these days. Does the phone need all this raw power? In a word no, is it appreciated that it is available hell yeah! I found that during my normal use of the phone there was no real perceptible lag in any operations that I carried out. I am quite tough on my phones, particularly when travelling in the car.
This is an activity I do a lot and I have Android Auto running through the cars infotainment system when I am driving. This has been a good way of showing up deficiencies in the phone processing power in the past and for the Realme GT 5G, it worked like a charm. I would actually go as far as saying that the operation seems to be smoother than on my Pixel 4A 5G. I found that when I was using the assistant whilst also using the navigation via google maps I had no noticeable issues with the response. The only problem I did have was that sometimes there was a small lag in the map updating my actual real-time location. It is hard to say whether this is down to the phone or Android Auto as I have seen it on other devices including my Realme 8 Pro and my Pixel 4A 5G.
I was also particularly keen to see how the phone coped with running games so I booted up my staple test of World of Warships. I then proceeded to ramp everything up to the maximum and I was not disappointed with the outcome as the gaming experience was as smooth as I would have expected for a phone with the power of the SD888. Having the 120hZ refresh rate was also a really nice bonus as I could feel a difference from when I have played the same game on my Note 10+. It just felt a bit smoother which was nice to see.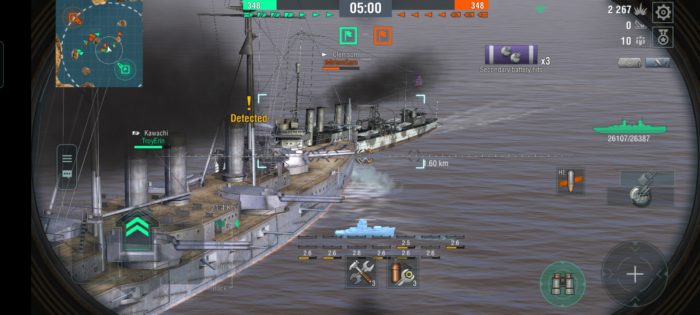 As for my other daily use scenario of multiple email, clients, Chat groups via Whats App and Teams plus the use of the Camera and Google photos to share all of the pictures with my team, I had no issue with any of this. I was also having to use the phone as a tool to set up systems for work that required me to use the NFC as mentioned above it worked fine but I dint like the position of the NFC reader.
What I was really impressed with and I have alluded to this above is that the phone gave stellar battery life easily powering me through the day and I put this down to 2 things really. Firstly the optimisations have been made at a Chipset level with the automatic load balancing that takes place within the cores. The chip will automatically reduce the amount of processing cores as needed to "throttle down" the performance if you don't need it. This helps to eke out that battery life a little further when you are not using the phone intensely. You cannot see this in action but you can see the results. The second one is down to the optimizations built into the phone itself. Realme have added various battery-saving feature into the software fo the phone at its core. These optimizations take on various forms a few of which I want to highlight here.
Auto screen refresh rate:- This will allow for an adaptive refresh rate on the screen when it is needed. It is a very similar technology that was implemented into the OnePlus 9 Pro 5G that I reviewed previously although it doesn't have quite the same level of range as that phone. Essentially when the phone's screen is displaying a static non-moving image the refresh rate will be as low as possible whereas if you are doing something that needs the screen to "refresh" it will ramp the screens rate up to an appropriate level. It is awesome to see this being used on a mid-tier phone as it is normally a high or low option but having the Auto mode is a really nice touch.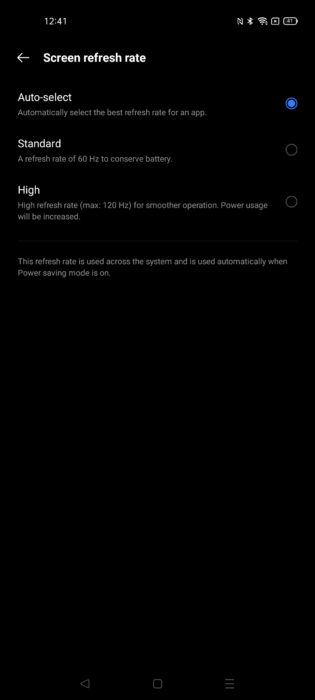 Auto App optimization:- This is done on an App by App basis and will look towards how the apps are being used and also how often. The AI on the chipset will then figure out which apps need to be left to run at full power and which ones can be put to sleep. This is a big one for me as during the week I will be requiring the use of certain app more than others during my working day. A prime example of this is Outlook as I use this a lot for work. However, when the workday finishes I want the app to stop drawing power so I can tell it to do so or let the phone manually take care of it. The good thing about this system is that the more I use it the more it learns from me about how I use it and gets better at knowing what I want when I want it.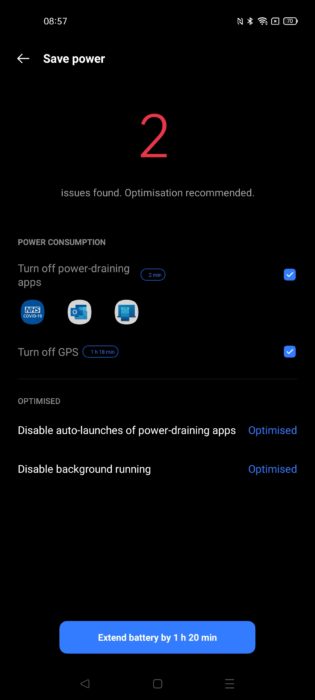 Quick App Freeze:-This essentially puts an app that has been used recently into a frozen state and will hold it in that state until it is called upon again, therefore, saving you battery as it is not polling for information until you ask it to do something again. I find it particularly useful if launch an app unintentionally.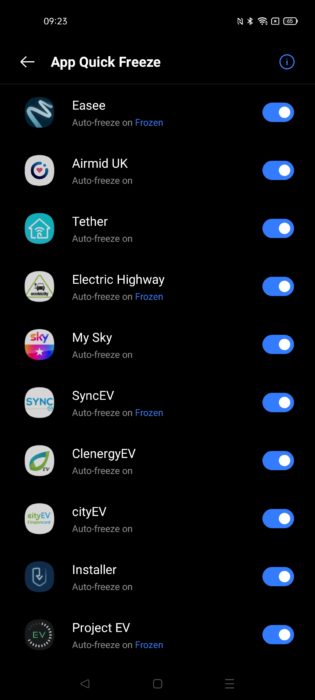 All of these little things add up to a phone that gives really impressive battery life and I know that I can get through the working day without having to hunt for the charger. However, should I need to juice the phone up again then I can do this very quickly thanks to the included 65Watt SuperDart Charger that comes included in the box! This will give me a fully charged battery in 35 minutes as I have already mentioned which is great to have in the back pocket should I need it!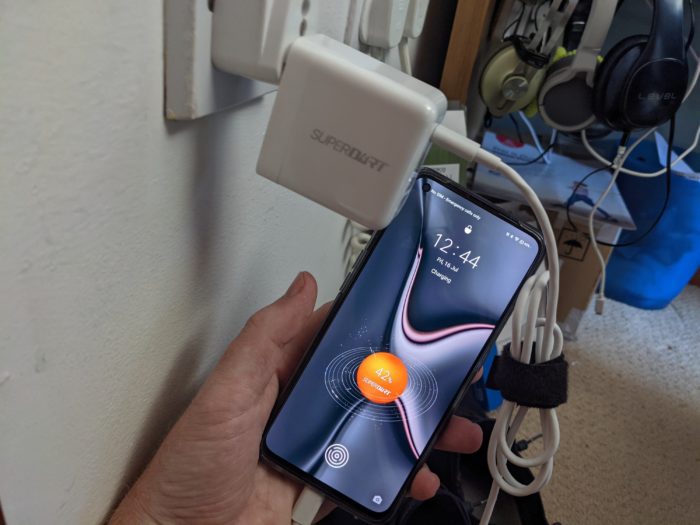 With the performance of the phone now covered let's look at the other core feature that makes the phone pleasing to use and that is, of course, the software.
Software
This is an area where Realme is a little behind the curve in my opinion. The implementation of the UI is good but it is not the best. I have am quite particular when it comes to UI's and I always have been which I possibly the reason that I am always drawn back to Pixel's (and Nexus devices from a bygone era). I like my UI to be clean uncluttered and flexible and this is where I find that the Realme UI falls foul for me. I like to have my home screens set upon a way that I can action things at a glance without having to go into apps to do stuff. This makes the use of widgets really important to me. On my Note10+ I use three Gmail widgets across 4 home screens to allow me to see what I have coming into my various account at a glance. This allows me to streamline what I need to act and what I don't. I cannot do this on the Realme GT 5G or on any Realme device for that matter and this is down to Realme UI 2 not supporting multiple occurrences of the same widget. For me this is a big negative and until it is sorted almost rules the phone out as an option for a daily driver. I say almost as I can of course use other launchers to get around this issue but that then adds a layer of complication that I feel shouldn't be necessary.
I must say here that I am probably an extreme case as I have spoken to other reviewers about this and most of them don't find this to be an issue. For a normal user, the phone UI is pleasant and it offers a lot of customization which I did actually like as you can set it up to have the colours that you want and in a way that you like to use it but I did miss having the multiple widgets and if I am honest it did annoy me over time.
Here are some screen recordings of the setup on my Note10+ and the Realme GT 5G
Dont get me wrong the phone is not by any means unpleasant to use and I do like the fact that you have the ability to have a quick launch bar on the side of the display that can call up recently used apps.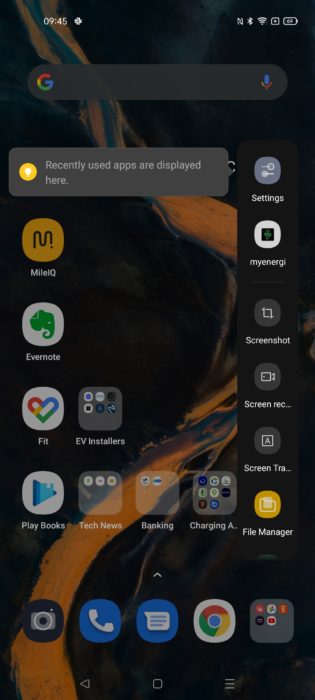 The long-press on any home screen to bring up the settings for configuring the home screen is useful for wanting to make quick changes is also really intuitive.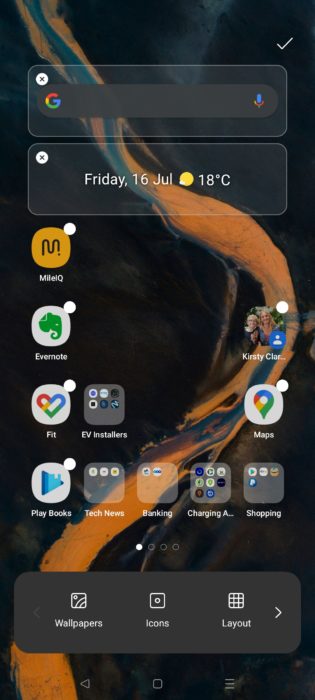 All the standard Android features that you would expect to see in an Android 11 device are present and correct and multitasking is a dream with split-screen view easily accessible. So maybe I am being a bit hard on the UI but I am just a bit set in my ways. if you like a clean UI then I think you will be very happy with what is offered by Realme UI. I gave my wife the chance to use the phone for a few days and she was absolutely happy with everything on it and she noticed that it was a vast improvement over her previous phone which was slow and cumbersome in comparison.
A nice addition to see here was the inbuilt Game Space.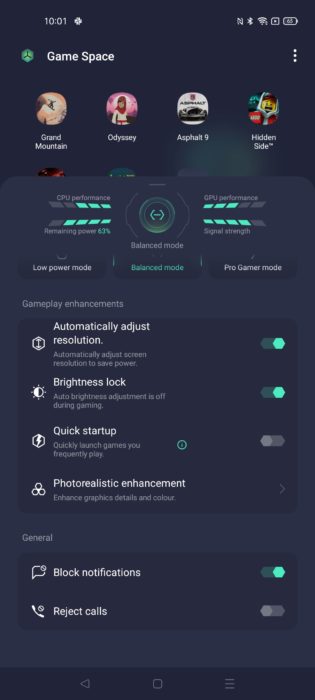 This allows you to block notifications and draw the maximum power from the phone when you enter a game along with some other useful features like screen recording. When in a game you can swipe in from the left-hand side to bring up the Game space menu to set things up the way you want to and it will also show your CPU, GPU and FPS stats. You can also adjust the settings for what mode you want to run the games in from three options, Low Power Mode Balanced and Pro Gamer. These different modes will configure the screen and the chipset demands accordingly with Pro-Gamer giving the maximum performance at the cost of battery power.
Balanced mode
Pro Gamer mode
Next, we move onto the cameras.
Camera
The Realme GT 5G is not being positioned as a camera king but in order to be a "flagship Killer" worthy contender, it does need to have a good camera. For the most part, it fulfils that need. It is not a great camera more of a serviceable camera. it will take a good picture but there are better options out there particularly at this price point as well. We have got three elements to the camera in the form of a 64MP IMX 682 main sensor that is supported by an 8MP UltraWide and a 2MP Macro lens.
The main camera has a lot of cool features that have been added to its UI mostly assisted by the AI from the SD 888 chipset.
When taking an image on the main camera in auto mode it will actually take multiple images then it will stitch these images together in order to attempt to give you the clearest and noise-free image available. This works reasonably well within good light but I have to say it does start to struggle when it gets darker.
Good Light
Low light
As a comparison here are some shots from the Pixel 4A 5G taken in the same conditions.
Good light
Low Light
The other modes that are available within the camera are as follows:-
Pro 64MP mode, is essentially a mode that will utilise the full 64MP sensor to capture an image that can be zoomed into further digitally.
Super Nightscape Allows for tweaked parameters and AI support to enhance photos taken at night or in low light.
AI passport, Takes professional-grade ID-compliant photos avoiding the need to go to the photo booth at the local supermarket!
Chroma Boost, using AI to identify scene information and ensure that the colours in the image are as true to real life as possible
Most of the above are AI-enhanced features of the camera and these are in addition to the regular shooting mode's that are to be found on most smartphones. I was surprised to see that Starrynight mode was not available on the Realme GT 5G as this is something that really impressed me on the Realme 8 Pro when I reviewed that.
I have included some images of the same scene below to show how the Ultrawide camera compares against the normal camera. it also shows the extent of the zoom function although with this only being an optical zoom I wouldn't use it anywhere above 2x as otherwise, things get a bit messy, as you will see below.
0.6x zoom
1x zoom
2x zoom
5x zoom
The front-facing camera is a 16MP unit and does a good job at getting pictures once you have turned the beautification mode (which is on by default) off. In portrait mode, the Bokeh can only be dialled down to 1% and it does have some slight fringing issues on the edges of my face. Here are some samples below so you can see them for yourself.
Normal mode
Portrait with 1% Bokeh
Portrait with 50% Bokeh
Portriat with 100% Bokeh
Here are some shots of the Auto mode and then also the 64MP mode and the only noticeable difference is how far into the photo you can "zoom".
As for Video, the phone will record at up to 4k at 60FPS although for my use I found that 1080p at 60fps was adequate. I did notice a difference in the focus speed during a brief test shown below. With AI turned on the video retained focus better than without which I didn't expect. This is shown in the second clip below.
There is also a Dual View Video mode that could prove to be useful for bloggers and influencers etc. I personally have not yet found a need for it (answers on a postcard greatly received…)
The last thing I want to cover is the Macro lens which really does seem redundant as this can actually be achieved more effectively by utilising a wide-angle lens properly. However, it is here so let's try it out.

It does the job on this very extreme close up shot but i don't find that i need to get this close to things very often and I can get a similar result from a reasonable distance with the zoom on the Pixel 4A 5G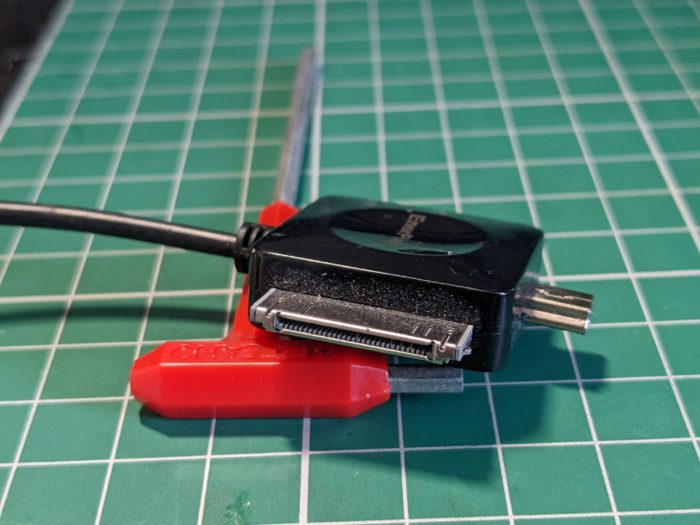 As I mentioned above the camera is serviceable but I wouldn't be buying the phone for the camera alone as there are better options for your money.
So now we have got that all covered off I think we can come to some sort of a conclusion.
Conclusion
Is this a "flagship killer". In my opinion no with a caveat as what I need from a "flagship killer" is what I expect from a flagship but fro a fraction of the price. However, I have been blessed with the opportunity to use many flagship phones over the years so my views are somewhat jaded by that. So I posed the question again to my wife and after explaining what the term meant she gave it a more positive appraisal. for most people who are looking for a high performance and generally good all-around smartphone for a fair price, this is a "flagship killer". it is what the creators of OnePlus were doing with the first few generations of their phones. You can see this is n the DNA of the Realme GT 5G. This phone will certainly tick the boxes for those who are not really that bothered by specs and niche features but do want a good all-around experience and something that just works. The Realme GT 5G does that and then some. There is enough here to interest a phone geek but not enough to keep them I feel (more on that later though).
I have been really happy to use the Realme GT 5G and I would happily recommend it to someone who wants a bit more bang for their buck than from the likes of Samsung or Huawei. If however like me you are a bit fussy about UI's and want some nice although niche features such as Qi then it may not be for you.
Just one more thing………..
There is however one thing that would make me buy this phone and that is the fact that it is one of the cheapest ways to get an Android 12 beta ready 5G device at the time of writing this. I know that the Pixel 4A is cheaper and will also be a hell of a lot easier to test the Beta software on but that is not a phone I could ever see myself using as it is too small. I am hoping to follow up this review with my progress of getting the Android 12 beta onto the device but at the time of writing it is not looking too good. I will however keep trying and of course, keep you posted.
With the phone being on the Beta test roster, it does mean that once the beta period is over this will be one of the 1st batches of phones to get the official software upon release. So this may be worth considering if you want to be on the cutting edge of Android software but don't fancy a Pixel device.
Here is the video overview below
Realme GT 5G – Review
This is a great all-rounder smartphone with some awesome raw horsepower available, good camera but for me not a "flagship killer" However for others, it may well be it is all matter of perspective.
76