Usually the Samsung leaks are kept to a minimum ahead of Mobile World Congress, but with marketing material hitting stores, we're getting a deluge of data on the two new Galaxy devices. As we mentioned recently, the IP68 dust and water protection has returned and will be available on both handsets. The glass body also appears to have wireless charging too, as accessories are being lined up just for that purpose according to the documentation we've seen below.
Here's the leaks…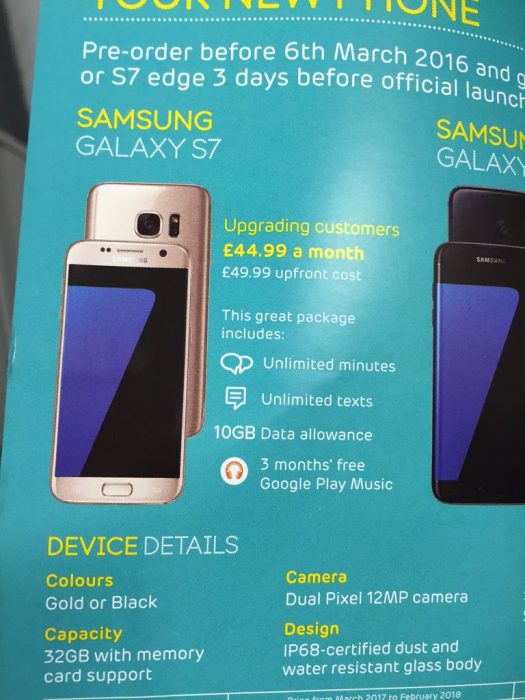 Additional information includes the fact that the Samsung Galaxy S7 will have a 5.1″ screen, but the Samsung Galaxy S7 edge will have a 5.5″ one. Both will have a new dual-pixel 12 megapixel camera which, we assume, works in a similar way to the HTC UltraPixel tech to let more light into your images.
The handsets will retail on EE in either gold or black, both having 32GB of on-board storage but – more importantly – this time you will get microSD card support. Yay Samsung, you listened! 🙂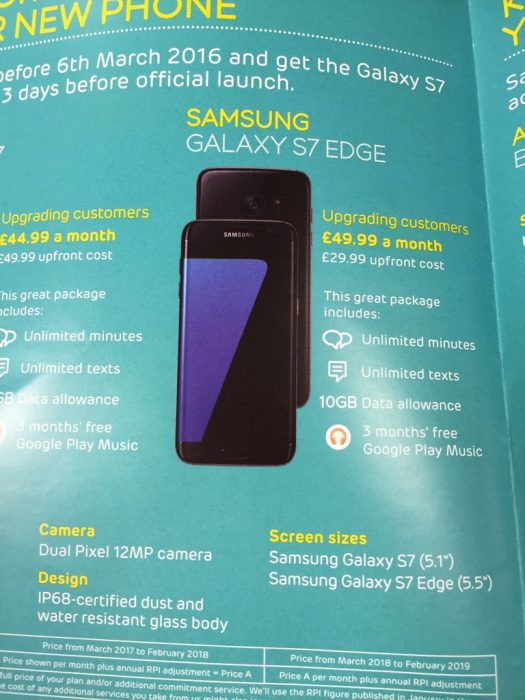 As we mentioned before, upgrading EE customers will get a special deal with additional data and three months Google Play Music access for free. For the Samsung Galaxy S7 you can pay £44.99 per month with a £49.99 up-front cost to get your 10GB data – that'll also deliver unlimited calls and texts. For the Samsung Galaxy S7 edge, you're looking at £49.99 monthly charge with a £29.99 up-front fee.

EE are also going to be doing an accessories bundle, which includes a Samsung 32GB microSD card, a Juice Wireless Charger and a CAT Glass Screen Protector. These will all be in store from March 8th for £59.98 when purchased together, which represents a £24.99 saving.
Just to go over those release dates for the Samsung Galaxy S7's again. If you pre-order before March 6th (which, weirdly, is a Sunday), you'll get the devices 3 days ahead of their official launch date, which is currently expected to be Friday March 11th. If you pre-order then it'll be in your hands on March 8th, just when all those accessories we mentioned will land in stores too.
Follow us on Twitter for all the news from Mobile World Congress in Barcelona.