Choosing your next smartphone is a big decision. With different storage options, colours and sizes now available it can be no easy choice to make.
However, protecting your phone can be just as important, and this gets even more complicated with the hundreds of options available to keep your new expensive shiny new phone looking as good as possible for as long as you can.
Thankfully MobileFun contacted us and let us pick a few from their vast range. We went for a few different ideas, from a normal case to a Samsung-branded keyboard case..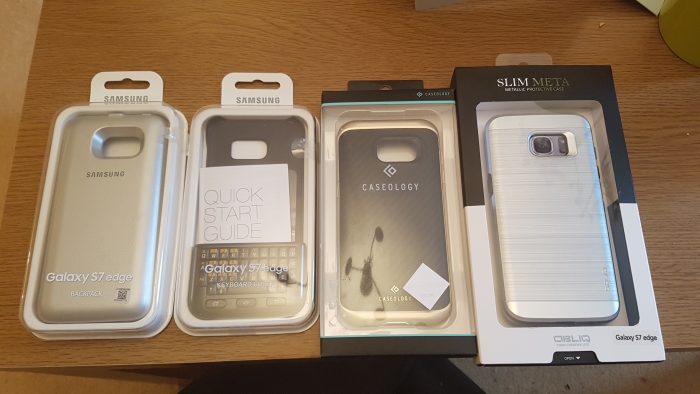 Caseology Envoy (Carbon Fibre)
Let's start with the most affordable option we were sent – the Caseology Envoy. This would set you back just £19.99 and gives great protection all around the device. It looks really really smart too, with mixture of carbon fibre design paired with a gold trim.
dav
dav
dav
dav
dav
dav
This just so happened to be one of my favourite cases from the few that came. Sure, it lacks things like a battery, keyboard or other fancy gimmicks – but what it does do is add great grip to the S7 edge and it doesn't take up too much space.
Also something which I really appreciated when using this case was just how thin it was, apart from the gold trim which is thicker on the top and the bottom. This case is very thin and doesn't add much weight or bulk to your pocket, but it'll ensure that you don't scratch the back, especially the camera.
Obliq Slim Meta (Silver)
Silver cases have always been appealing to me as they add a metallic look to your smartphone, even if the material is not actually metal.
The Obliq Slim Meta case was one of them that caught my eye and costing £29.99. It adds great protection using a design which curves over the edge with a little lip giving you great grip and less change of dropping the device.
It also has shock resistance where the phone sits in the case by spreading the impact should you happen to drop it somewhere.
dav
cof
dav
dav
dav
dav
With holes cut out for all the ports you need and good size buttons on the side, the Obliq Slim Meta is a great practical case as well as being a good looking one. Something you really need to consider when making your choice.
Samsung QWERTY Keyboard Case
This case really caught my eye due to how different it is. Whilst you get a nice plain back to stop scratching, the main focus in all about the front which has a clip-on QWERTY keyboard which is great for text input.
There are still many people out there who want the latest smartphone with the features on offer, but at the same time want a keyboard for texting and typing on. This was something BlackBerry had going for it, and they held on to many QWERTY-keyboard-loving customers.
dav
dav
dav
dav
cof
sdr
sdr
sdr
cof
cof
cof
cof
cof
cof
dav
Costing £49.99 you get a choice of either gold or black and the addition of a great but handy keyboard you can use and take off quickly should you want to.
The great thing with this case is that the S7 edge will detect the keyboard and change the screen layout to match.
BlackBerry fans…. this is the case for you!
Samsung Wireless Charging Battery Case
This is the most expensive of the bunch costing you £69.99, however for someone who is always on the move, loves watching movies on their phone, uses the camera daily or is just a "power user" – this is perfect for your needs…as long as you do not mind the extra bulk..
Built in to the case is a large 3400mAh battery which you charge up using a standard Micro USB cable and there are some LED lights up top which lets you see how full the battery is at anytime.
Once charged you may wonder how this case will charge the phone using no cable?
Well this official case comes with wireless charging so once you turn the case on and it is attached, your phone will start charging right away!
dav
cof
cof
cof
cof
cof
cof
cof
cof
With all the cases on offer this was my favourite one as I tend to use a lot of battery power. Listening to streaming music, on the walk to the bus, catching up on YouTube on the bus ride to work, using email and social media all day, Netflix for 30 minutes on lunch and then planning to take some photos in the evening takes up a LOT of battery.
Whilst the 3400mAh battery in the S7 edge does a great job of getting through a day, this case can be turned on with the touch of a button to give you a much-needed boost.
All these cases were kindly supplied by MobileFun and links to purchase them can be found in each header above.