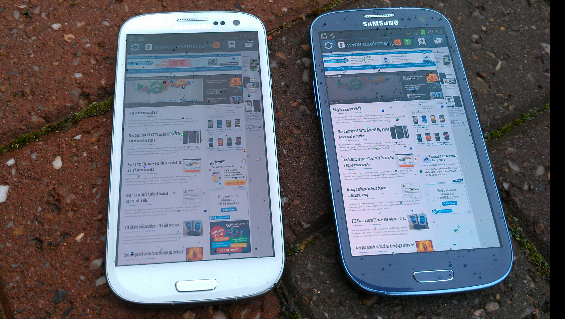 There's really no doubt about it, the S3 is a gorgeous looking thing. You can hardly stop yourself from flipping it around in your hand. It's beautifully sculpted and really does feel like a smooth pebble in your hand.
As far as specs go you're all set. A quad-core CPU will blitz away any memories of screen jitter from previous phones and there's connectivity-a-gogo. WiFi, HSDPA (21Mbps) and HSUPA (5.76Mbps) quad-band connectivity are on-board plus Bluetooth and GPS / GLONASS.
The screen is covered by a single smooth piece of gorilla glass which has no real border or edge. It's a 4.8″ HD Super AMOLED screen made by Samsung themselves. It might seem large, and when you put it next to an iPhone it certainly seems that way, but somehow it doesn't feel like a tablet-esque device. Samsung have managed to shrink down the bezel on the SIII to allow the screen to consume more real estate.
Wait ! Before we start, we've had the Galaxy SIII for quite some time and you may have seen our "Week with.." feature. We filmed a video every day for a week to show you more about this phone, so if you want to REALLY get to know the Galaxy SIII, jump into the videos below..
Day 7 – Day 6 – Day 5 – Day 4 – Day 3 – Day 2 – Day 1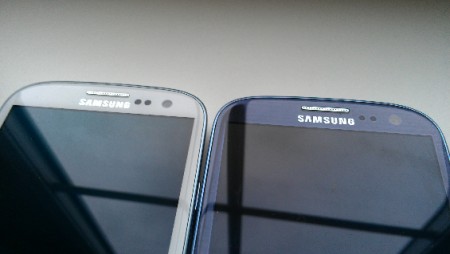 Up top there's that 1.9 megapixel camera that checks your eyes are looking at the screen. It's the "Smart Stay" technology that keeps the screen on and lit when you're looking at the device but not touching it – a rather splendid feature which I'll tell you more about in a while.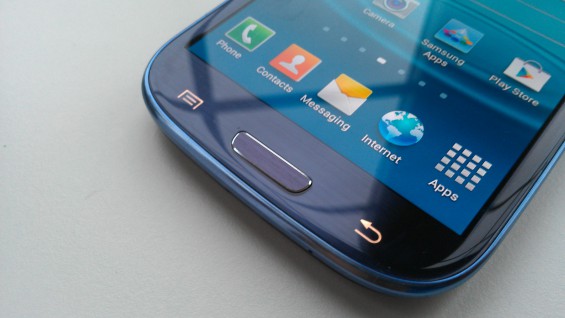 At the bottom, two soft-touch keys sit either side of the main action button. These light up when you touch them and let you activate the menu or go "back".
At the bottom, the main microphone and a microUSB connector..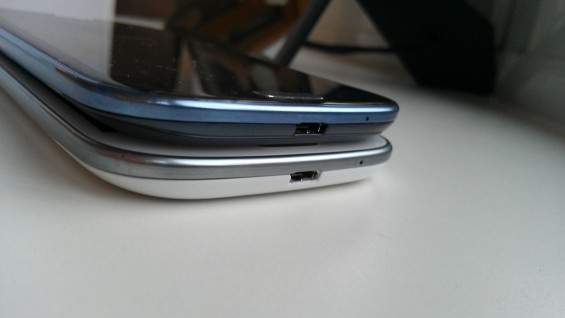 On the right side, your power key. You can either use this or the main key on the front to wake the device.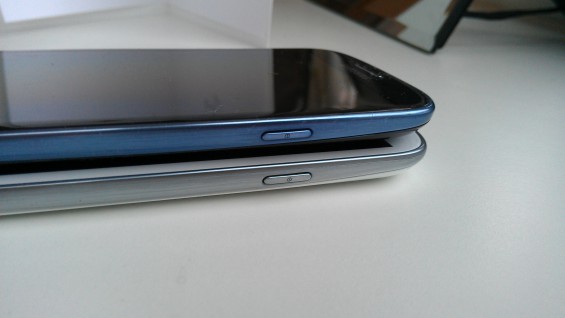 On the left spine you'll find the volume up / down rocker. Notice the brushed metal here and how it curves. The edges are rounded too.. there's no right-angles anywhere.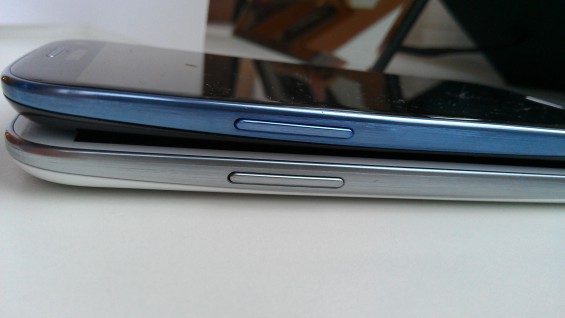 On the top, the 3.5mm audio port and the second microphone for noise cancellation.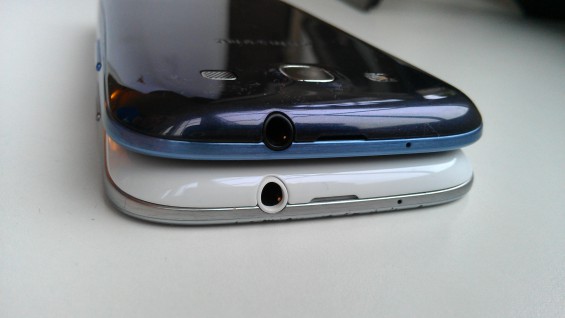 The rear has the 8 megapixel camera, flash and the external speaker. Check out the finish on here..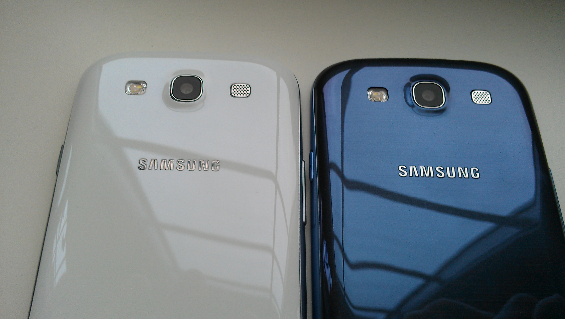 We've done a great deal of this review through these video clips, including a lot of the interface and motion-activated features. You'll have seen the unlock system and the water effect on that screen – it's great to just play with and the battery life was actually very good indeed.
As I mentioned in the videos, I've read reviews which criticise the "plastic" feel of the handset, but I think this may come from people who've never actually seen the earlier Samsung Galaxy SII. That had a very flexible and "plastic feeling" rear panel. It's done for weight saving, and the very same technique is here on the SIII. It works too, and you'd never think that the pure and clean rear section of the SIII is actually a flexible and light piece of plastic.
We got to handle both the white and pebble blue version of the SIII. To be honest I couldn't decide between the two. The blue version has a fantastic polycarbonate finish and looks really individual, but then again so does the polar white version too. It's a matter of individual choice to be honest.
Unlike some of the competing HTC One devices, the Samsung Galaxy SIII has a microSD card slot. Get the 64GB version of the SIII and a sizeable microSD card and you soon have a rather capacious mobile storage device for your media. In this instance we have the 16GB version on test – that's internal storage, but with a cheap 32GB card you can soon boost that up and move data around easily.
I've seen other reviews mention the "dim" screen and indeed it did look dim. We spotted this in our second video but it's actually due to the Samsung power saving option which was enabled as default – I turned it off and all was well.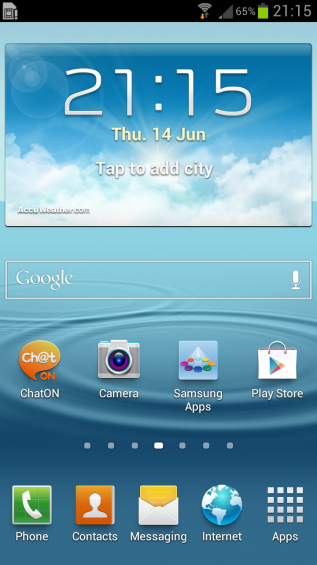 Inside
As you'll have seen from the videos, the interface is immersive and simple to use. The Touchwiz UI has been added, but it doesn't hurt the experience. I liked the fact that certain apps – like the camera – could be directly accessed from the main screen. I also like the fact that you can use the internal gyroscope more – shaking, lifting and turning the phone over will let you do different actions and it's something we've shown off in the videos. I'd definitely recommend going through the quick-start guide and learning a few of them, because they quickly become useful and you'll miss them if you ever (horror of horrors) switch to other phones. The "swipe screen" to take a screenshot was used heavily during this review and I also liked the fact that flipping the phone onto its front would stop it from making any noise – ideal for meetings etc.
After visiting Mobile World Congress earlier this year we were starting to understand that all the mobile manufacturers had hit a limit. Specs couldn't really take another "leap". Most handsets have an 8 megapixel camera, GPS, WiFi, DLNA and NFC etc. Samsung, like HTC and others, are now working on the software side and the intelligence aspect of the handsets. The Smart Alert system was one feature that impressed me – it's a "simple but effective" solution which will vibrate the handset gently when you pick the phone up after a missed call or text. Great – no more flicking the screen on, no more checking for a special LED colour or flash sequence.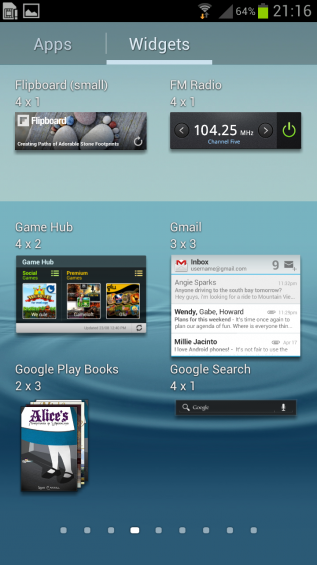 Inside the usual Android tricks are included – your contacts are stored in the cloud and if you're moving from another Android phone you'll soon find how easily it migrates. When you've sucked in your contacts (and you can pull them from other locations like Facebook etc) you can long-press on each one to send texts, emails or simply call them. This isn't a dig against the SIII but Android itself – it can sometimes be a little too easy to integrate your contacts with a number of online social networks and, before you know it, you have hundreds of people in your contacts list that you're not familiar with.
When you have found a contact to call you'll find that a contact picture can be added along with a raft of other details – birthday, special events, the works. Video calling – something which Apple probably claim to have just "invented" – has been around for years and is integrated well on the SIII. It uses the front-facing camera to produce a smooth and clear video call, presuming you've got yourself a decent 3G signal.
Texting is threaded, using "bubbles" like the iPhone to split both sides of the conversation. It integrates picture messages into this thread too. This is also where the on-screen keyboard comes into play and, thanks to the rather capacious screen, there's very little problems typing. I've seen people knocking out messages very quickly with their thumbs and the predictive text system does a great job of guessing what you meant to put even when you get the wrong combination of letters. Still, if you're having problems you can switch around to landscape mode and have a rather large on-screen area to type on. This is better, but you can find that your thumbs don't quite stretch across the screen. Whilst I'm on that subject you can also find that your thumb doesn't reach from one side of the portrait screen to the other – it's just a teeny bit to wide when held normally too. A minor gripe, but when a phone is this good it's the tiny things that you end up picking at.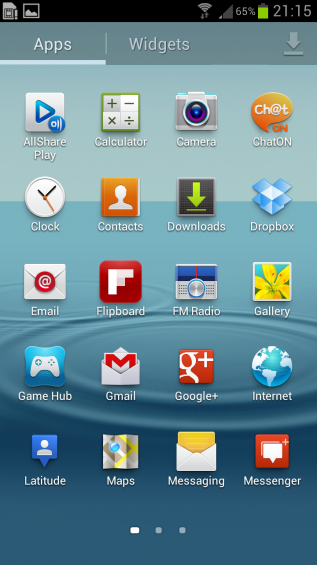 As you've probably seen in the videos, the browsing experience is stellar. "Normal" sites render perfectly and you can flick a switch to have paragraphs rendered so that they're viewable on one screen even when zoomed. Again, ignore other reviews that pick up on the fact that the phone "can't do this" – it can, but it's not enabled as default.
Quick point while I think about it – don't forget, if you don't like the text entry system or the browser, simply download a new one. Swype is an excellent keyboard and you'll no doubt have seen others.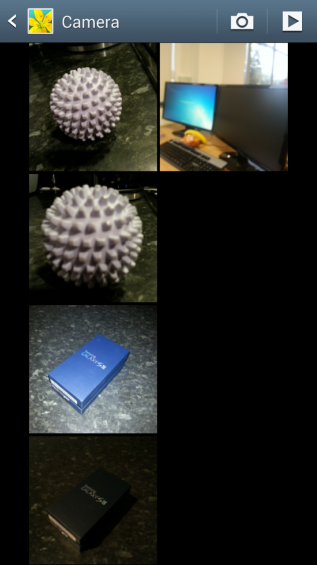 Camera
The camera now includes a burst mode and takes shots very quickly indeed. The Galaxy SIII has a certain level of intelligence too, and will detect people that you snap then offer to tag them in Facebook shots.
We've got you a HD video example and some example shots below. I was more than impressed with the resulting shots. A wide range of modes is more than enough.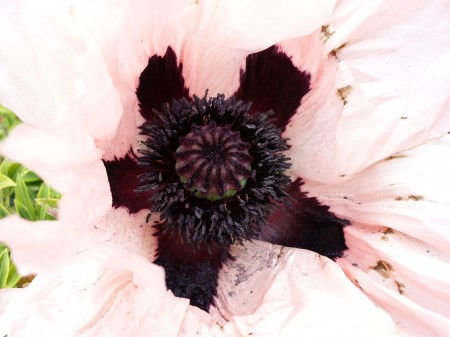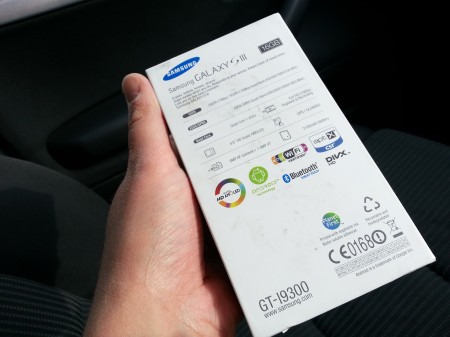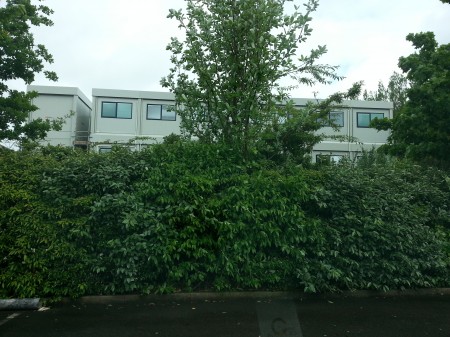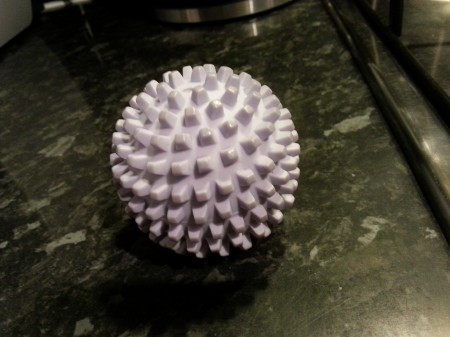 Battery life really surprised me. Long have I been used to the SII's "just less than a day" of charge. Here Samsung have really listened, and I'm guessing this is why battery saving is enabled as default. The battery really does last, and that shows when you're reviewing a device. Reviewing means using the device A LOT, and I was surprised to see a whole load of charge left after not really charging it properly and using it for a day and a half. That's pretty excellent performance.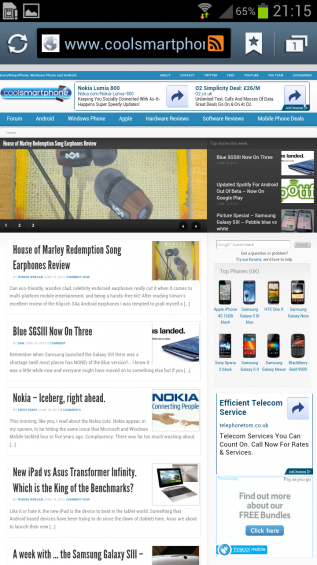 Conclusion
It's not all about specs any more. Most manufacturers have phones with very similar – if not identical specs. Now it's all about intelligence, software tweaks and style.
The Samsung Galaxy SIII definitely has the style. You'll have to decide for yourself whether it's too big for you – for that I'd recommend going into a shop. I know that my wife reckons it's just a tad too big, but it's all down to personal taste – the same for the colour choice. For me the 4.8″ screen looked gorgeous and even more so after turning off the power saving function.
The specs were great. I loved the DLNA functionality and the sheer speed of the handset meant that everything was swishy smooth. The camera produced amazing snaps and the HD quality video was fantastic. GPS lock seemed to be much faster than my SII too.
S-Voice, which is better than the voice recognition on the SII was good in the sense that it understood my voice. Yes, it translated my words into text perfectly well – even swear words. However, it DIDN'T have that intelligence. With Siri you can sometimes fool yourself and believe that you have a little friend responding to you. Siri will understand you when you tell it your name, it'll then respond correctly when you ask, "What is my name". Here on the SIII the S-Voice system just offers you either a web search or tells you that it doesn't understand. It's painfully obvious that you have a dumb computer inside. So yes Samsung – I love the fact that S-Voice knows what I'm saying, but it doesn't UNDERSTAND. I'm hoping that Samsung will give it some brains later on down the line.
Smart Stay worked well in a well-lit room but floundered somewhat in a dimly-lit lounge. I'm guessing that many people will be randomly reading web pages in these dimly-lit rooms, so I'm again hoping that this can be developed somewhat – perhaps to use movement as a second reason for keeping the screen on. If the front camera can't see your eyes properly it should perhaps then check the gyroscope and say "Hey, I can't see his eyes, am I still being held upright(ish) ? If so I'll give him another 30 seconds of screen time, then check for his eyes again in 15 seconds. At the moment it can just shut off, which is annoying when you grow accustomed to it.
Overall I'm impressed with the Samsung Galaxy SIII. The biggest thing for me was the battery life, which is something every smartphone user expects but never seems to get – here the battery actually lasts. Whilst the S-Voice is currently a "nice to have" rather than an essential daily tool, the other software tweaks and innovations really make this stand out in a market crowded with similarly-spec'd phones. The brand too will help with sales – Samsung will sell a lot of these purely because they're made by Samsung and they look beautiful.