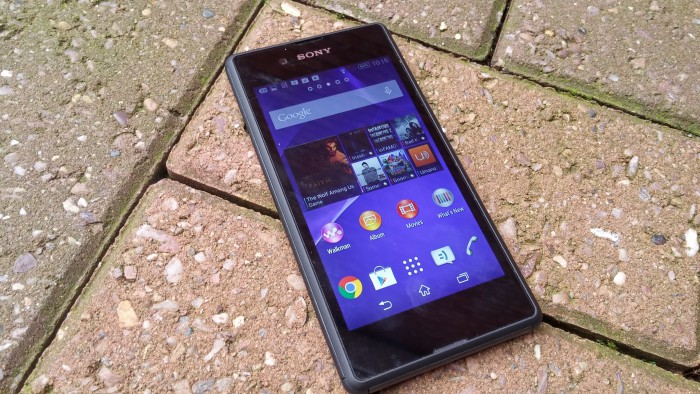 You're probably pretty familiar with the Sony Xperia styling by now. This E3 model maintains a lot those same design cues but at a more budget price. This puppy is available for just £99 on Vodafone Pay As You Go and you get 4G for that too.
Not bad?
Well, let's take a closer look. That screen, which does feel a little "lost" with such a large border above and below it, is a 4.5″ 854×480 pixel IPS screen. Yes, it feels a bit low res, but it could be worse.
Inside there's 4GB of storage with 1GB of RAM and you have a microSD card slot for adding up to another 32GB. The Cat 4 4G handset also has WiFi, Bluetooth v4.0, NFC and runs Android 4.4.2 (KitKat). You also get a 5 megapixel camera at the back (with flash) and a VGA one up front. It's all powered by a Qualcomm MSM8926-2 Snapdragon 400 CPU, which is quad core and runs at 1.2 GHz. There's a 2330 mAh battery too.
So yes, perhaps read "low-to-mid-range" here. I'm glad to see a quad core CPU and it operated well during testing.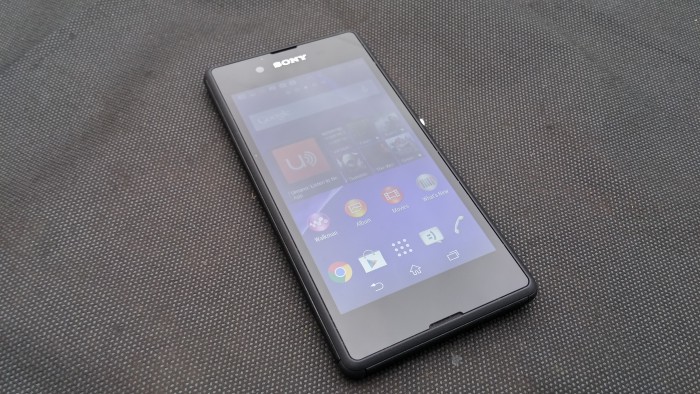 Outside
There's a strong and almost tough feel to this phone. The rear panel has a smooth rubber finish and houses the camera, flash and external speaker.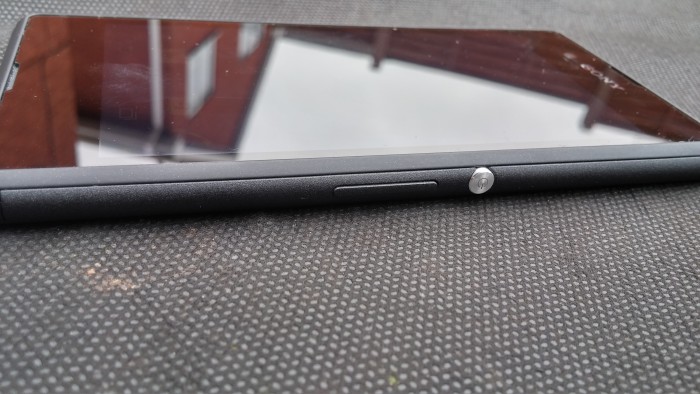 This wraps around into a soft curve, with the sides being a matching plastic. That rear panel, by the way, does remove, but the battery is located under a metal protective panel and isn't removeable. You can still access the microSD and SIM card though, and the rear panel forms the antenna.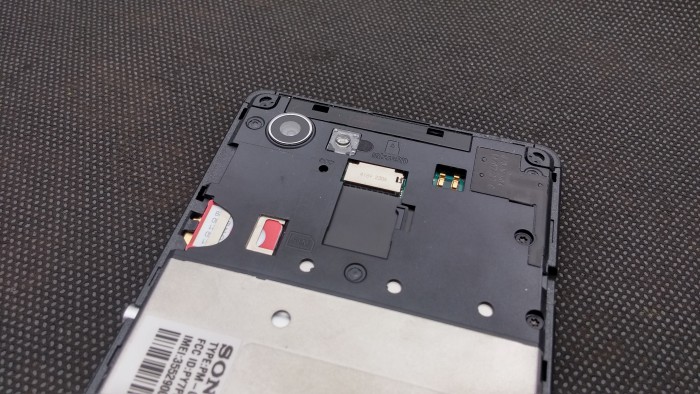 The left side of the phone houses the microUSB port, the top has the 3.5mm audio port and the right side has that now distinctive power key, and I'm kinda glad it's so prominent. Below that you've got the volume controls, which are fairly easy to locate.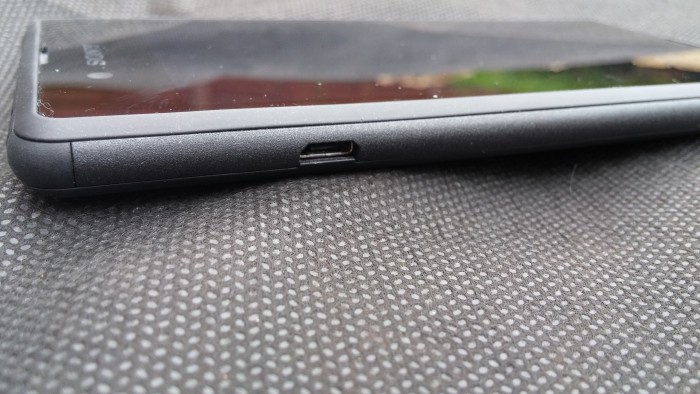 Up front, as I've mentioned, there's a lot of space above and below the screen. It's an unfortunate design fail on cheaper handsets and I really wish screens would go as close to the edge as possible, even if the handset is less than £100.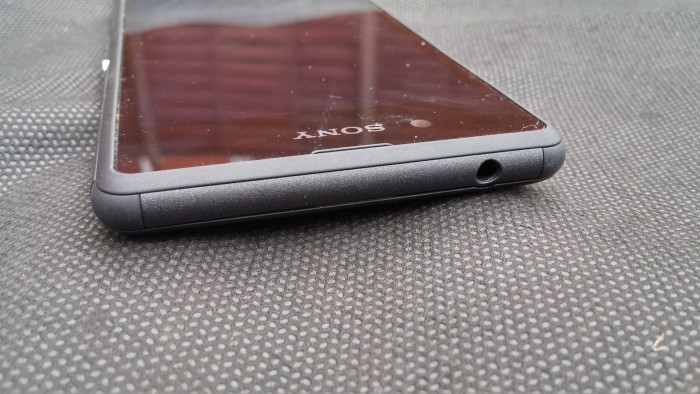 Camera
I'm not usually a big fan of a flash unit. I'd rather have a phone that'll take a good shot in low-light without a big white blob flashing in your face. Here, though, the flash worked rather well in low light and seemed to be intelligent enough to control the flash brightness. It definitely delivered some decent night shots, even with "just" a 5 megapixel rear shooter.




There's a huge mass of options in the camera app. You can add "AR" effects for adding characters and monsters into your photos or videos, creative effects for motion blur / mosaic / nostalgia / mirror and loads of other effects plus a stack of other options. You can add panorama shots, broadcast live onto the internet and do something called a "timeshift burst" that'll get the best photo from a burst of images.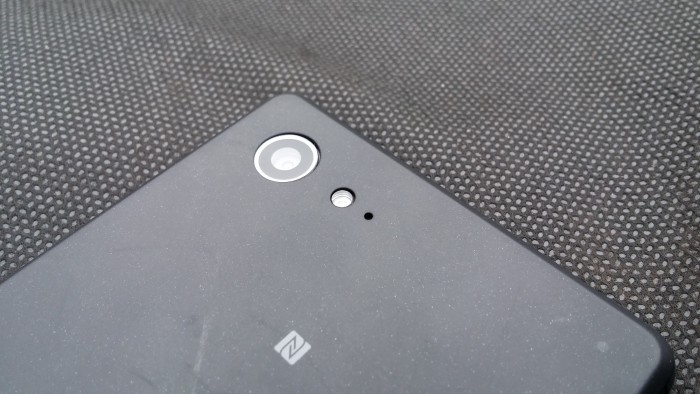 Other features include "Face registration", video stabilisation, geotagging, touch capture and more.










Software
Inside Sony have added their own particular branded UI. The main home screen has a set of tiles that'll take you into various Sony apps. The main one, which is called "What's new", appears to have developed a love / hate relationship on the web. I did a simple search to find out a bit more about it and hit many pages detailing how to remove it. The app will give more information on media, music and apps installed on the phone. It'll also pop up when you swipe up from the home key and, although the normal Google Now app is there too, it's an unexpected encroachment into parts of the OS you wouldn't normally see customized.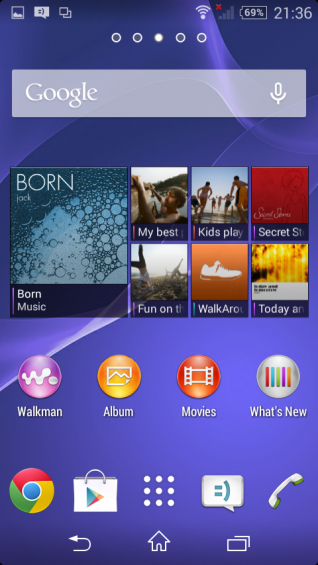 Other Sony apps include Xperia Lounge, which adds a promotional aspect as you end up getting videos, competitions and giveaways. This is a standalone app and doesn't get in the way too much. You can also expect to see Sony Walkman for your tunes, Sony Movies for film and camera footage (plus podcasts too, which is rather nice) and Sony Video Unlimited which – via the online store – means that you can get video content on-demand.






There's also "Sony Select", which is one of those "recommended apps and games" which are "guaranteed to work on your Xperia".
I know, you might not be a big fan of these additions. Face it though, Sony has a lot of power in the industry and you've got to expect them to try and work in their various media products into a phone, and it's good to at least have the option on the phone, rather than yet another vanilla Android experience in a slightly different shell. They make movies, they make TV, phones and audio kit, so you'll also find "Smart Connect" in here for connecting those things together. This app also has quite a bit of intelligence and you can program it to perform specific actions when you plug in the charger or headphones. As an example you can automatically set the audio volume and then start playing music in whatever app you want very easily indeed.

















Another app I appreciated, especially on a phone at this particular price-point, was the "Xperia Care" app for support.
There's also an app for pulling in your Facebook and Twitter updates plus other news and events in a magazine-style layout via Sociallife News. You can filter up to 2000 news feeds.
Power and battery life is quite a surprise here too. I had no issues with the uptime and managed to get two days out of the phone, but you can fiddle with some settings in the power management screens. There's location-based WiFi that'll only come on when you're in range of a WiFi network and it can stagger background data so that it's only updating at preset intervals. The Sony STAMINA setting is also available to add precious time too.



As with all Android kit, once you've logged in with a Google account it'll sync all your apps, contacts, appointments and everything else with the Google Cloud. You get Google Drive for online backup, Play Books, Play Movies and TV (as if the Sony media content wasn't enough) plus Play Newsstand, Amazon Kindle, a file manager and Google Maps for navigating around. The main browser is Chrome and, if you've used the desktop version, you'll know just how slick and fast it is. Sites are rendered briskly and accurately plus you just double-tap to bring them into a nicely formatted reading view.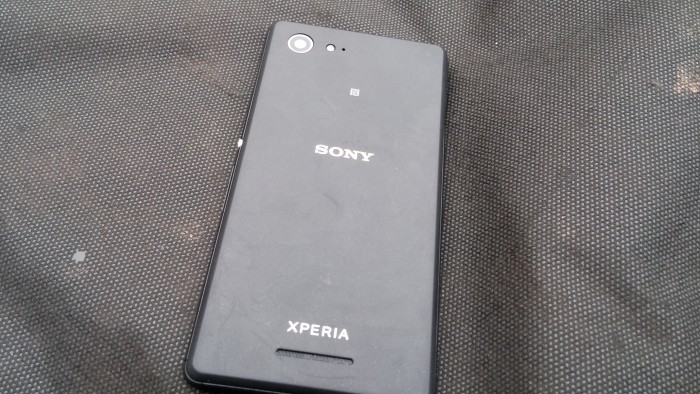 Overall
This is a pretty tough cookie, built for everyday life and – apart from the chunky amount of border around the screen – it's a nice looking smartphone with a very good battery life. I got two days out of it without too much difficulty.
The addition of 4G, especially for a handset this cheap (£99 on Pay As You Go with Vodafone), is welcome and the handset performed well during our testing. It wasn't slow, clunky or overly ugly to look at or use. The camera is good, the screen is bearable, the build quality is strong and rugged but also good-looking and the the battery life is fantastic. For what they're aiming at here (budget) people are going to WANT a phone that doesn't need a lot of faffing. They don't want to have to worry about charging every few hours, they just want a phone that works and is intelligent enough to deliver the audio, video and user experience without going flat or becoming overly complicated.
To be honest I think Sony have delivered it perfectly here. Yes, you will need to invest in a microSD card as there's not a great deal of internal memory (4GB) and yes you'll need to be careful at times to get the best out of the camera (hold it steady and get the lighting / setup right), but this is a very decent phone which will cope with daily life and still be there when you need it.