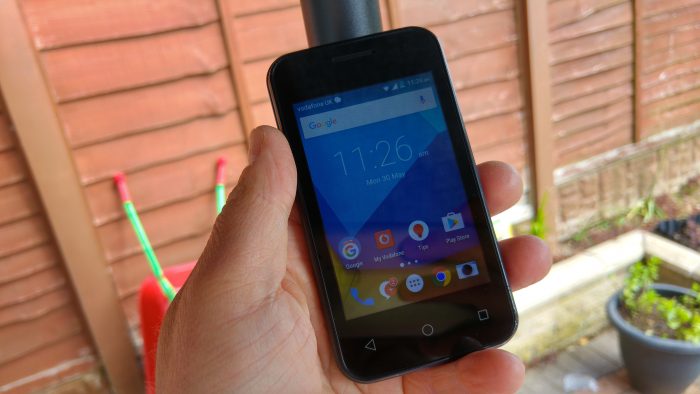 Honestly. £20. It's all bonkers isn't it? This, as I've said before, is an Android phone that would've cost you £100 only a very short time ago. Now you can purchase a smartphone for a mere £20.
Let's get some things out the way. This is entry level. Let's not beat around the bush. It's going to get someone on the first rung of the smartphone ladder. It has the same specs that a £100 smartphone from a few years ago would've had. Android 5.1, tick. A 3.5″ HVGA 320×480 pixel screen. Tick. 4GB of on-board storage (which drops down to 1.31GB out of the box thanks to "stuff") and there's a microSD card slot for more.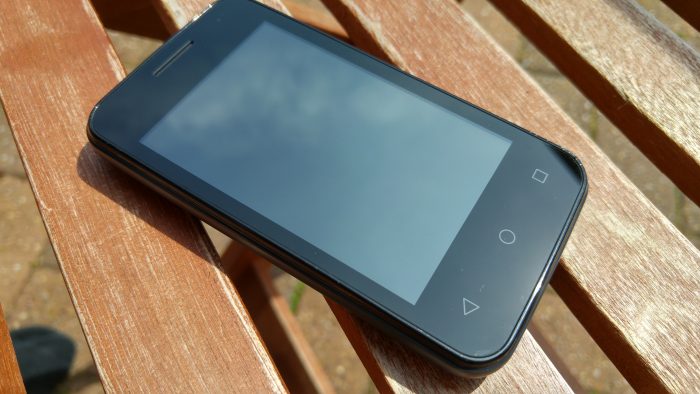 It's a dinky thing, measuring in a 114.4mm x 62.8mm. It's 12mm thick and if you're used to "normal" sized smartphones you'll have to alter the way you hold this because it's not as tall. It's available in black, white and red. There's GPS, WiFi, Bluetooth 4.0 and a 1400mAh battery with… 512MB of memory.
So yes. Set your expectations friends. Get any preconceptions out of your head about playing resource-heavy games or … look. If you're a fan of tech and you visit this site to get your gadget kicks, go … go now. This won't cut it. It's £20. Twenty quid. Just 20. I can't get too excited about it. The screen is a bit cramped, you can't view it from any angle which isn't directly in front and there's a quad core 1.3GHz "Spreadtrum" CPU pushing things along as best it can.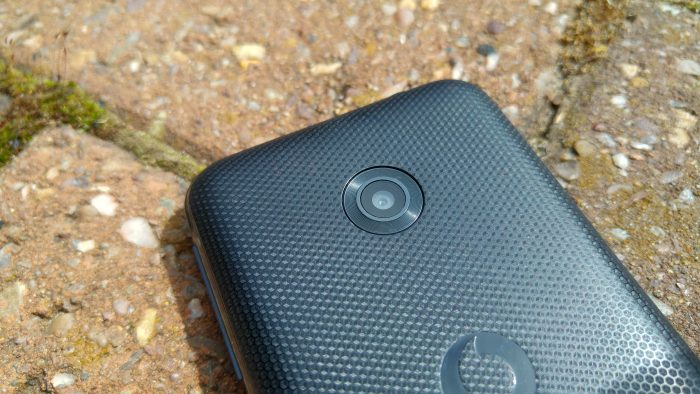 The camera is a 2 megapixel unit and it's fixed focus. Stuff is blurry and a bit hit-and-miss. Don't even think about low-light photos. Not happening dude. Auto-brightness detection for the screen? No way.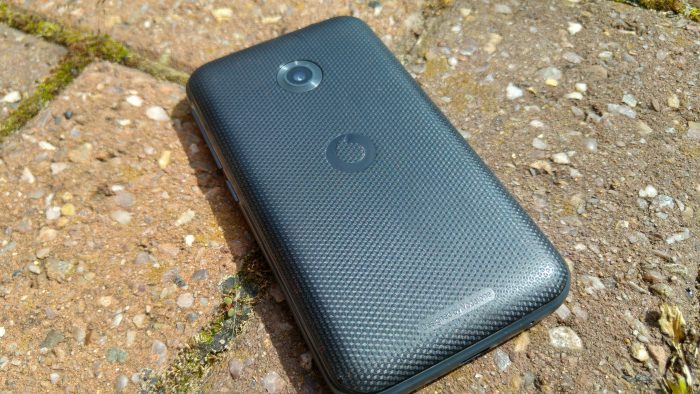 Let's start at the back of the phone. This entire panel pops off to give you access to the battery. The handset is designed by vodafone and there's a hole for the camera along with a grippy rear panel to stop you dropping it. Inside, with the codename "VFD 200", this has two slots – one for the microSD card and one for the SIM.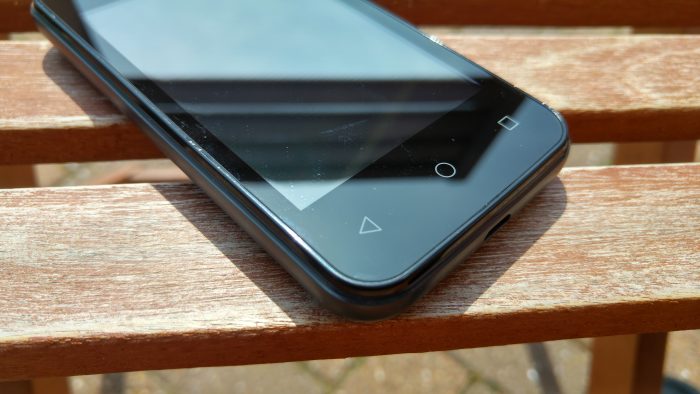 The front is a bit of a fingerprint magnet. I mean sure, I had a bag of crisps a few hours ago, but I've washed my hands since then. Honest. Perhaps it was those Monster Munch. They tend to "stick" with you don't they? Especially the pickled onion ones. Blimey, they're strong.
The front, despite the fairly small screen, isn't too badly styled. You get three capacitive buttons. No back-light here though.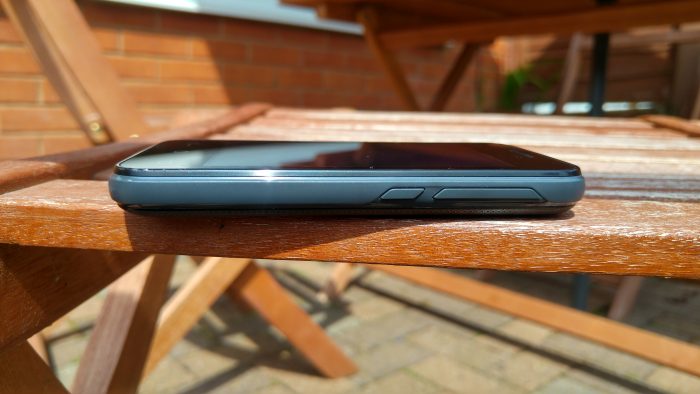 The right side is where you'll find the power button and the volume controls. There's a grey strip running arund the edge of the phone. This button arrangement is a design theme you'll see carried across the other "Vodafone Smart" handsets in the range.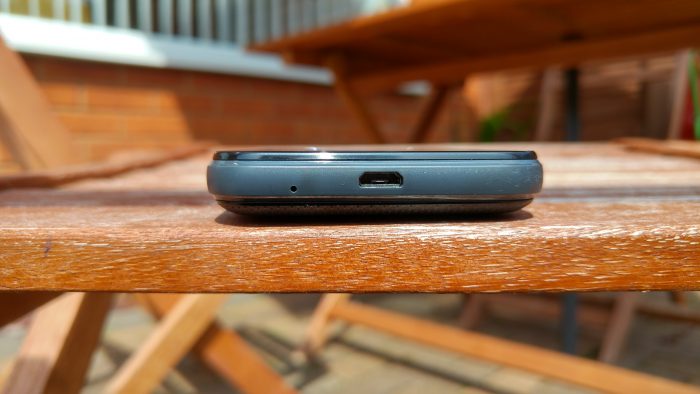 At the bottom is your microUSB port and a microphone, nothing on the left but a 3.5mm port up top.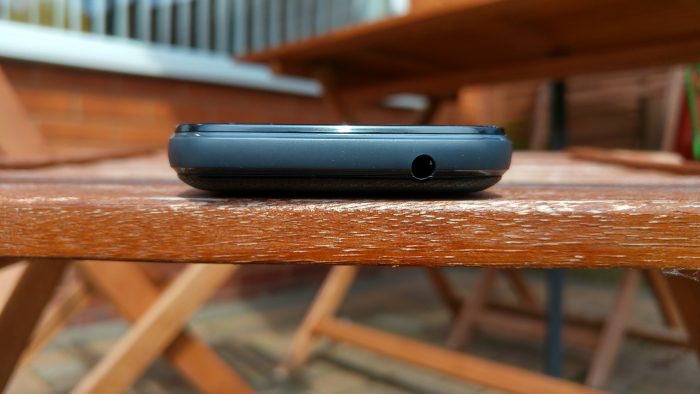 Here's a video overview for you. My son helped 🙂
The OS is filled with a lot of what you'd expect and the setup isn't too painful either. A gallery system, clock, Chrome browser, Contacts management (which will sync with your Google account) and all the other Google apps (Maps, Photos, Movies and Hangouts etc) are here too.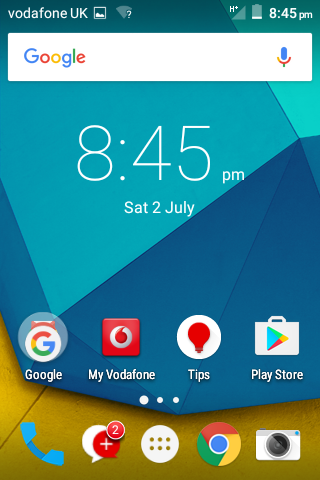 Vodafone have also added a bit of help via a Tips system which guides you through the various aspects of the phone. This is useful if you're a new Android user. Vodafone have also put their "Start" system to deliver / promote various Vodafone services (Spotify, Sky Sports Mobile etc), an Updates system, a My Vodafone account system and accessories which will show you … errr.. accessories that you can purchase for the phone. There's also a Vodafone messaging system which, as we've seen before, delivers a "WhatsApp style" experience letting you send multimedia messages.

The phone also has an FM radio and, like other Android kit, will let you alter the ringtone, backdrop, lock screen etc. You can make it your own and drag icons, shortcuts and widgets onto the main screen(s).










Camera
It takes photos. That's all I'll say. Don't expect too much. It's fixed focus and the range of options within the camera app are basic to say the least. The gallery system gets the rotation all wrong, as you can see here..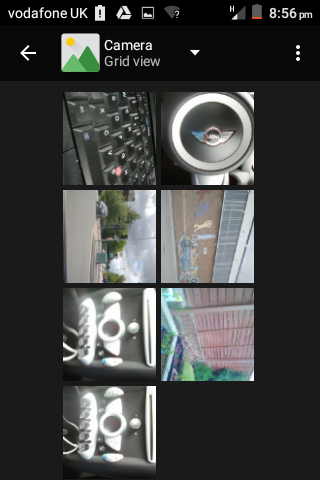 Here's some example shots. They look better on the screen here than the phone, if that helps any..
Overall
I say again. £20 on Pay As You Go. That's mad isn't it really? Whether you're buying this for an elderly relative, for someone who isn't fussed on the "smart" bits of a phone or just as a backup / travel phone that you want to keep for the "just in case" scenarios, it'll do that.
If you use a Samsung Galaxy handset, or an iPhone, you're going to look at this and say that yes, the camera is bobbins, the processor is slow and the screen is small. But your phone probably cost £500-£600. This costs about the same as the taxi home from the pub. Chuck it in a suitcase, take it on holiday. Use it as a work phone if you're a builder or you're continually dropping your precious top-end smartphone.
When we get down to the nitty-gritty, it's a cheap smartphone. It'll get your email. It'll let you send and receive your messages (whether that be through WhatsApp, Facebook or whatever), it'll let you browse the web and keep in touch. Sure, it's a bit slow and the gallery didn't seem to show my photos in the right orientation but… £20 dude. £20.
70
%
Vodafone Smart first 7 Review
It's a little slow. The screen isn't too crisp and the camera isn't great at all. But it'll cost less than your taxi home from the pub.
70