This year I attended Mobile Would Congress once again and took a few mobile goodies with me of course to cover the conference.
Last year I was able to get all my photos from a Sony Xperia Z and post using my MacBook Air in the press area (if I was able to find a seat that was!)
This year I had yet another phone with me, the 41 megapixel Lumia 1020 which I thought would be great to get the perfect images, but knowing how bad the WordPress app is, and many of the apps on Windows Phone in general so far, I had a backup plan and thankfully EE came to the rescue and loaned me an iPhone 5S to take.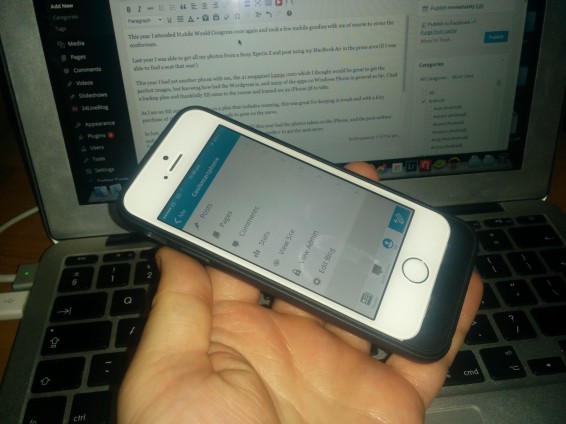 As I am an EE customer already on a plan that includes roaming, this was great for keeping in touch with the free calls and texts, and with a £25 purchase of 1GB roaming data I was ready to post on the move too.
In fact, many of the posts you saw from me at MWC this year had the photos taken on the iPhone, and the post written and uploaded all on the phone with the official WordPress app running from one hall to another to get the next story.
So whilst WordPress on iOS and Android was fantastic (thanks to SamJPullen for letting me use his Nexus 5 too) , it seems there is still a lot of work to be done on the Windows Phone version which is a shame and meant Windows Phone was as good as unusable for me.
Thanks again to EE for the loan of the iPhone 5S and for letting me post on the move and for the free minutes and texts on the 4GExtra plan.