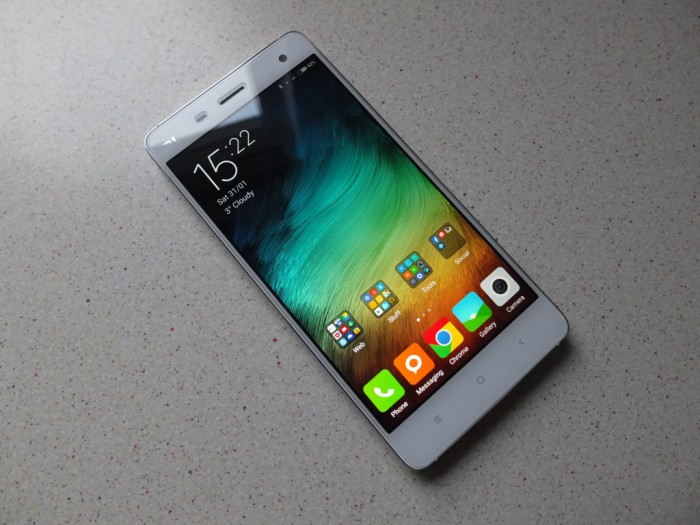 Some of you may have heard of Xiaomi, they are the third largest phone company on the planet. The problem is that they are huge in China and India, Europe not so big. You may also have come across Xiaomi with the Miui software, which started life as a custom ROM many years ago for devices like the Nexus One. I became a big fan when I had an HTC Desire Z and for many months Miui was my daily driver. Fast forward a few years and Xiaomi have several phone ranges with umpteen different shapes, sizes and budgets. They have the core range of Mi phones such as the Mi 2, 3, 4 and Note and they also have the cheaper Redmi range of the 1, 2 and Note.
I have been tempted to get a Xiaomi Mi4 for a while now, it became available last year towards the end of Q3, it's just there wasn't a 4G model which was a big no no. However they've recently released an international FDD-LTE version that's complete with Google Services pre-installed so I just had to order one. I've been using this for about a month or so now as my main daily phone, it's running Android 4.4.4 with Miui V6 5.1.30 on top.
Good and Bad Points
Good
Nice, compact and lightweight.
Solid construction.
Android 4.4.4 customised beyond what I've ever seen before.
Lots of extra apps and settings that prove useful.
Decent cameras front and rear.
Bad
No Micro SD slot.
Only 16GB of internal memory on this international LTE model.
Finding a specific setting often takes a while as Xiaomi have moved everything around.
It is only running on Android 4.4.4 with Android 5 on the horizon
Design
The Mi 4 is a great looking and well built phone. A Mix of Glass, Plastic and Metal, some may say the design is reminiscent of the iPhone 5S and yes it is in my eyes. It also looks a lot like the Huawei P6, P7 and the Honor 6.
The edges of the Mi 4 are the most striking, in brushed metal with a chamfered edge on the front, the chamfer is actually reflective. The back edge is more curved to meet the back and a bit more subdued. The edges house all of the openings and ports as the backplate isn't meant to be removed. The left hand edge houses the Micro SIM slot, you'll need a SIM ejection tool to do this with. The right hand edge has the metallic volume rocker and power button. These are nice and pronounced and not too sharp, which often happens with metal buttons. The top edge has the Headphone socket and an IR blaster. The bottom edge has the Micro USB port and a single speaker grille.
The front of the device has capacitive navigation buttons which light up when pressed, they are nice and bright when tapped, the left hand button is actually for Recents and not Menu as you'd expect. The front also has a few sensors at the top along with the 8MP front facing camera. The back bares the Mi logo and the camera and flash too.
The backplate is removable and Xiaomi sell replacement backs for the Mi 4, the most eye catching being the wooden ones. Removing the back involves a suction pad and a lot of tugging.















Overall I like the design of the Mi 4, it fits nicely into your hand and pockets. Thanks to it's smallish size, which still manages to house a 5" display thanks to some small bezels beside the display. Yes it does look a bit like a large iPhone but I'm ok with that. To just hold it in your hand is enough and you'll soon get over the Apple looks.
Check out my hands on video with the Mi 4
http://youtu.be/Nfzrm2vZqBg
Hardware
Spec wise the Mi 4 is top notch, take a look for yourself.
Display: IPS LCD, 5.0 inches, 1080 x 1920, 441 ppi.
Android 4.4.4.
Processor: Qualcomm MSM8974AC Snapdragon 801, Quad-core 2.5 GHz Krait 400.
GPU: Adreno 330.
Internal Memory: 16/64 GB.
RAM: 3 GB.
Rear Camera: 13 MP, 4128 x 3096 pixels, autofocus, LED flash, 1/3" sensor size, 1.12µm pixel size.
Front Camera: 8 MP.
connectivity: WLAN Wi-Fi 802.11 a/b/g/n/ac, dual-band, Bluetooth v4.0, A2DP, GPS, A-GPS , GLONASS, Infrared port.
Sensors: Accelerometer, gyro, proximity, compass, barometer.
Extras: Fast battery charging: 60% in 30 min (Quick Charge 2.0), Active noise cancellation with dedicated mic.
Battery: Non-removable Li-Ion 3080 mAh.
Micro-SIM.
Dimensions: 139.2 x 68.5 x 8.9 mm.
Weight 149g.
The spec is decent, the Snapdragon 801 chip and 3 GB of RAM really make the Mi4 fly. The display too is rather good, a 1080p display on a 5″ screen means you'll get a nice crisp and sharp display. No dodgy viewing angles or blurry text here. The addition of Wi-Fi AC also meant I could connect to my fast 5 GHz home wireless network.
There are however a few niggles with the spec. These are the lack of wireless charging, lack of Micro SD slot, non removable battery and in the model I've got the limited 16 GB internal memory.
Software
The Mi 4 runs Miui, which is basically a skin on top of Android 4.4.4. The heaviest skin you have ever seen in your life. Xiaomi have spent years refining it, Miui originated in the custom ROM scene with devices like the Nexus One and HTC Desire given facelifts with the totally different Miui ROM. Fast forward a few years and Miui continues as a custom ROM for many devices and now it exists on its own hardware.
Every single element of Android has been touched by the Miui brush, the Launcher and the Settings list being the most noticeable changes. The Launcher doesn't have an app drawer which leads many people to moan that it is "too much like iOS" for their liking. Which to be honest taking the device as a whole you can see their point.
Launcher
As I mentioned the Launcher is rather different, with a sea of icons or iOS style app folders. The icons are all themed as well, so you may not find your favourite quite as quickly as before. You soon get used to it though, once you've categorised all of your apps, any new apps are simply placed into the relevant folder.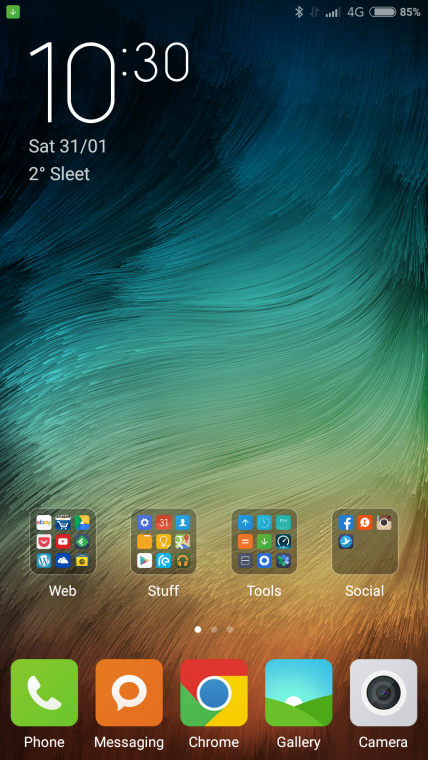 Settings
The settings menu is quite expansive, you get all of the basics as you'd expect and then a load of other settings. It feels very much like a custom ROM in that respect, at times though finding something like the Notification Access section to turn on Pebble Notifications takes several attempts to find the correct way round.


Notification area
The notifications appear at the top of your screen and also the lockscreen. Some apps such as Messaging also popup over opened apps to show your message. I really like notifications on the lockscreen.


Security Centre
Miui basically combines a cache cleaner, a virus scanner, a battery monitor, an blocklist, a data monitor, a permission monitor and root access in one simple app called Security. It basically in one fell swoop monitors all of these things and advises what to do. Mine tells me that my app cache is getting out of hand and that I should clear up.




Other notable stuff
Camera
The cameras on the Mi 4 are pretty good. The rear camera is 13 MP and it has a nice HDR mode. In decent light the Mi 4 takes some decent shots, with HDR mode on you can often be surprised with a nice shot. In low light it is a bit hit and miss, sometimes being a bit noisy and sometimes just getting on with the job and producing something nice.
Rear Camera










Front Camera
The front camera is 8 MP. As is often the way these days it has a "beauty" mode which seems to apply a layer of foundation over your face. You can turn this up and down depending on how fake you want your picture to look. In low light it doesn't struggle as much as I thought it would.




Battery life
The 3010 mAh battery on the Mi 4 was surprisingly good. I expected I would get the usual day out of it, however using it lightly I basically got two days out of it, if I switched it off at night. Under normal-heavy use you can get a day out of it, as you would expect. The battery does support quick charging, so if you're using a compatible charger the Mi 4 will be charged ludicrously quick, which is nice as the Mi 4 doesn't support Qi Wireless charging. Personally I'd prefer Qi wireless instead of quick charge. Each to their own.


Benchmarks
As always I don't really judge a device by its benchmark score, more on how it works for me. However it is nice to see how it compares to a few other devices, so here are the benchmark scores.
3DMark – 18961 (Moto X 2014 – 19677, LG G3 – 17239, Oppo Find 7a – 20275, Sony Xperia Z2 – 18685, Samsung Galaxy S5 – 18720, LG G2 – 17730).
Antutu – 43287 (Moto X 2014 – 44253, LG G3 – 29810, Oppo Find 7a – 35958, Sony Xperia Z2 – 32384, Samsung Galaxy S5 – 27113, LG G2 – 28587).
Quadrant – 23144 (Moto X 2014 – 21256, LG G3 – 13709, Oppo Find 7a – 21907, Sony Xperia Z2 – 17470, Samsung Galaxy S5 – 23264, LG G2 – 19250.
Conclusion
Overall the Xiaomi Mi 4 is a cracking phone, a decent price, a decent spec, decent camera and a rather unique take on Android. Which if you can get your head around will leave you with a device for life (or a year or so).
Although if you do decide to go with a Xiaomi phone then you'll need to be ready to work out how things work in Miui, be prepared for non existent product support, a totally random software update policy with no logical timescale and a decidedly complicated warranty process if you have a hardware problem and you need to send the phone back.
Having spent a large chunk of time with the Mi 4 I am now eagerly awaiting the larger and more powerful Mi Note Pro. Watch this space for that review…….
Xiaomi Mi 4 LTE – Review
7.8
Overall the Xiaomi Mi 4 is a cracking phone, a decent price, a decent spec, decent camera and a rather unique take on Android. Which if you can get your head around will leave you with a device for life (or a year or so).
8