New phones are great but you want to keep them clean and shiny for as long as you can after you take them out of the box especially when you are spending the amount of money that the latest flagships like the Galaxy S21 Ultra demands.
Well, the good news is that you can whilst adding both style and protection thanks to companies like XtremeSkins.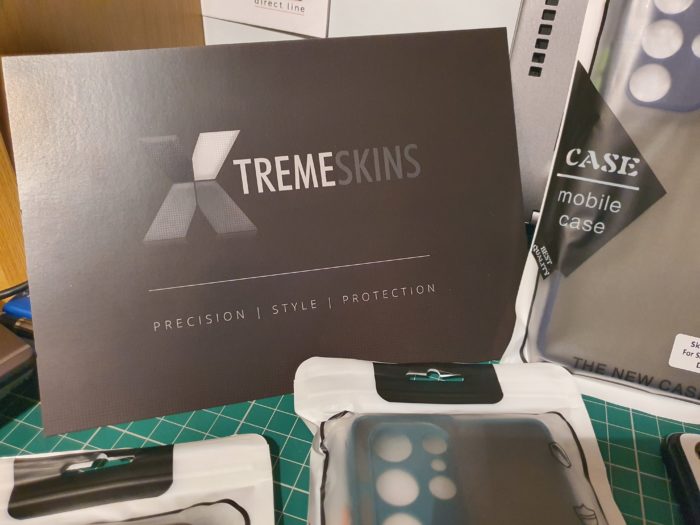 I have been a long time advocate of using skins on my phones and as I have now got a job that demands more outdoor use of my phone I even go as far as getting a case.

It does, however, seem a shame sometimes to cover up the design that you have longed for from a flagship ina big bulky case. This is where "skinning" your phone comes in. It adds protection without adding unnecessary bulk allowing you still feel the svelte design of the phone but stop it from getting scratched from keys And other pocket debris. So while putting skin on your phone is a good start if you are hard on your phones you cannot beat a case for drop protection. There can also be an added benefit sometimes when your phone has large protruding lens modules as the S21 Ultra has. If I am honest I am not actually a big fan of these camera bumps. I know why they are there but on the Galaxy S21 Ultra, it just gets in the way when gaming or using the phone for non-camera related tasks.

It is for this reason that I decided to give some cases a try. I have already tried some cases from Speck and these made the phone feel much better in the hand and easier to use in portrait use. However, these case's come in at near £30 pound each. I thought it would be worth having a look at something a bit more reasonably priced. This where the X30 line from XtremeSkins comes in. The chaps over at the website were kind enough to send over an array of their new Soft Touch cases, for me to try out. These case offer a cheaper alternative to the case of some of the bigger brands whilst still offering/ the benefits of enhanced grip and drop protection.

Offering a tight fit with a smooth touch surface this phone case's can add a little bit of colour to your phone as well as giving it a bit more protection when it falls from your pocket or your hand when trying to capture that all-important photo. They also have a slightly raised lip to allow for the phone to be sat face down without it resting on the display of the phone. They come in up to five different colourways as seen in the picture below. I am a particular fan of the Green combo as it really makes the buttons "pop". Those buttons do feel pretty responsive to the touch and offer a firm keypress which is better than I have seen from some much expensive cases. The smooth finish allows you to slide the phone in and out of your pocket with ease without the nasty sticking feeling that is commonly found on TPU style cases.
I also like the fact that the back of the case is "smoked" or translucent so if like me you have got a skin on the phone for when you are not out in the wilds of the world and you want that svelte look you can still see the colours. The is does require a brightly coloured skin to be underneath to get this effect but it worked quite nicely here with the White Carbon one I have chosen below.
It isn't perfect though as it still has got the camera bump which does, unfortunately, mean that the phone will wobble if you try and use it on a flat surface like a desk. This is however no fault of the case itself but it is an inherent problem with the design of the phone.

Some other cases will minimise this issue by adding a bit more "meat" to the rear of the case which has the unfortunate effect of making the phone feel thicker. Unfortunately, it is a compromise that you either have to live with or go with a different option of the phone. On the other phones, the issue is not as prominent but i wanted to point it out here as it is relevant.
Here is a video showing my thoughts on the cases and also a little bit about the Skins.
The X30 case is also available in a different version known as Stealth which may lessen this issue but I was not able to get one in for testing in time sadly. In addition to the Stealth and Soft Touch, the X30 also comes as a fully clear version called Liquid Hybrid Crystal which has little bumps on the corners to help protect the corners which are the most likely point of impact when your phone plummets ground wards. For a more subtle approach you can also get a Liquid Gel version which is made of a slightly thinner plastic and as the name suggests is completely clear, perfect to see that colour full skin through!
As for the skins themselves, these are really good quality and do stand up to rigours of daily use surprisingly well. I have had the same skin on my wife phone for nearly two years and it has stood up to a lot of abuse. In fact, when I took the skin off to replace it recently my son commented on how new the phone looked! I tend to lean towards the single colour options like the White Carbon one I have on the S21 Ultra below as it makes for a nice contrast against the Matte black of the phone.



It also has just enough texture on it too add a little bit more grip which is especially important on some of the phones that come with a high sheen gloss finish that has become all too common these days. I also quite like the green camo effect shown in the pictures but it was a bit too dark to get the full effect when using the X30 case as well.

The skin is very sticky and adheres to the back of the phone very easily and is less prone to the bubbles I have seen from just using a normal piece of vinyl from the arts and craft store. They are also very inexpensive and can make your phone more befitting to your style which I like. It is well worth checking out the skin configurator on the XtremesSkin's site to see what you can get for your phone to "skin "it up. For less than £15 you can add some subtle or not so subtle skins onto your phone and protect your investment at the same time. And for those with an iPhone 12 or Samsung Galaxy S21, I would also have a look at the X30 cases while you are there.
Here are a few more photos of the cases for you to indulge in.















A great and inexpensive alternative to Shockproof case's that will add some colour and fun to your phone. The skins make for a nice customization option as well.
83